Can it be True?
Chuck Bornt, Team Leader, Extension Vegetable Specialist
Eastern New York Commercial Horticulture
May 2, 2018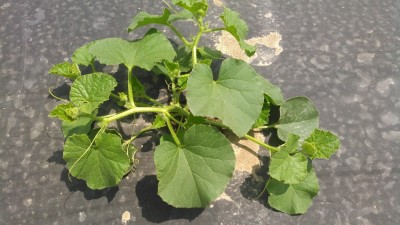 As you know, new products for enhancing growth are coming onto the market every year and we do our best to bring you what we know from reputable sources. Last week in reviewing some other newsletters that I subscribe to I ran across an article by Dr. Gordon Johnson, Extension Vegetable & Fruit Specialist, University of Delaware in regards to a product labeled to aid in reducing transplant shock in certain vegetables called LandSpring made by AgroFresh. I looked up the product in the NYS DEC database to make sure that it is labeled in NY and it is. There are PPE and WPS requirements so be sure to review the label carefully. This product is also incompatible with copper products. The label is also very specific with agitation and making sure that the material is applied within 15 minutes of final agitation. Other considerations from the label:
· When mixing, agitate or stir gently for 3 minutes after adding the LandSpring WP. DO NOT EXCEED 3 MINUTES OF AGITATION. Do not use agitator during spraying.
· Initiate spray application as soon as possible after mixing and no later than 15 minutes after preparation of tank mixture.
· Spray Volume - apply LandSpring WP in a sufficient amount of water to ensure good drenching of the seedlings. Product efficacy requires that the foliage receive uniform spray coverage.
· For best results, apply under slow drying conditions, e.g. early in the morning or at night, in order to ensure adequate absorption.
· Do not apply if rain or overhead irrigation is expected within 1 hour of application.
· LandSpring WP has a 1 day preharvest interval (PHI
· Apply LandSpring WP alone on seedlings, without tank mixes or adjuvants
If you apply it and I've linked the label here to our website: LandSpring label and below is the article from Dr. Johnson (source: Weekly Crop Update, April 27, 2018, , Volume 26, Issue 5)
New Technology for Reducing Transplant Shock by Dr. Gordon Johnson - A new tool is available for reducing transplant shock. The chemical 1-methylcyclopropene (1-MCP) which is marketed as the product LandSpring by the AgroFresh company reduces ethylene production and stress on young plants.
Ethylene in the plant hormone released when plants are injured or are under stress, as is common during transplanting. Excess ethylene can cause leaf drop and wilting and can increase transplant losses.
The way 1-MCP works is that it has a similar molecular structure to ethylene but without the negative effects on the plant. It binds to ethylene receptors in the plant and thus blocks ethylene from causing damage.
LandSpring is labelled on broccoli, brussel sprouts, cabbage, cantaloupe, cauliflower, cucumber, eggplant, muskmelon, bell pepper, nonbell pepper, summer squash, tomato and watermelon. According to the company "When applied to seedlings 1 - 5 days before transplanting, LandSpring WP helps decrease transplant shock enabling plants to more rapidly establish and grow. Observed benefits include increased crop biomass due to better root and shoot development when plants are subjected to stress.in the weeks following transplantation. More information can also be found at: http://www.landspring.info/
This article is from the May 3, 2018 edition of ENYCHP Vegetable News. To read the full newsletter,CLICK HERE.


Upcoming Events
Agricultural Supervisory Leadership Certificate Program
June 17, 2022
June 23, 2022
June 30, 2022
July 7, 2022
July 14, 2022
July 21, 2022
July 28, 2022

Supervisors are critical to the success of farm businesses. They have a major impact both on employees' daily work experiences and on the production performance of the business. The agricultural Supervisory Leadership certificate helps farm supervisors and managers learn and apply human resource management practices and leadership skills that foster rewarding workplaces and drive business results. Confident managers who thoughtfully apply leadership and management skills improve employee performance, develop teams, reduce employee turnover, and increase employee engagement. The courses within the certificate program will offer extensive practice and engagement activities to build confidence and skill sets.
Peru Weed Management and Soil Health Field Day

July 20, 2022
Peru, NY
Join us in Peru on July 20th as we discuss orchard weed and soil management! Speakers will be joining us from across Cornell's research and extension teams. Topics will include the results of our herbicide timing trials, new vision-guided technologies for orchard weed spraying, organic weed management options, soil health demonstrations, and a discussion on our statewide orchard soil health survey. DEC credits are pending for this event.
July Next Gen Meetup at Bowman Orchards
July 21, 2022
Rexford, NY
The July Next-Gen meet-up is focused on marketing. We will provide everyone who registers with a resource guide to farm stand marketing. The Bowman's have a farm store, U-Pick berries, sunflowers, apples and pumpkins as well as a commercial apple orchard. We encourage you to check out their website (Bowman Orchards).
Young farmers are welcome to attend, the focus of the program is farmers who are in the process of taking over a farm from the prior generation (whether family or not). Please pre-register by July 18 so that we know you are coming and can have enough food for dinner and resource materials.
Announcements
Podcasts