Common Asparagus Beetle Management During Harvest Season
Ethan Grundberg, Vegetable Specialist
Eastern New York Commercial Horticulture
May 9, 2018
The beginning stages of Common asparagus beetle (Crioceris asparagiI) infestations often go unnoticed. Since the beetles have two to three generations per year (depending upon where you are in our region), the population can build quickly over the course of a couple of years and catch growers off-guard at harvest.
Overwintered adults emerge from their pupae about the same time that asparagus spears begin to push. They quickly begin to feed on the tender shoots causing a sort of rasping damage that browns quickly in the field or post-harvest. The beetles then mate and deposit their eggs in vertical lines along the spears as shown in the image. After about a week, those eggs hatch into small grubs that continue to feed on spears before pupating in the soil.
Though the larvae, not adults, are most susceptible to insecticides, growers experiencing significant early damage (the economic threshold is suggested to be when 5%-10% of spears have adults present) may need to use an insecticide to knock down the adults before targeting larvae and later generations on ferns. Given the need to continue harvesting every 1-2 days (a practice that also helps remove eggs from the field to slow the population growth), a short Pre-Harvest Interval (PHI) and Restricted Entry Interval (REI) are key to selecting an appropriate labeled insecticide.
The standard insecticide options are pyrethroids (IRAC Group 3A), such as Pounce 25 WP and other labeled permethrin formulations (1 day PHI, 12 hour REI) or PyGanic 5.0 (OMRI, 0 day PHI, 12 hour REI). Some neonicitnoids (IRAC Group 4A), such as Assail 70 WP and Anarchy 30 SG (both acetamiprid), are also labeled for asparagus beetle adults and larvae during harvest (1 day PHI, 12 hour REI). Lannate (methomyl, IRAC Group 1A), is also options if you are willing to equip the harvest crew with early entry PPE (1 day PHI, 48 hour REI) to continue removing egg masses on cut spears. An easier option for those looking to use an organophosphate is Sevin XLR Plus (carbaryl, 1 day PHI, 12 hour REI). Note that Lorsban (chlorpyrifos) is sometimes recommended in other states, but IS NOT allowed for use on asparagus in New York.
For heavily infested fields, continue scouting the asparagus after harvest and target second and/or third generations with any of the options listed above or with IRAC Group 5 spinosyns, such as Radiant or Entrust (OMRI), both of which have a 60 day PHI. Cleaning fields of old stalks after mowing in the fall can also help reduce the overwintering populations.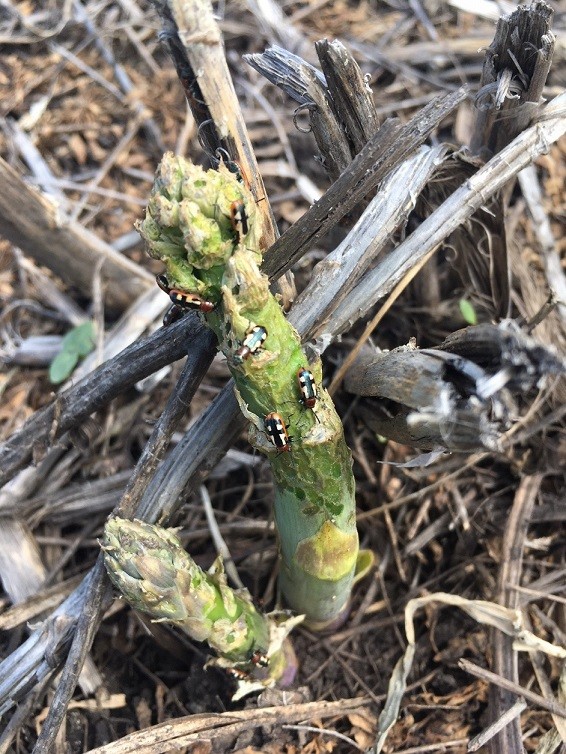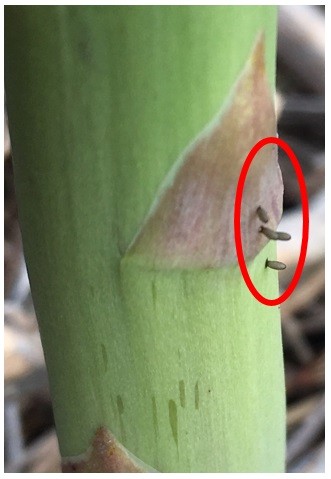 Upcoming Events
October Last Monday Grant Webinar for Fruit and Vegetable Growers
October 28, 2019
4:00 pm
Are you curious about what grants are available to help your farm business?
To help disseminate information on grants on a consistent basis, ENYCH is offering a "current grants" webinar on the last Monday of every month at 4:00pm
Each month's webinar focuses on 1 grant. The October webinar topic is TBD but might feature Ag Labor Housing Grants.
Produce Safety Alliance FSMA Grower Training Course
October 30, 2019
8am - 5pm
Canajoharie, NY
A grower training course developed by the Produce Safety Alliance (PSA) that meets the regulatory requirements of the Food Safety Modernization Act (FSMA) Produce Safety Rule. At least one person per farm producing more than $25,000 worth of fruits and vegetables must attend this course once. Participants will receive a certificate of course completion by the Association of Food and Drug Officials.
Tarping for Reduced Tillage Workshop
November 2 - November 19, 2019

Are you a vegetable farmer already using tarps? Or are you wondering if and how tarps could work best on your farm?

The Cornell Small Farms Program is excited to announce a series of workshops on tarping for reduced tillage in small-scale vegetable systems, to be held in Maine and New York this fall. The Reduced Tillage (RT) project of the Cornell Small Farms Program supports farmers in adopting scale-appropriate RT practices that can lead to healthy, productive soils and greater profitability. Through the evaluation of novel tools and methods using systems-based field research and on-farm trials, the project helps farmers learn about the approaches that can work for their farm. This work is accomplished in collaboration with the University of Maine, and with support from Northeast SARE.

Announcements
Podcasts