Watch Those Temperatures
Chuck Bornt, Team Leader, Extension Vegetable Specialist
Eastern New York Commercial Horticulture
May 9, 2018
Just another reminder that even though we haven't reached really concerning temperatures yet, temperatures in high tunnels, crops under rowcovers or especially those under clear plastic hoops (such as sweet corn) can get very hot on these gorgeous bright sunny days! For sweet corn, the larger the plant under that plastic the greater the risk of injury is. If it gets too hot under that plastic, consider piercing the plastic with a pitchfork or setting up and running the irrigation to cool the soil and plastic. If it looks like we are in for a long warm stretch, you might consider slitting the plastic and removing it altogether. The one benefit of using floating rowcovers on sweet corn compared to plastic is you don't have to worry about it getting too hot as the rowcovers naturally breathe and are cooler. The following information is from Dr. Steve Reiners of Cornell University Department of Horticultural Sciences and can be used as a guide to know when to remove covers before it's too late!
"Most of the published temperature guidelines list maximum temperatures at which either vegetative growth becomes limited or reproductive capabilities are threatened, i.e. flowers or fruit fall off. Temperatures at which vegetable plants may die varies and depends not only on the vegetable type but also on other factors such as whether irrigation is being provided or for how long the high temperature occurs. Also, a transplant will be under much greater stress than a plant that is direct seeded.
The following table lists temperatures at which severe stress will occur, possibly death, especially if soil moisture is low. These temperatures refer only to potential crop death. Temperatures 15 to 20F lower than those listed in the table will result in the loss of flowers and fruit and will negate the positive effects of early warming under row covers."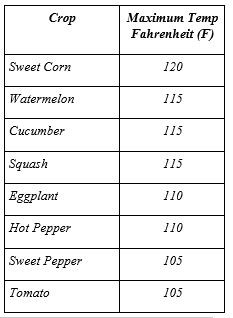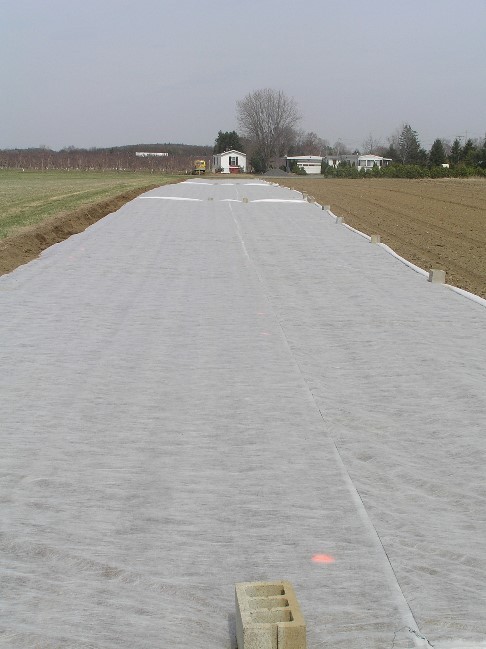 Upcoming Events
October Last Monday Grant Webinar for Fruit and Vegetable Growers
October 28, 2019
4:00 pm
Are you curious about what grants are available to help your farm business?
To help disseminate information on grants on a consistent basis, ENYCH is offering a "current grants" webinar on the last Monday of every month at 4:00pm
Each month's webinar focuses on 1 grant. The October webinar topic is TBD but might feature Ag Labor Housing Grants.
Produce Safety Alliance FSMA Grower Training Course
October 30, 2019
8am - 5pm
Canajoharie, NY
A grower training course developed by the Produce Safety Alliance (PSA) that meets the regulatory requirements of the Food Safety Modernization Act (FSMA) Produce Safety Rule. At least one person per farm producing more than $25,000 worth of fruits and vegetables must attend this course once. Participants will receive a certificate of course completion by the Association of Food and Drug Officials.
Tarping for Reduced Tillage Workshop
November 2 - November 19, 2019

Are you a vegetable farmer already using tarps? Or are you wondering if and how tarps could work best on your farm?

The Cornell Small Farms Program is excited to announce a series of workshops on tarping for reduced tillage in small-scale vegetable systems, to be held in Maine and New York this fall. The Reduced Tillage (RT) project of the Cornell Small Farms Program supports farmers in adopting scale-appropriate RT practices that can lead to healthy, productive soils and greater profitability. Through the evaluation of novel tools and methods using systems-based field research and on-farm trials, the project helps farmers learn about the approaches that can work for their farm. This work is accomplished in collaboration with the University of Maine, and with support from Northeast SARE.

Announcements
Podcasts