Weed Control and Plastic Mulches
Chuck Bornt, Team Leader, Extension Vegetable Specialist
Eastern New York Commercial Horticulture
May 9, 2018
As the weather warms up and plastic mulches are being applied to get ready for our summer crop plantings, the question of what to do about weed control in the beds and between the beds is a common one that I get. Unfortunately, I don't have a silver bullet for you but have a couple of thoughts. First, there are a few herbicides that are labeled for use under the plastic on a few crops. However, the recommended use is to make the beds first, apply the herbicides and then lay the plastic mulch which is not usually how we manage our plasticulture systems - as we normally like to bed and mulch all in the same pass. I have yet to see anyone modify their mulch layer to apply herbicides while laying their mulches (if anyone has, please let me know I would love to see it!). The other thing to consider is that many of these products are very sensitive to moisture and often require it to activate them. Lastly, I worry about injury to our crop when using these herbicides, especially as many of you are using water-wheel transplanters which could in theory reactivate the herbicide and concentrate it around the rootball. I think educating your employees planting to make the smallest hole possible and making sure that plant gets off to a good start may be just as good as the pre-plant herbicides! However, if you want to try some herbicides under mulches this is what is labeled to my knowledge:
Herbicides Labeled for Use Under Plastic Mulch

Herbicide

Crop(s)

Devrinol

Tomatoes, Peppers, Eggplant

Prefar

Eggplant, Peppers, Cucumbers, Melons, Squash

Sandea

Tomatoes, Cucumbers, Melons, Squash, Watermelon (need to wait 7 days after application to plant crop)

Prowl H2O

Eggplant
So the other question that comes up is how to control weeds between the rows and again, I don't have a silver bullet, but there are certainly more options! The first thing that I would tell you is I do not recommend applying any of these materials broadcast over the top of your mulch before planting! I think you are taking a risk that even after a couple of rains, some of the herbicide may remain on the plastic and could concentrate in the planting hole after you've planted with a rain - especially in cases where beds are not uniformly full and you have dips in your beds where water can gather on the plastic. I think the best method is to fit the field, lay your plastic and then using either very directed sprays or better yet, a shielded sprayer, apply the herbicides between the beds, just letting the spray contact the shoulders of the bed. I've seen some homemade shielded units made from plastic totes to old wooden apple crates!
My rule of thumb for row middle applications is, if the material is labeled on the crop, then it can be used in the row middles too unless otherwise specified on the label that it cannot be used between the rows. Using a pre-emergent or combination of pre-emergents before transplanting is the best strategy in my mind as you minimize the risk of drift and hitting your crop. However, if you can't get right in there to apply them after laying your mulch or planting and weeds are already starting to grow, I would recommend tank mixing in a contact herbicide such as Gramoxone (or other formulations of the active ingredient paraquat) to your pre-emergent materials as a shielded, directed spray. Why paraquat instead of glyphosate (Round-Up etc.)? Paraquat will only kill what it comes in contact with (so coverage is essential). So if a little drift moves onto your plant, it will only kill the area that it comes in contact with and leave some tan spots. Whereas a small amount of glyphosate will translocate and potentially kill or really hurt your crop and I'd rather be safe than sorry.
Below is a list of some herbicides that could be used between rows of plastic mulch on various crops. This is not to be used in place of a label as in some instances a product may be labeled on some but not all crops in the same family (for example when I say brassicas, that includes cabbage, broccoli, etc., but these products may not be labeled on all members of the brassica family so please read the label before using).
Herbicides Labeled for Between Rows of Plastic Mulches on Various Vegetable Crops

Herbicide

Crop(s)

Dual Magnum (metolachlor)

Tomatoes, Peppers, Cucurbits, some Brassicas, Lettuce, Onion

Prefar (bensulide)

Eggplant, Peppers, Cucumbers, Melons, Squash, Brassicas, Lettuce

Sandea (halosulfuron)

Tomatoes, Cucumbers, Melons, Squash, Watermelon, Peppers, Eggplant

Prowl H2O (pendimethalin)

Eggplant, Pepper, Tomato, Onion, Brassicas

Reflex (fomesafen)

Tomatoes, Peppers, Eggplant,

Dimetric, Sencor (metribuzin)

Tomatoes

Strategy (clomazone + ethalfluralin)

Cucumber, Melon, Pumpkin, Squash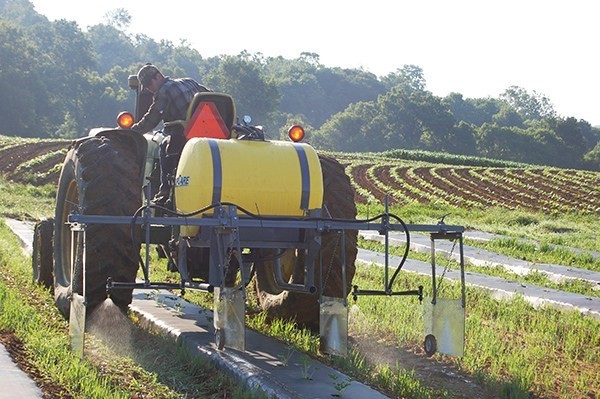 ---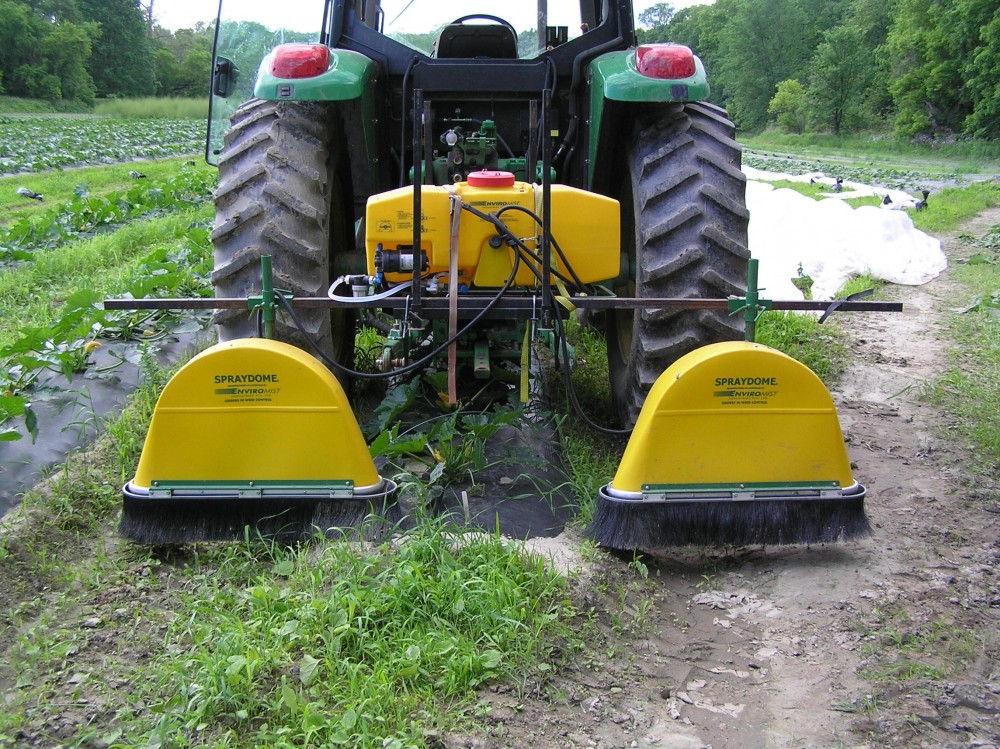 Upcoming Events
Farm Financial Education for Women - Annies Project
November 12 - January 14, 2019
9:00am to 2:00pm
Kingston, NY
This 4-part series is designed for women who are farm owners or farm managers, or who anticipate moving into a decision-making position on a farm. The program runs from November through January.

Certificates will be awarded from Annie's Project to those who complete all sessions and who have applied to have the program qualify for FSA borrower training.


Fruit Category Pesticide Exam and Orchard IPM Basics
November 27, 2018
1:30pm-3pm
Plattsburgh, NY
At this meeting, we will review orchard Integrated Pest Management (IPM), referencing from the NY Private Fruit Category (22) manual. We will first review the core foundations of integrated pest management, and then discuss as a group some of the key pests found in Northern New York orchards.

How To Obtain a Pesticide Applicator License
November 27, 2018
10am-1pm
Plattsburgh, NY
Receive an overview of the application, testing process, and key concepts of the materials needed to obtain a private or commercial NYSDEC pesticide applicator license.

Announcements
Check out the Updated Labeled Insecticides for SWD
Labeled Insecticides for Control of Spotted Wing Drosophila in New York Berry Crops - Quick Guide Compiled by Greg Loeb, Laura McDermott, Peter Jentsch & Juliet Carroll, Cornell University. Updated regularly. Check it out at this link!
New Resources from CCE ENYCHP!
We are developing new ways to connect with the CCE ENYCHP team this year!
We have a Youtube page located at this link
. Check out videos on Table Grape Production, Pest Updates and the 20 Minute Ag Manager - in 4 Minutes series.
There are also text alerts available.
Fruit and vegetable farmers in 17 Eastern NY counties can now receive real time alerts on high risk disease and pest outbreaks texted directly to their cell phone. The Eastern NY Commercial Horticulture program, which is supported by local Cornell Cooperative Extension associations, will now offer text alerts to those that sign up.
The text alerts will be reserved for important crop alerts that could impact management decisions immediately. For instance, if there were an outbreak of Late Blight in the area, this would be transmitted to vegetable growers.
Farmers can choose the crop for which they wish to receive updates. Additionally they can request that Ag Business Alerts be sent to them. These alerts might include due dates for crop insurance deadlines, market opportunities etc.
Text alerts are easy to access. Just click on the link below and fill out a very short registration form. It takes just seconds to do - access to important information has never been so easy!!

If you have questions, please contact Abby Henderson at 518-746-2553 or email her at aef225@cornell.edu.

Confused by the WPS (Worker Protection Standard)?
Please take note: WPS pertains to all farms-organic and conventional! To be sure that you are complying with these regulations, please view the EPA link below:
https://www.epa.gov/sites/production/files/2015-09/documents/comparison-chart-wps.pdf
Eastern New York Commercial Horticulture - Cornell Cooperative Extension
Your Trusted Source for Research-Based Knowledge