Start managing for bacterial diseases in field tomatoes at transplanting
Crystal Stewart-Courtens, Extension Vegetable Specialist
Eastern New York Commercial Horticulture
May 9, 2018
Bacterial speck, spot, and canker continue to be perennial problems in Eastern NY. We are learning that effective management is a season-long effort, starting with proper greenhouse sanitation and continuing with regular plant protection. The good news is that there are more tools available for disease management than once thought; the bad news is management is more intensive than we'd like.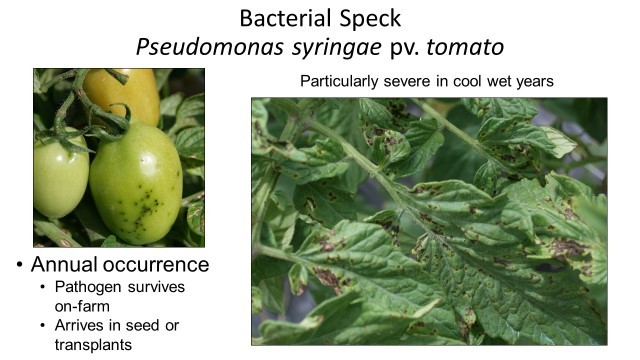 Source: Dr. Christine Smart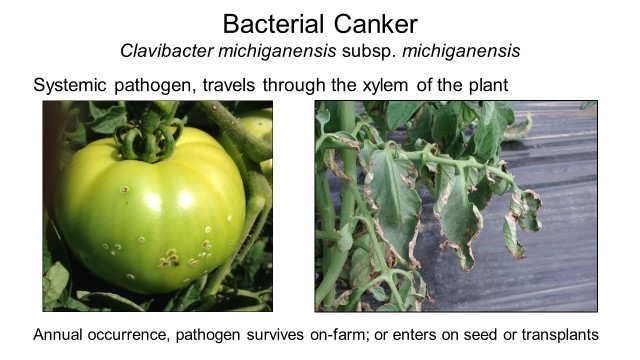 Source: Dr. Christine Smart
Start with clean stakes
This is a best practice because of other tomato diseases too, so hopefully you are already cleaning your tomato stakes. Every year wooden and metal stakes should be power-washed to remove excess soil, then sterilized using either bleach, Green-Shield, Xero-Tol, or an equivalent product. It is important for the stakes to sit in a sterilizing solution long enough to penetrate the nooks and crannies of the wood and kill any lurking bacteria or fungal structures. Remember that bleach will damage metal stakes if not rinsed off.
Protect plants starting early
Bacterial diseases are most effectively controlled by preventing their infection. It's not always clear where inoculum comes from, but we know that growers who have struggled with bacterial diseases in the past are having some success with starting a protective spray program shortly after transplanting. The traditional spray for both organic and conventional growers has been copper; however, there is concern about applying the amount of copper per season that would be needed to provide continuous control. Dr. Christine Smart has been doing trialing of alternatives to copper for bacterial canker and bacterial speck, and has found that there are products equally effective to copper available on the market.
2017 Bacterial Speck Trial Results: Dr. Smart
*Products with the same letter are not significantly different
Treatment and Rate/A
Active Ingredient
Mean AUDPC
(disease over time)
Unsprayed control
234.8 a
Regalia EC 4 qt
Reynoutria sachalinensis extract
174.5 b
Double Nickel LC 32 fl oz
Bacillus amyloliquefaciens
166.3 b
Actinovate AG 12 oz
Streptomyces lydicus
161.3 b
LifeGard WG 4.5oz/100 gal
Bacillus mycoides
153.8 b
Actinovate AG+Regalia EC
150.0 b
Champ 30 WG 2.0 lb
Copper hydroxide
145.0 b
2017 Bacterial Canker Trial: Dr. Smart
# of fruit without lesions
*Products with different letters are significantly different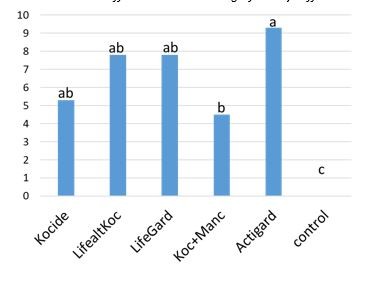 It's important to protect leaves because fruit quality will decrease as the plant weakens and is defoliated. However, fruit quality is downgraded by just one lesion. According to Dr. Smart, bacterial infection of fruit occurs before it reaches ping-pong size. Keeping fruit protected prior to this point will effectively result in lesion-free fruit. This knowledge may adjust timing of sprays.
Because copper and other products such as Actigard have, on average across bacterial diseases, equal efficacy, alternating between them could help with resistance management and will reduce copper loading the in soil. All of these products wash off in rains, so protecting weekly or between rain events is recommended for best results with field tomatoes.
One quick note—you will notice that none of the products listed are antibiotics. There are no antibiotics listed for vegetable production—products listed are either broad spectrum biocides, such as copper, stimulate plant immunity, such as Regalia and LifeGard, or competitively colonize the leaf and suppress other bacteria, such as the Bacillus products.


Upcoming Events
Champlain Valley Tree Fruit Grower Input Meeting
November 30, 2022
Plattsburgh, NY
We need your input! Mike will be holding a Champlain Valley tree fruit grower input session on November 30 in Plattsburgh at the Clinton County CCE office. Mike will review his 2022 research and extension activities. We would then like to hear from you to set priorities for future tree fruit research and education needs, and to get your input for speakers for our 2023 winter meetings.
How Profitable Will My New Orchard Investment Be? Zoom Series
December 5, 2022 : Looking at the Big Financial Picture for Your Farm
Your farm's big-3 financial records (balance sheet, income statement and statement of cash flow) and how to use them to assess your overall financial situation. This information will help you assess what types of investments are likely to be viable for your farm business and whether or not you are likely to be able to use credit to finance that investment. We will specifically cover Farm Profitability, Cash Flow, and Key Financial Ratios.
December 6, 2022 : Business Strategy and the Farm Value Chain
How do you create value? How do you differentiate yourself from your competitors? In other words - what is your farm's business strategy? Your investments should be in line with your strategy. Different business strategies will result in investments in different parts of the Farm Business Value Chain. Farm Business Value Chain - full range of activities needed to create a product or service.
December 7, 2022 : Using Your Farm's Financial Data to Make Management Decisions
Identifying the Enterprises in Your Value Chain. Your Profit Centers and Cost Centers. We will cover: Direct vs Indirect Costs and Cost Allocation and Variable vs Fixed Costs and Relevant Range (when does a fixed cost become a variable cost?)
December 8, 2022 : Operating Budgets and Strategic Planning
Operating budgets are the overall financial plan for the business. You can use a budget based on your current situation as the base to model new scenarios.
December 12, 2022 : Enterprise Budgets
It is more time-consuming to develop detailed budgets for your enterprises, but it is worthwhile to do this for area where you are considering making major investments. We will demonstrate how to move from an operating budget to an enterprise budget to model specific scenarios within that enterprise.
December 13, 2022 : 5 Step Decision-making Process for Capital Projects and Long-term Investments
Introduces a structured process for a manager to go through to decide among options for long-term investments, projects or changes to the farm business.
December 14, 2022 : Cost Volume Profit Analysis and Sensitivity Analysis
As you change your prices, volume of sales or costs of production how does your profit change? What is your break-even point and what output level do you need to achieve a target income? We will also cover sensitivity analysis that will help you see how your results will vary over a range of likely scenarios from best case to worst case. This will help you assess the riskiness of your plan.
December 15, 2022 : Capital Budgeting Tools - Net Present Value, Internal Rate of Return, and Payback Period
Capital budgeting is defined as the process used to determine whether capital assets are worth investing in. it's the process of asking: is an asset worth the resources it requires? Capital assets are usually long-term investments like new equipment, facilities, and other infrastructure upgrades. By incorporating strategically planned capital budgeting into their financial processes, companies can more effectively determine and prioritize which projects, programs and other investment assets could be most financially beneficial in the long-term.
SAVE THE DATES
December 13 - December 15, 2022February 2 - February 8, 2023February 21 - February 23, 2023
Save the Dates for the following Winter Meetings:
The New England Vegetable & Fruit Conference, DoubleTree Hotel and Conference Center, Manchester, New Hampshire, December 13-15 https://newenglandvfc.org/registration/
NOFA NY Virtual Winter Conference, February 2-5, 2023 https://nofany.org/2023conference/
Empire State Expo, Oncenter Syracuse, February 6-7 2023 https://nysvga.org/expo/information/
Becker Forum, Oncenter Syracuse, February 8, 2023 https://nysvga.org/expo/information/
Eastern NY Commercial Horticulture Program Regional Winter Meeting, The Desmond Hotel, Albany, February 21-23, 2023
Announcements
Podcasts