Start managing for bacterial diseases in field tomatoes at transplanting
Crystal Stewart, Extension Vegetable Specialist
Eastern New York Commercial Horticulture
May 9, 2018
Bacterial speck, spot, and canker continue to be perennial problems in Eastern NY. We are learning that effective management is a season-long effort, starting with proper greenhouse sanitation and continuing with regular plant protection. The good news is that there are more tools available for disease management than once thought; the bad news is management is more intensive than we'd like.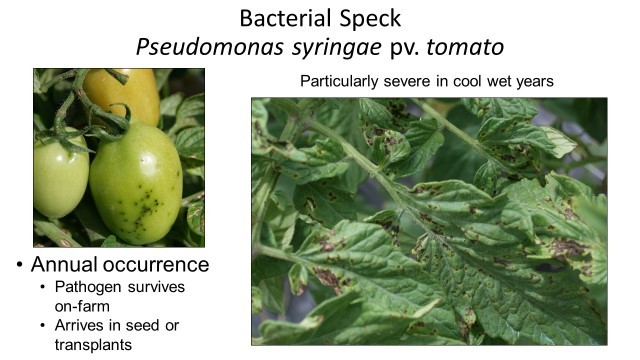 Source: Dr. Christine Smart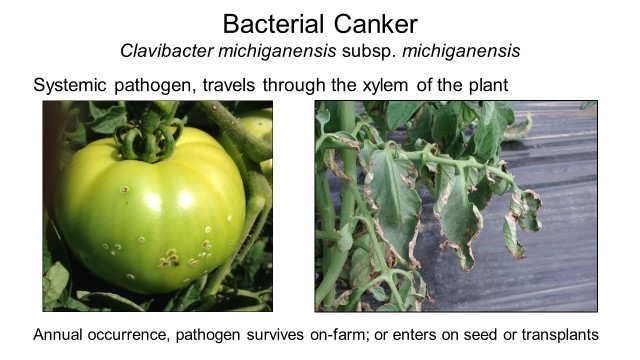 Source: Dr. Christine Smart
Start with clean stakes
This is a best practice because of other tomato diseases too, so hopefully you are already cleaning your tomato stakes. Every year wooden and metal stakes should be power-washed to remove excess soil, then sterilized using either bleach, Green-Shield, Xero-Tol, or an equivalent product. It is important for the stakes to sit in a sterilizing solution long enough to penetrate the nooks and crannies of the wood and kill any lurking bacteria or fungal structures. Remember that bleach will damage metal stakes if not rinsed off.
Protect plants starting early
Bacterial diseases are most effectively controlled by preventing their infection. It's not always clear where inoculum comes from, but we know that growers who have struggled with bacterial diseases in the past are having some success with starting a protective spray program shortly after transplanting. The traditional spray for both organic and conventional growers has been copper; however, there is concern about applying the amount of copper per season that would be needed to provide continuous control. Dr. Christine Smart has been doing trialing of alternatives to copper for bacterial canker and bacterial speck, and has found that there are products equally effective to copper available on the market.
2017 Bacterial Speck Trial Results: Dr. Smart
*Products with the same letter are not significantly different
Treatment and Rate/A
Active Ingredient
Mean AUDPC
(disease over time)
Unsprayed control
234.8 a
Regalia EC 4 qt
Reynoutria sachalinensis extract
174.5 b
Double Nickel LC 32 fl oz
Bacillus amyloliquefaciens
166.3 b
Actinovate AG 12 oz
Streptomyces lydicus
161.3 b
LifeGard WG 4.5oz/100 gal
Bacillus mycoides
153.8 b
Actinovate AG+Regalia EC
150.0 b
Champ 30 WG 2.0 lb
Copper hydroxide
145.0 b
2017 Bacterial Canker Trial: Dr. Smart
# of fruit without lesions
*Products with different letters are significantly different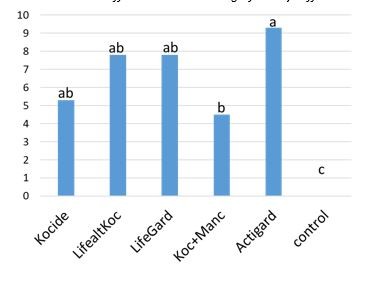 It's important to protect leaves because fruit quality will decrease as the plant weakens and is defoliated. However, fruit quality is downgraded by just one lesion. According to Dr. Smart, bacterial infection of fruit occurs before it reaches ping-pong size. Keeping fruit protected prior to this point will effectively result in lesion-free fruit. This knowledge may adjust timing of sprays.
Because copper and other products such as Actigard have, on average across bacterial diseases, equal efficacy, alternating between them could help with resistance management and will reduce copper loading the in soil. All of these products wash off in rains, so protecting weekly or between rain events is recommended for best results with field tomatoes.
One quick note—you will notice that none of the products listed are antibiotics. There are no antibiotics listed for vegetable production—products listed are either broad spectrum biocides, such as copper, stimulate plant immunity, such as Regalia and LifeGard, or competitively colonize the leaf and suppress other bacteria, such as the Bacillus products.


Upcoming Events
October Last Monday Grant Webinar for Fruit and Vegetable Growers
October 28, 2019
4:00 pm
Are you curious about what grants are available to help your farm business?
To help disseminate information on grants on a consistent basis, ENYCH is offering a "current grants" webinar on the last Monday of every month at 4:00pm
Each month's webinar focuses on 1 grant. The October webinar topic is TBD but might feature Ag Labor Housing Grants.
Produce Safety Alliance FSMA Grower Training Course
October 30, 2019
8am - 5pm
Canajoharie, NY
A grower training course developed by the Produce Safety Alliance (PSA) that meets the regulatory requirements of the Food Safety Modernization Act (FSMA) Produce Safety Rule. At least one person per farm producing more than $25,000 worth of fruits and vegetables must attend this course once. Participants will receive a certificate of course completion by the Association of Food and Drug Officials.
Tarping for Reduced Tillage Workshop
November 2 - November 19, 2019

Are you a vegetable farmer already using tarps? Or are you wondering if and how tarps could work best on your farm?

The Cornell Small Farms Program is excited to announce a series of workshops on tarping for reduced tillage in small-scale vegetable systems, to be held in Maine and New York this fall. The Reduced Tillage (RT) project of the Cornell Small Farms Program supports farmers in adopting scale-appropriate RT practices that can lead to healthy, productive soils and greater profitability. Through the evaluation of novel tools and methods using systems-based field research and on-farm trials, the project helps farmers learn about the approaches that can work for their farm. This work is accomplished in collaboration with the University of Maine, and with support from Northeast SARE.

Announcements
Podcasts