A Spring Tale of Springtails
Teresa Rusinek, Vegetable Specialist
Eastern New York Commercial Horticulture
May 17, 2018
Last week, I went to check on a problem a grower was having in his high tunnel cucumber crop. Carefully inspecting the leaves, I found many tiny, 1/16th of inch-long insects all over the cucumber plants. They jumped about from one cucumber plant to the next, munching away at tender foliage that was beginning to look like Swiss cheese!
The minuscule insects turned out to be springtails. In my 20+ years diagnosing vegetable pest problems, I've never come across these as a crop pest. For the most part springtails, also known as Collembola, feed on decaying plant material and are considered beneficial. But, under dry soil conditions, springtails seeking moisture may feed on and cause significant injury to young plants. The damage and appearance of springtails can look very much like flea beetles, but we don't typically see flea beetles attacking cucumber and the springtails are about half the size of a flea beetle. Similar to a flea beetle, they will spring away when disturbed using a structure under their abdomen called a furcular.
Springtails have been reported feeding on many veg crops including beans, beets broccoli potato radish, and even garlic. According to Cornell pest management guidelines, "These insects are generally susceptible to insecticides and are likely to be controlled when an application is made to control another seedling pest."
Springtails lay eggs in moist soil with high organic matter. The eggs hatch out into juveniles in about 10 days and then molt multiple times throughout the season. Adults may live through the year but only seem to be a problem to crops in May or June when plants are small and tender.
This article is from the May 17 2018 edition of the ENYCHP Vegetable News. Click Here to view the full newsletter.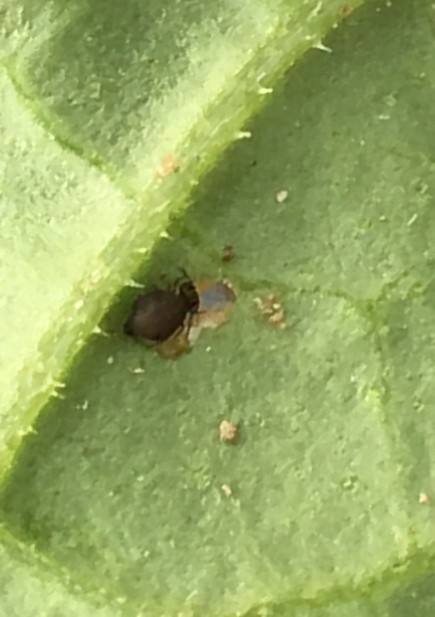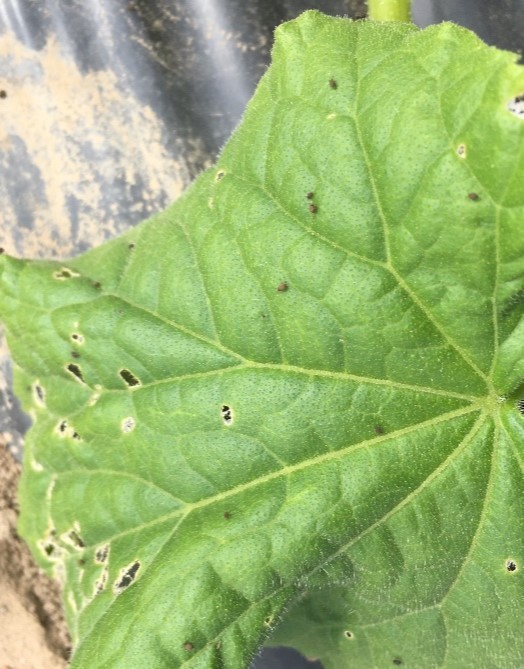 Upcoming Events
October Last Monday Grant Webinar for Fruit and Vegetable Growers
October 28, 2019
4:00 pm
Are you curious about what grants are available to help your farm business?
To help disseminate information on grants on a consistent basis, ENYCH is offering a "current grants" webinar on the last Monday of every month at 4:00pm
Each month's webinar focuses on 1 grant. The October webinar topic is TBD but might feature Ag Labor Housing Grants.
Produce Safety Alliance FSMA Grower Training Course
October 30, 2019
8am - 5pm
Canajoharie, NY
A grower training course developed by the Produce Safety Alliance (PSA) that meets the regulatory requirements of the Food Safety Modernization Act (FSMA) Produce Safety Rule. At least one person per farm producing more than $25,000 worth of fruits and vegetables must attend this course once. Participants will receive a certificate of course completion by the Association of Food and Drug Officials.
Tarping for Reduced Tillage Workshop
November 2 - November 19, 2019

Are you a vegetable farmer already using tarps? Or are you wondering if and how tarps could work best on your farm?

The Cornell Small Farms Program is excited to announce a series of workshops on tarping for reduced tillage in small-scale vegetable systems, to be held in Maine and New York this fall. The Reduced Tillage (RT) project of the Cornell Small Farms Program supports farmers in adopting scale-appropriate RT practices that can lead to healthy, productive soils and greater profitability. Through the evaluation of novel tools and methods using systems-based field research and on-farm trials, the project helps farmers learn about the approaches that can work for their farm. This work is accomplished in collaboration with the University of Maine, and with support from Northeast SARE.

Announcements
Podcasts