A Spring Tale of Springtails
Teresa Rusinek, Vegetable Specialist
Eastern New York Commercial Horticulture
May 17, 2018
Last week, I went to check on a problem a grower was having in his high tunnel cucumber crop. Carefully inspecting the leaves, I found many tiny, 1/16th of inch-long insects all over the cucumber plants. They jumped about from one cucumber plant to the next, munching away at tender foliage that was beginning to look like Swiss cheese!
The minuscule insects turned out to be springtails. In my 20+ years diagnosing vegetable pest problems, I've never come across these as a crop pest. For the most part springtails, also known as Collembola, feed on decaying plant material and are considered beneficial. But, under dry soil conditions, springtails seeking moisture may feed on and cause significant injury to young plants. The damage and appearance of springtails can look very much like flea beetles, but we don't typically see flea beetles attacking cucumber and the springtails are about half the size of a flea beetle. Similar to a flea beetle, they will spring away when disturbed using a structure under their abdomen called a furcular.
Springtails have been reported feeding on many veg crops including beans, beets broccoli potato radish, and even garlic. According to Cornell pest management guidelines, "These insects are generally susceptible to insecticides and are likely to be controlled when an application is made to control another seedling pest."
Springtails lay eggs in moist soil with high organic matter. The eggs hatch out into juveniles in about 10 days and then molt multiple times throughout the season. Adults may live through the year but only seem to be a problem to crops in May or June when plants are small and tender.
This article is from the May 17 2018 edition of the ENYCHP Vegetable News. Click Here to view the full newsletter.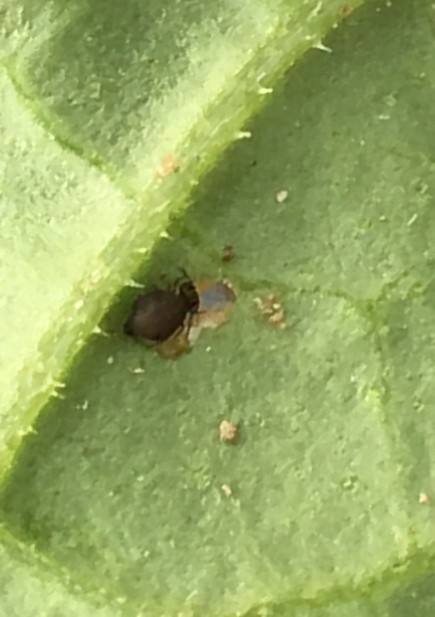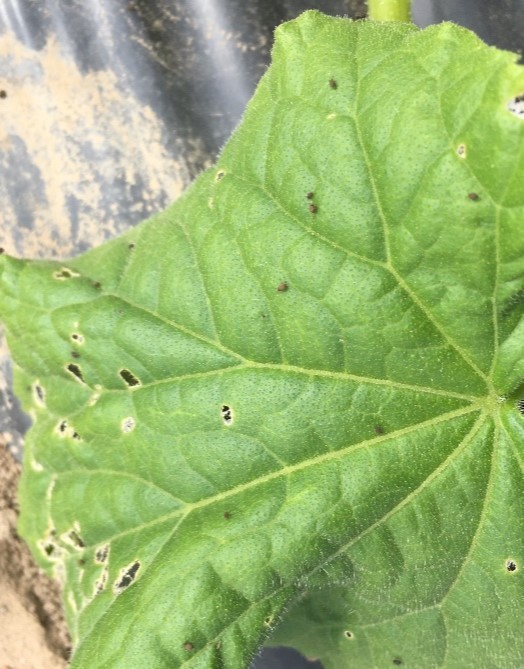 Upcoming Events
Farm Financial Management Tuesdays - Planning for a Change or Exiting Your Farm Business
November 30, 2021 : Assessing the Financial Ramifications of and Options for Significant Change to Your Farm Business
The inflationary economy is upon us! The huge influx of money into the US economy following the COVID-19 pandemic has manufactured high prices and in turn increased operating costs for farm business thus forcing many businesses into net operating loss situations. Other farms are facing high labor costs or chronic labor shortages. Some farms have taken on debt loads that make these increased costs unaffordable. Depending on the stage in the business lifecycle, it may make sense to change enterprises or exit the farming business entirely.
Join CCE ENYCH Ag Business Educator, Elizabeth Higgins, and CAAHP Ag Business Educator, Dayton Maxwell, for a one-hour program to learn about the financial aspects of changing or exiting a farm business.
December 7, 2021 : The Family and Emotional Component; Shifting Business Direction and Life After Farming
As farm business enterprises are changed or disbanded, the emotional stress can be tremendous, especially when individuals and family members maintain diminished assurance relative to future security.
Join Gabriel Gurley and Brenda O'Brien of New York FarmNet for a one-hour program focused on successfully navigating the emotional turmoil of a family farm business transition.
December 14, 2021 : New Venture Creation; Shifting Business Direction and Life After Farming
Change creates opportunity and new opportunities are certain when farm businesses change or end.
Join Gabriel Gurley of New York FarmNet for a one-hour overview of identifying ways and means to capitalize on new opportunities resulting from farm business transitions.
Remote Produce Safety Alliance Grower Training Course - Dec 2021
December 8 - December 9, 2021
A grower training course developed by the Produce Safety Alliance (PSA) that meets the regulatory requirements of the Food Safety Modernization Act (FSMA) for farms subject to the Produce Safety Rule. All farms are welcome to attend to learn about recommended food safety practices for growing, handling, and storing fresh produce. Course registration fee includes a course manual and certificate of course completion by the Association of Food and Drug Officials (AFDO).

Tax Management for Beginning and Small Farm Businesses
January 18, 2022
Tax Management for Beginning and Small Farm Businesses.
A one-night virtual meeting for beginning and part-time farmers that provides useful tax information enabling participants to be make better tax decisions for their business. Federal and state income taxes will be covered. Tax regulations specific to NYS will be covered as well.
Announcements
Podcasts