Lookout for Leek Moth
Amy Ivy, Vegetable Specialist
Eastern New York Commercial Horticulture
May 17, 2018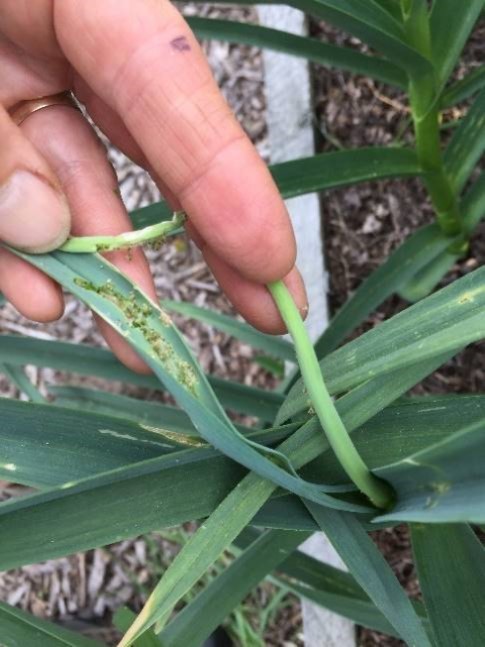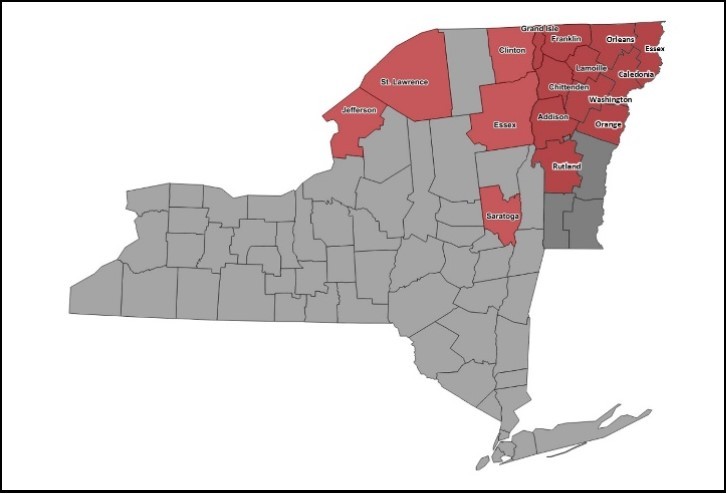 Leek moth is a pest of all allium crops: onions, garlic, leeks, shallots and chives. It is widespread through the southern parts of Ontario and Quebec in Canada, northern NY and in recent years, most of Vermont (see map).
Leek moth overwinters as an adult and begins flying in mid-April. This year the first adults were caught in Essex on April 21, in spite of very cold weather the week prior. The adults seek out alliums on which to lay eggs; emerging garlic and onion seedlings are known to be popular sites. Overwintering onions and emerging chives could be likely hosts for these first egg laying efforts as well. Larvae should be hatching in a couple of weeks.
Be cautious when buying and selling onion transplants between growers in the infested areas. We have seen leek moth appear in new locations when infested plants were brought in from other farms. It is not known in the southern US so seedlings from there should not be a concern for leek moth but caution is advised when buying any northern grown seedlings.
Leek moth larvae can do considerable damage to garlic scapes and this is a good first place to look for them when scouting. Look inside folded leaves near the developing scapes as well. There are 2ee labels for Entrust (organic), Radiant, Lannate and Warrior II w/Zeon. Controlling this first emergence of larvae can help protect onions from the second generation of leek moth which is more difficult to control since the larvae are more protected because they feed inside the hollow onion leaves.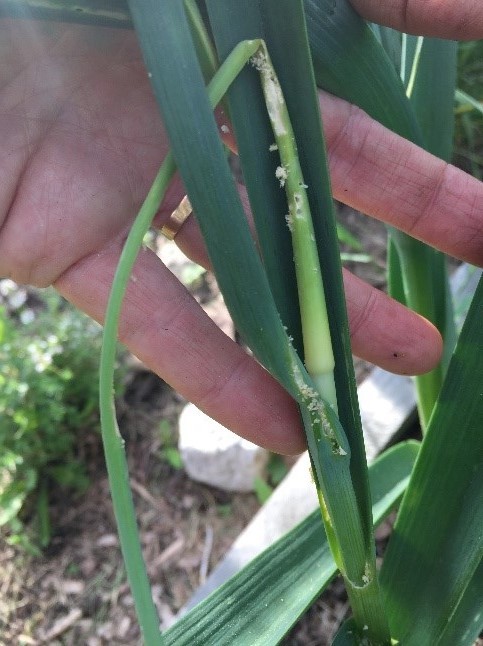 Upcoming Events
Farm Financial Management Tuesdays - Planning for a Change or Exiting Your Farm Business
November 30, 2021 : Assessing the Financial Ramifications of and Options for Significant Change to Your Farm Business
The inflationary economy is upon us! The huge influx of money into the US economy following the COVID-19 pandemic has manufactured high prices and in turn increased operating costs for farm business thus forcing many businesses into net operating loss situations. Other farms are facing high labor costs or chronic labor shortages. Some farms have taken on debt loads that make these increased costs unaffordable. Depending on the stage in the business lifecycle, it may make sense to change enterprises or exit the farming business entirely.
Join CCE ENYCH Ag Business Educator, Elizabeth Higgins, and CAAHP Ag Business Educator, Dayton Maxwell, for a one-hour program to learn about the financial aspects of changing or exiting a farm business.
December 7, 2021 : The Family and Emotional Component; Shifting Business Direction and Life After Farming
As farm business enterprises are changed or disbanded, the emotional stress can be tremendous, especially when individuals and family members maintain diminished assurance relative to future security.
Join Gabriel Gurley and Brenda O'Brien of New York FarmNet for a one-hour program focused on successfully navigating the emotional turmoil of a family farm business transition.
December 14, 2021 : New Venture Creation; Shifting Business Direction and Life After Farming
Change creates opportunity and new opportunities are certain when farm businesses change or end.
Join Gabriel Gurley of New York FarmNet for a one-hour overview of identifying ways and means to capitalize on new opportunities resulting from farm business transitions.
Remote Produce Safety Alliance Grower Training Course - Dec 2021
December 8 - December 9, 2021
A grower training course developed by the Produce Safety Alliance (PSA) that meets the regulatory requirements of the Food Safety Modernization Act (FSMA) for farms subject to the Produce Safety Rule. All farms are welcome to attend to learn about recommended food safety practices for growing, handling, and storing fresh produce. Course registration fee includes a course manual and certificate of course completion by the Association of Food and Drug Officials (AFDO).

Tax Management for Beginning and Small Farm Businesses
January 18, 2022
Tax Management for Beginning and Small Farm Businesses.
A one-night virtual meeting for beginning and part-time farmers that provides useful tax information enabling participants to be make better tax decisions for their business. Federal and state income taxes will be covered. Tax regulations specific to NYS will be covered as well.
Announcements
Podcasts