Lookout for Leek Moth
Amy Ivy, Vegetable Specialist
Eastern New York Commercial Horticulture
May 17, 2018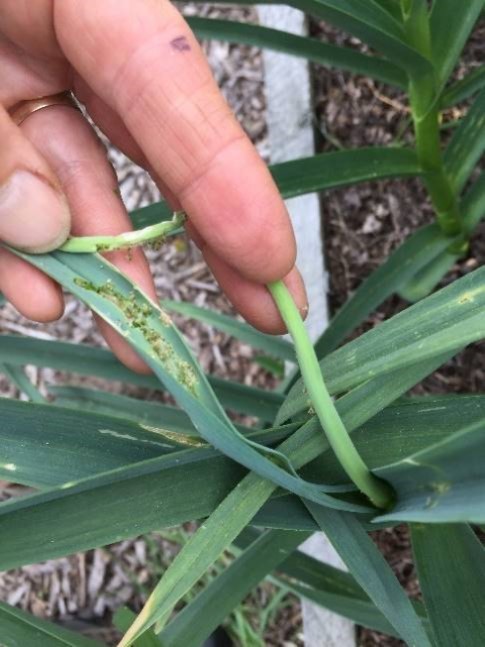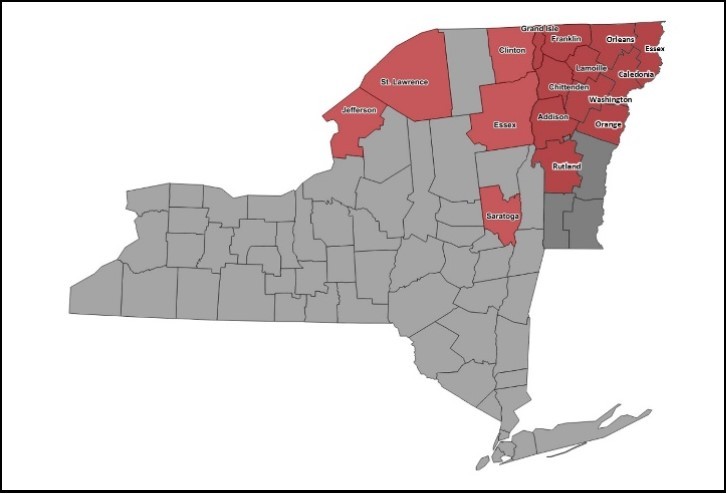 Leek moth is a pest of all allium crops: onions, garlic, leeks, shallots and chives. It is widespread through the southern parts of Ontario and Quebec in Canada, northern NY and in recent years, most of Vermont (see map).
Leek moth overwinters as an adult and begins flying in mid-April. This year the first adults were caught in Essex on April 21, in spite of very cold weather the week prior. The adults seek out alliums on which to lay eggs; emerging garlic and onion seedlings are known to be popular sites. Overwintering onions and emerging chives could be likely hosts for these first egg laying efforts as well. Larvae should be hatching in a couple of weeks.
Be cautious when buying and selling onion transplants between growers in the infested areas. We have seen leek moth appear in new locations when infested plants were brought in from other farms. It is not known in the southern US so seedlings from there should not be a concern for leek moth but caution is advised when buying any northern grown seedlings.
Leek moth larvae can do considerable damage to garlic scapes and this is a good first place to look for them when scouting. Look inside folded leaves near the developing scapes as well. There are 2ee labels for Entrust (organic), Radiant, Lannate and Warrior II w/Zeon. Controlling this first emergence of larvae can help protect onions from the second generation of leek moth which is more difficult to control since the larvae are more protected because they feed inside the hollow onion leaves.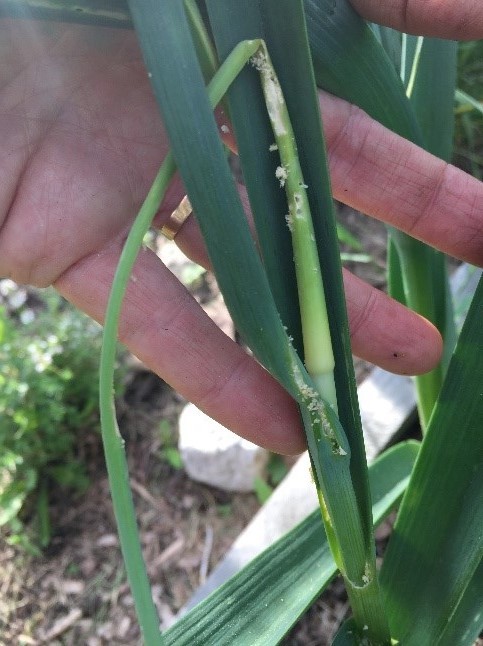 Upcoming Events
October Last Monday Grant Webinar for Fruit and Vegetable Growers
October 28, 2019
4:00 pm
Are you curious about what grants are available to help your farm business?
To help disseminate information on grants on a consistent basis, ENYCH is offering a "current grants" webinar on the last Monday of every month at 4:00pm
Each month's webinar focuses on 1 grant. The October webinar topic is TBD but might feature Ag Labor Housing Grants.
Produce Safety Alliance FSMA Grower Training Course
October 30, 2019
8am - 5pm
Canajoharie, NY
A grower training course developed by the Produce Safety Alliance (PSA) that meets the regulatory requirements of the Food Safety Modernization Act (FSMA) Produce Safety Rule. At least one person per farm producing more than $25,000 worth of fruits and vegetables must attend this course once. Participants will receive a certificate of course completion by the Association of Food and Drug Officials.
Tarping for Reduced Tillage Workshop
November 2 - November 19, 2019

Are you a vegetable farmer already using tarps? Or are you wondering if and how tarps could work best on your farm?

The Cornell Small Farms Program is excited to announce a series of workshops on tarping for reduced tillage in small-scale vegetable systems, to be held in Maine and New York this fall. The Reduced Tillage (RT) project of the Cornell Small Farms Program supports farmers in adopting scale-appropriate RT practices that can lead to healthy, productive soils and greater profitability. Through the evaluation of novel tools and methods using systems-based field research and on-farm trials, the project helps farmers learn about the approaches that can work for their farm. This work is accomplished in collaboration with the University of Maine, and with support from Northeast SARE.

Announcements
Podcasts