Considerations When Planting Sweet Potatoes
Chuck Bornt, Team Leader, Extension Vegetable Specialist
Eastern New York Commercial Horticulture
May 24, 2018
Fertility: sweet potatoes are not heavy nitrogen feeders and typically only require about 50 pounds of actual nitrogen - additional amounts can lead to more growth cracking and rough root appearances. Varieties such as Beauregard and Covington are less sensitive to the nitrogen levels, but still do not require much more than the recommended 50 lbs. They are however high potassium consumers requiring 120—150 pounds of actual potassium. Potassium helps ensure uniform roots and is essential for flavor and storability. Sweet potatoes require 60 pounds per acre of phosphorous, but these levels should be adjusted to your soil type and frequent soil nutrient testing.
Try to plant them as soon as you receive your plants—do not try to hold on to them for more than a couple of days. If you can't plant them right away, do not put them in a cooler—keep them in a cool, shady area. Coolers can be too cold and result in the plants getting injured. If possible, open the boxes and spread your slips out if you can't get them planted right away.
Do not "soak" your plants in water! This does not help and usually only makes them slimy and encourages bacterial breakdowns. If you need to hold your plants for more than 3 or 4 days, place them standing up in shallow trays filled with sand or potting mix and keep the media moist.
Make sure the beds you are planting in are moist and maintain good moisture for at least 7—10 days after planting to ensure the plants start to root well.
Planting is probably one of the most labor consuming issues with this crop. Personally, if you are planting on plastic much with a waterwheel, I think the standard spike leaves to large of a hole in plastic and is very slow. They don't really necessarily need the water from the wheel if your beds are good and moist to begin with. Giving your crew a couple pieces of 3/8 - ½" rebar and letting them poke and plant is quicker and doesn't leave that huge hole in the plastic. To keep your spacing, you can attach a flag or piece of wood to the rebar and gauge it that way or eyeball it.
Along with #6, the deeper the hole when you plant the better and the rebar allows you to make the holes nice and deep (and straight, not at an angle like the waterwheel)! Make sure your slips are planted as deep as you can get them without burying the growing point. Each node along the stem is potential for more yield!
Spacing: everyone uses different spacing, but research we conducted several years ago indicated that when using beds mulched with black plastic (30—36" wide), using a single row down the middle of the bed 12—15" apart or a double staggered row (like for peppers) at 18" apart in the row and 12" between the rows worked best.
The last bit of information that I'll leave you with is while doing some recent reading, it was brought to my knowledge that sweet potatoes actually do not fare well in soils with high levels of organic matter. High levels of organic matter have been linked to root staining and some overall poor root quality such as long spindly roots (probably the result of too much nitrogen being released from the organic matter).
This article was printed in the May 24th, 2018 issue of ENYCHP Veg News. To view the full newsletter, click here.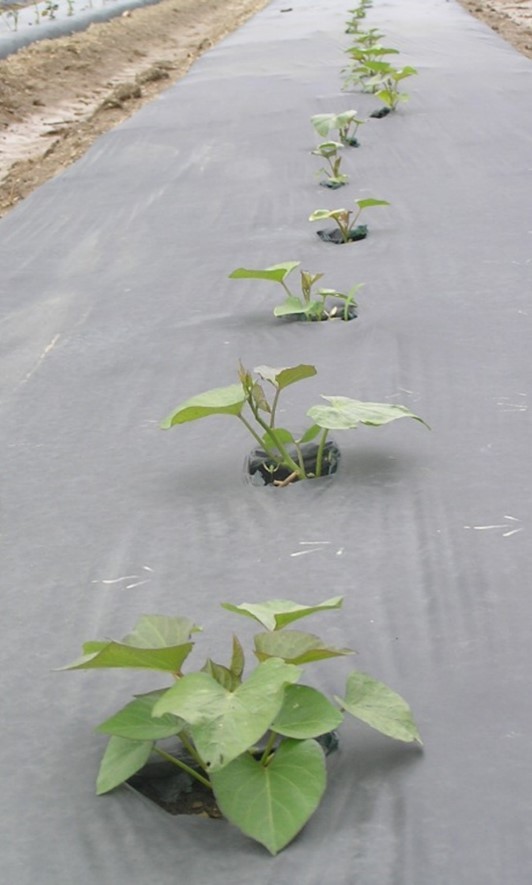 Upcoming Events
Soil Health for Vegetable Growers Workshop

November 1, 2023
Essex, NY
Join us for presentations, discussions, and hands-on demonstrations focusing on soil health concepts and best management practices for vegetable growers. Topics include tarping, maintaining soil health in high tunnels, cover cropping, reduced tillage, compost microbiology, and more.
1.75 DEC pesticide recertification credits available in categories 1A, 10, and 23.
Announcements
Podcasts