Allium Leafminer Spring Flight Update
Ethan Grundberg, Vegetable Specialist
Eastern New York Commercial Horticulture
May 31, 2018
The spring flight of the new invasive insect pest, the allium leafminer, began in late April with the first confirmed activity in the Red Hook area. Adults have gradually emerged from pupae in the soil and in cull piles for the past four weeks and have been feeding and laying eggs on allium leaves during that time. The diagnostic sign of this adult feeding and egg-laying is a vertical line of dots, typically found near the tip of host crop leaves. These oviposition scars are sometimes accompanied by faint, mostly vertical lines that run down the leaf blade toward the soil. These "mines" are caused by allium leafminer (ALM) maggots feeding on the interior leaf tissue.
We are still actively studying this new pest to better guide allium growers in the region on best management practices. Here are some important updates based on that work:
1. Not all oviposition scars are egg-laying sites: Adult females use their ovipositor (egg-laying organ) to create the small dots in the leaf tissue. Adults feed on the plant exudates that are released through those physical wounds. We are studying leaf samples from multiple allium species during the adult flight period to try to determine what percentage of those oviposition locations are, on average, active egg-laying sites versus feeding sites. What is certain at this point is that NOT ALL OVIPOSITION SCARS ARE ACTIVE EGG-LAYING SITES. That means that even if you find 20 oviposition dots on a leaf, there are likely far fewer eggs in the leaf tissue. Fewer eggs mean fewer maggots, which means less potential for significant damage to crops.
2. I still found several adult flies in the field on Monday, May 21st. Though some adults may still be active, I am confident that we are past the period of peak flight and that there is little risk of additional egg-laying on crops at this time. THIS MEANS THAT GROWERS USING ROW COVER OR INSECT NETTING TO EXCLUDE ADULTS CAN REMOVE THEM AT THIS POINT WITH LITTLE RISK OF ADDITIONAL ALM DAMAGE. Maggots will continue to hatch from recently laid eggs and further damage crops for the next couple of weeks.

3. We are still collaborating with the Cornell entomologist Dr. Brian Nault on insecticide efficacy evaluations of both conventional and OMRI products. We will update growers prior to the beginning of thefall flight of ALM (anticipated in mid-to-late September) with findings from those trials. If extensive maggot mining is observed, Radiant SC (spinetoram, IRAC group 5) mixed with a penetrating surfactant (such as LI 700) can be used with a 1-day Pre-Harvest Interval (PHI) on most allium crops for dipteran leafminer control. Since the maggots are inside the leaf tissue, only active ingredients with translaminar (penetrates locally through the leaf tissue where the product makes contact) or systemic (is absorbed through the leaf tissue and moved upward throughout the plant vascular system) activity will reduce damage. Contact insecticides, such as pyrethroids (IRAC Group 3A) will NOT be effective at this point.
4. We have confirmed ALM activity as far north as Schoharie and Grafton and as far east as Berkshire County, Massachusetts. ALLIUM GROWERS AS FAR NORTH AS GLENS FALLS SHOULD BE PREPARED TO PROTECT FALL ALLIUMS FROM ALM and be on the lookout for alerts from the ENYCHP team once the fall emergence in confirmed.
If you suspect ALM activity on your farm and would like further recommendations for management, feel free to reach out to me directly at 617-455-1893 or Teresa Rusinek at tr28@cornell.edu.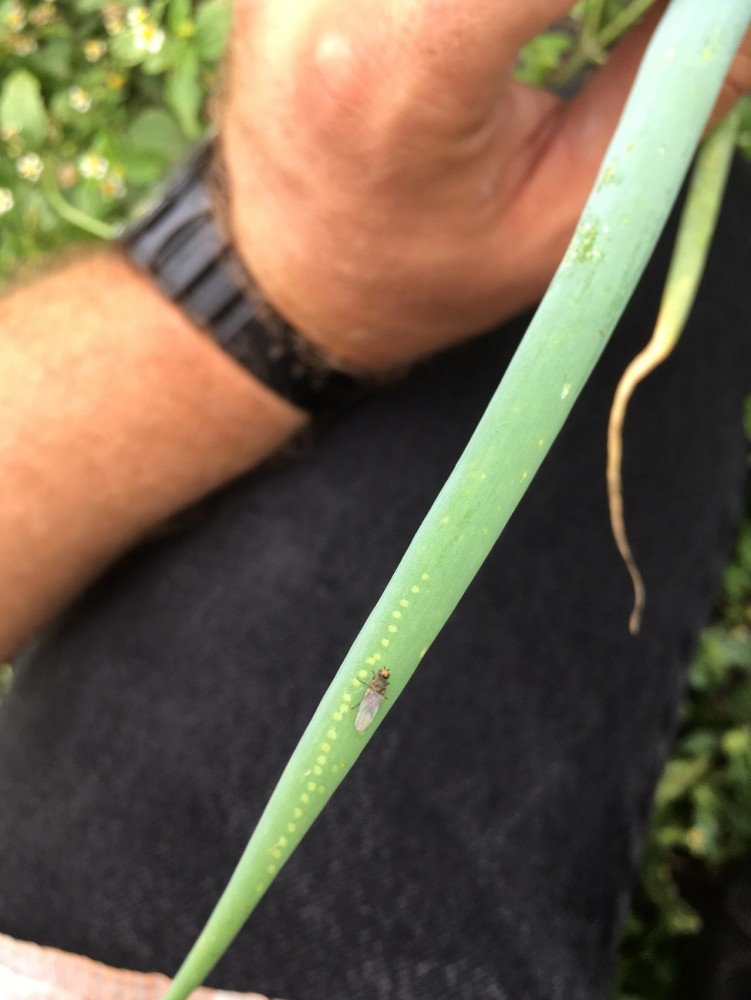 Upcoming Events
Champlain Valley Tree Fruit Grower Input Meeting
November 30, 2022
Plattsburgh, NY
We need your input! Mike will be holding a Champlain Valley tree fruit grower input session on November 30 in Plattsburgh at the Clinton County CCE office. Mike will review his 2022 research and extension activities. We would then like to hear from you to set priorities for future tree fruit research and education needs, and to get your input for speakers for our 2023 winter meetings.
How Profitable Will My New Orchard Investment Be? Zoom Series
December 5, 2022 : Looking at the Big Financial Picture for Your Farm
Your farm's big-3 financial records (balance sheet, income statement and statement of cash flow) and how to use them to assess your overall financial situation. This information will help you assess what types of investments are likely to be viable for your farm business and whether or not you are likely to be able to use credit to finance that investment. We will specifically cover Farm Profitability, Cash Flow, and Key Financial Ratios.
December 6, 2022 : Business Strategy and the Farm Value Chain
How do you create value? How do you differentiate yourself from your competitors? In other words - what is your farm's business strategy? Your investments should be in line with your strategy. Different business strategies will result in investments in different parts of the Farm Business Value Chain. Farm Business Value Chain - full range of activities needed to create a product or service.
December 7, 2022 : Using Your Farm's Financial Data to Make Management Decisions
Identifying the Enterprises in Your Value Chain. Your Profit Centers and Cost Centers. We will cover: Direct vs Indirect Costs and Cost Allocation and Variable vs Fixed Costs and Relevant Range (when does a fixed cost become a variable cost?)
December 8, 2022 : Operating Budgets and Strategic Planning
Operating budgets are the overall financial plan for the business. You can use a budget based on your current situation as the base to model new scenarios.
December 12, 2022 : Enterprise Budgets
It is more time-consuming to develop detailed budgets for your enterprises, but it is worthwhile to do this for area where you are considering making major investments. We will demonstrate how to move from an operating budget to an enterprise budget to model specific scenarios within that enterprise.
December 13, 2022 : 5 Step Decision-making Process for Capital Projects and Long-term Investments
Introduces a structured process for a manager to go through to decide among options for long-term investments, projects or changes to the farm business.
December 14, 2022 : Cost Volume Profit Analysis and Sensitivity Analysis
As you change your prices, volume of sales or costs of production how does your profit change? What is your break-even point and what output level do you need to achieve a target income? We will also cover sensitivity analysis that will help you see how your results will vary over a range of likely scenarios from best case to worst case. This will help you assess the riskiness of your plan.
December 15, 2022 : Capital Budgeting Tools - Net Present Value, Internal Rate of Return, and Payback Period
Capital budgeting is defined as the process used to determine whether capital assets are worth investing in. it's the process of asking: is an asset worth the resources it requires? Capital assets are usually long-term investments like new equipment, facilities, and other infrastructure upgrades. By incorporating strategically planned capital budgeting into their financial processes, companies can more effectively determine and prioritize which projects, programs and other investment assets could be most financially beneficial in the long-term.
SAVE THE DATES
December 13 - December 15, 2022February 2 - February 8, 2023February 21 - February 23, 2023
Save the Dates for the following Winter Meetings:
The New England Vegetable & Fruit Conference, DoubleTree Hotel and Conference Center, Manchester, New Hampshire, December 13-15 https://newenglandvfc.org/registration/
NOFA NY Virtual Winter Conference, February 2-5, 2023 https://nofany.org/2023conference/
Empire State Expo, Oncenter Syracuse, February 6-7 2023 https://nysvga.org/expo/information/
Becker Forum, Oncenter Syracuse, February 8, 2023 https://nysvga.org/expo/information/
Eastern NY Commercial Horticulture Program Regional Winter Meeting, The Desmond Hotel, Albany, February 21-23, 2023
Announcements
Podcasts