Allium Leafminer Spring Flight Update
Ethan Grundberg, Vegetable Specialist
Eastern New York Commercial Horticulture
May 31, 2018
The spring flight of the new invasive insect pest, the allium leafminer, began in late April with the first confirmed activity in the Red Hook area. Adults have gradually emerged from pupae in the soil and in cull piles for the past four weeks and have been feeding and laying eggs on allium leaves during that time. The diagnostic sign of this adult feeding and egg-laying is a vertical line of dots, typically found near the tip of host crop leaves. These oviposition scars are sometimes accompanied by faint, mostly vertical lines that run down the leaf blade toward the soil. These "mines" are caused by allium leafminer (ALM) maggots feeding on the interior leaf tissue.
We are still actively studying this new pest to better guide allium growers in the region on best management practices. Here are some important updates based on that work:
1. Not all oviposition scars are egg-laying sites: Adult females use their ovipositor (egg-laying organ) to create the small dots in the leaf tissue. Adults feed on the plant exudates that are released through those physical wounds. We are studying leaf samples from multiple allium species during the adult flight period to try to determine what percentage of those oviposition locations are, on average, active egg-laying sites versus feeding sites. What is certain at this point is that NOT ALL OVIPOSITION SCARS ARE ACTIVE EGG-LAYING SITES. That means that even if you find 20 oviposition dots on a leaf, there are likely far fewer eggs in the leaf tissue. Fewer eggs mean fewer maggots, which means less potential for significant damage to crops.
2. I still found several adult flies in the field on Monday, May 21st. Though some adults may still be active, I am confident that we are past the period of peak flight and that there is little risk of additional egg-laying on crops at this time. THIS MEANS THAT GROWERS USING ROW COVER OR INSECT NETTING TO EXCLUDE ADULTS CAN REMOVE THEM AT THIS POINT WITH LITTLE RISK OF ADDITIONAL ALM DAMAGE. Maggots will continue to hatch from recently laid eggs and further damage crops for the next couple of weeks.

3. We are still collaborating with the Cornell entomologist Dr. Brian Nault on insecticide efficacy evaluations of both conventional and OMRI products. We will update growers prior to the beginning of thefall flight of ALM (anticipated in mid-to-late September) with findings from those trials. If extensive maggot mining is observed, Radiant SC (spinetoram, IRAC group 5) mixed with a penetrating surfactant (such as LI 700) can be used with a 1-day Pre-Harvest Interval (PHI) on most allium crops for dipteran leafminer control. Since the maggots are inside the leaf tissue, only active ingredients with translaminar (penetrates locally through the leaf tissue where the product makes contact) or systemic (is absorbed through the leaf tissue and moved upward throughout the plant vascular system) activity will reduce damage. Contact insecticides, such as pyrethroids (IRAC Group 3A) will NOT be effective at this point.
4. We have confirmed ALM activity as far north as Schoharie and Grafton and as far east as Berkshire County, Massachusetts. ALLIUM GROWERS AS FAR NORTH AS GLENS FALLS SHOULD BE PREPARED TO PROTECT FALL ALLIUMS FROM ALM and be on the lookout for alerts from the ENYCHP team once the fall emergence in confirmed.
If you suspect ALM activity on your farm and would like further recommendations for management, feel free to reach out to me directly at 617-455-1893 or Teresa Rusinek at tr28@cornell.edu.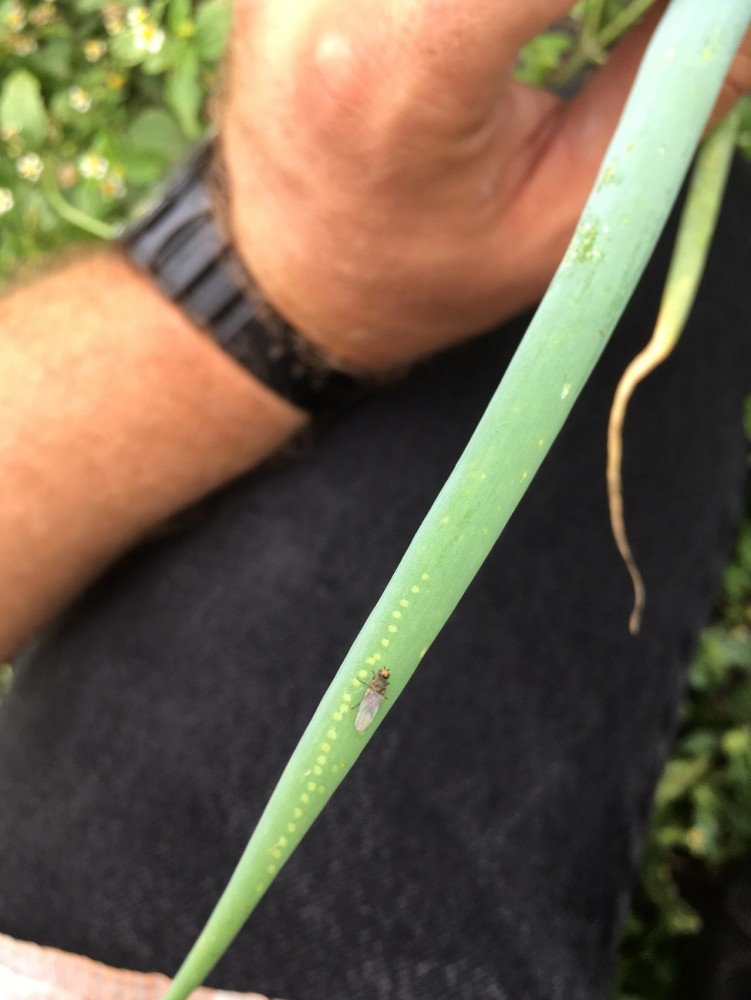 Upcoming Events
Farm Financial Management Tuesdays - Planning for a Change or Exiting Your Farm Business
November 30, 2021 : Assessing the Financial Ramifications of and Options for Significant Change to Your Farm Business
The inflationary economy is upon us! The huge influx of money into the US economy following the COVID-19 pandemic has manufactured high prices and in turn increased operating costs for farm business thus forcing many businesses into net operating loss situations. Other farms are facing high labor costs or chronic labor shortages. Some farms have taken on debt loads that make these increased costs unaffordable. Depending on the stage in the business lifecycle, it may make sense to change enterprises or exit the farming business entirely.
Join CCE ENYCH Ag Business Educator, Elizabeth Higgins, and CAAHP Ag Business Educator, Dayton Maxwell, for a one-hour program to learn about the financial aspects of changing or exiting a farm business.
December 7, 2021 : The Family and Emotional Component; Shifting Business Direction and Life After Farming
As farm business enterprises are changed or disbanded, the emotional stress can be tremendous, especially when individuals and family members maintain diminished assurance relative to future security.
Join Gabriel Gurley and Brenda O'Brien of New York FarmNet for a one-hour program focused on successfully navigating the emotional turmoil of a family farm business transition.
December 14, 2021 : New Venture Creation; Shifting Business Direction and Life After Farming
Change creates opportunity and new opportunities are certain when farm businesses change or end.
Join Gabriel Gurley of New York FarmNet for a one-hour overview of identifying ways and means to capitalize on new opportunities resulting from farm business transitions.
Remote Produce Safety Alliance Grower Training Course - Dec 2021
December 8 - December 9, 2021
A grower training course developed by the Produce Safety Alliance (PSA) that meets the regulatory requirements of the Food Safety Modernization Act (FSMA) for farms subject to the Produce Safety Rule. All farms are welcome to attend to learn about recommended food safety practices for growing, handling, and storing fresh produce. Course registration fee includes a course manual and certificate of course completion by the Association of Food and Drug Officials (AFDO).

Tax Management for Beginning and Small Farm Businesses
January 18, 2022
Tax Management for Beginning and Small Farm Businesses.
A one-night virtual meeting for beginning and part-time farmers that provides useful tax information enabling participants to be make better tax decisions for their business. Federal and state income taxes will be covered. Tax regulations specific to NYS will be covered as well.
Announcements
Podcasts