Onion Thrips Management Recommendations for 2018
Ethan Grundberg, Vegetable Specialist
Eastern New York Commercial Horticulture
June 7, 2018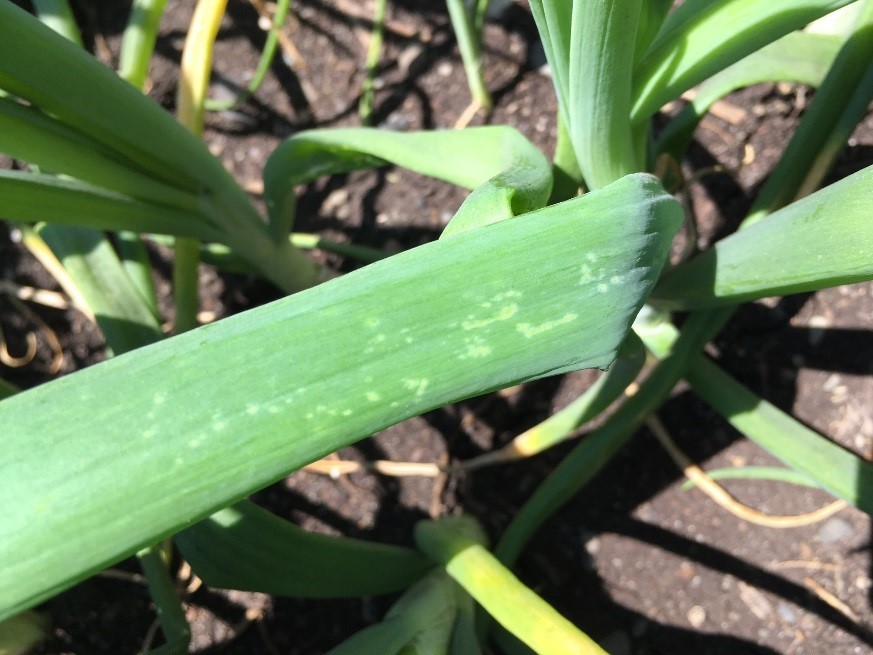 Most larger scale onion growers in the region are already familiar with Dr. Brian Nault's insecticide sequence recommendations for onion thrips management. However, more products have been registered in New York in the last few years that provide alternative options for conventional thrips management (specifically Exirel and Minecto Pro). It's worth keeping in mind that Dr. Nault's recommendations are based on two primary principles:
Scouting and only spraying at threshold: The days of calendar sprays are long gone. Given the cost of some of the newer chemistries used for thrips management, growers must scout fields and confirm that thrips populations have reached a level of at least an average of 1 thrips per leaf before spraying. Spraying before thresholds are reached not only weakens the resistance management strategy (see point 2), but also cuts into grower profits by unnecessarily increasing the number of insecticide applications each year.
Resistance management: Onion thrips produce multiple generations each year. They also develop resistance to insecticides more readily than other pests that reproduce more slowly. One of the goals of the recommended insecticide sequence is to avoid exposing multiple generations per year to the same insecticide. By avoiding the exposure of multiple thrips generations to the same active ingredients in the same year, growers can help preserve the useful life of insecticides that are effective at managing thrips.
The chart that follows outlines several different insecticide sequences developed by Dr. Nault for growers to follow depending upon the severity of thrips pressure in the field. It should be noted that, as indicated below, Minecto Pro is a pre-mix of the same active ingredients found in Agri-Mek and Exirel, so it should NOT be used in sequence with those products. Addtionally, almost all of the insecticides listed in the chart should be used with a non-ionic penetrating surfactant, such as Dyne-Amic or LI700. Only Warrior and Lannate are compatible with spreader-sticker type adjuvants. Since Bravo Weatherstik is formulated with a sticker, it should NOT be mixed with Movento, Minecto Pro, Radiant, Exirel, or Agri-Mek.

This article was published in the June 7th 2018, ENYCHP Vegetable News. Click here to view the full newsletter.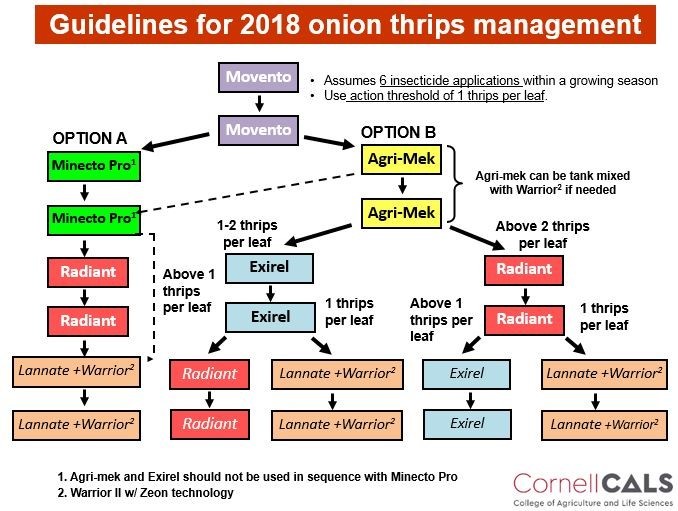 Upcoming Events
Champlain Valley Tree Fruit Grower Input Meeting
November 30, 2022
Plattsburgh, NY
We need your input! Mike will be holding a Champlain Valley tree fruit grower input session on November 30 in Plattsburgh at the Clinton County CCE office. Mike will review his 2022 research and extension activities. We would then like to hear from you to set priorities for future tree fruit research and education needs, and to get your input for speakers for our 2023 winter meetings.
How Profitable Will My New Orchard Investment Be? Zoom Series
December 5, 2022 : Looking at the Big Financial Picture for Your Farm
Your farm's big-3 financial records (balance sheet, income statement and statement of cash flow) and how to use them to assess your overall financial situation. This information will help you assess what types of investments are likely to be viable for your farm business and whether or not you are likely to be able to use credit to finance that investment. We will specifically cover Farm Profitability, Cash Flow, and Key Financial Ratios.
December 6, 2022 : Business Strategy and the Farm Value Chain
How do you create value? How do you differentiate yourself from your competitors? In other words - what is your farm's business strategy? Your investments should be in line with your strategy. Different business strategies will result in investments in different parts of the Farm Business Value Chain. Farm Business Value Chain - full range of activities needed to create a product or service.
December 7, 2022 : Using Your Farm's Financial Data to Make Management Decisions
Identifying the Enterprises in Your Value Chain. Your Profit Centers and Cost Centers. We will cover: Direct vs Indirect Costs and Cost Allocation and Variable vs Fixed Costs and Relevant Range (when does a fixed cost become a variable cost?)
December 8, 2022 : Operating Budgets and Strategic Planning
Operating budgets are the overall financial plan for the business. You can use a budget based on your current situation as the base to model new scenarios.
December 12, 2022 : Enterprise Budgets
It is more time-consuming to develop detailed budgets for your enterprises, but it is worthwhile to do this for area where you are considering making major investments. We will demonstrate how to move from an operating budget to an enterprise budget to model specific scenarios within that enterprise.
December 13, 2022 : 5 Step Decision-making Process for Capital Projects and Long-term Investments
Introduces a structured process for a manager to go through to decide among options for long-term investments, projects or changes to the farm business.
December 14, 2022 : Cost Volume Profit Analysis and Sensitivity Analysis
As you change your prices, volume of sales or costs of production how does your profit change? What is your break-even point and what output level do you need to achieve a target income? We will also cover sensitivity analysis that will help you see how your results will vary over a range of likely scenarios from best case to worst case. This will help you assess the riskiness of your plan.
December 15, 2022 : Capital Budgeting Tools - Net Present Value, Internal Rate of Return, and Payback Period
Capital budgeting is defined as the process used to determine whether capital assets are worth investing in. it's the process of asking: is an asset worth the resources it requires? Capital assets are usually long-term investments like new equipment, facilities, and other infrastructure upgrades. By incorporating strategically planned capital budgeting into their financial processes, companies can more effectively determine and prioritize which projects, programs and other investment assets could be most financially beneficial in the long-term.
SAVE THE DATES
December 13 - December 15, 2022February 2 - February 8, 2023February 21 - February 23, 2023
Save the Dates for the following Winter Meetings:
The New England Vegetable & Fruit Conference, DoubleTree Hotel and Conference Center, Manchester, New Hampshire, December 13-15 https://newenglandvfc.org/registration/
NOFA NY Virtual Winter Conference, February 2-5, 2023 https://nofany.org/2023conference/
Empire State Expo, Oncenter Syracuse, February 6-7 2023 https://nysvga.org/expo/information/
Becker Forum, Oncenter Syracuse, February 8, 2023 https://nysvga.org/expo/information/
Eastern NY Commercial Horticulture Program Regional Winter Meeting, The Desmond Hotel, Albany, February 21-23, 2023
Announcements
Podcasts