Onion Thrips Management Recommendations for 2018
Ethan Grundberg, Vegetable Specialist
Eastern New York Commercial Horticulture
June 7, 2018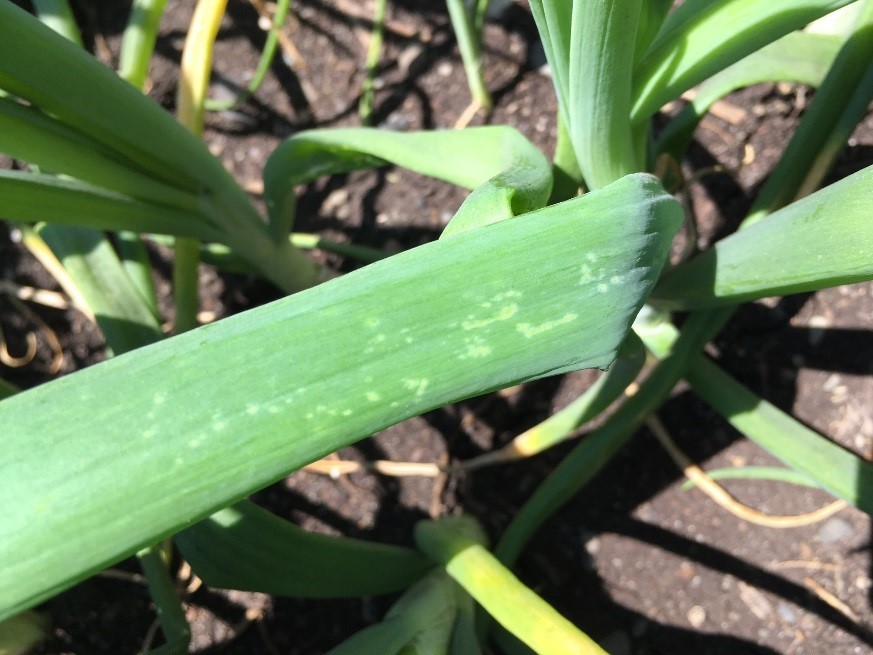 Most larger scale onion growers in the region are already familiar with Dr. Brian Nault's insecticide sequence recommendations for onion thrips management. However, more products have been registered in New York in the last few years that provide alternative options for conventional thrips management (specifically Exirel and Minecto Pro). It's worth keeping in mind that Dr. Nault's recommendations are based on two primary principles:
Scouting and only spraying at threshold: The days of calendar sprays are long gone. Given the cost of some of the newer chemistries used for thrips management, growers must scout fields and confirm that thrips populations have reached a level of at least an average of 1 thrips per leaf before spraying. Spraying before thresholds are reached not only weakens the resistance management strategy (see point 2), but also cuts into grower profits by unnecessarily increasing the number of insecticide applications each year.
Resistance management: Onion thrips produce multiple generations each year. They also develop resistance to insecticides more readily than other pests that reproduce more slowly. One of the goals of the recommended insecticide sequence is to avoid exposing multiple generations per year to the same insecticide. By avoiding the exposure of multiple thrips generations to the same active ingredients in the same year, growers can help preserve the useful life of insecticides that are effective at managing thrips.
The chart that follows outlines several different insecticide sequences developed by Dr. Nault for growers to follow depending upon the severity of thrips pressure in the field. It should be noted that, as indicated below, Minecto Pro is a pre-mix of the same active ingredients found in Agri-Mek and Exirel, so it should NOT be used in sequence with those products. Addtionally, almost all of the insecticides listed in the chart should be used with a non-ionic penetrating surfactant, such as Dyne-Amic or LI700. Only Warrior and Lannate are compatible with spreader-sticker type adjuvants. Since Bravo Weatherstik is formulated with a sticker, it should NOT be mixed with Movento, Minecto Pro, Radiant, Exirel, or Agri-Mek.

This article was published in the June 7th 2018, ENYCHP Vegetable News. Click here to view the full newsletter.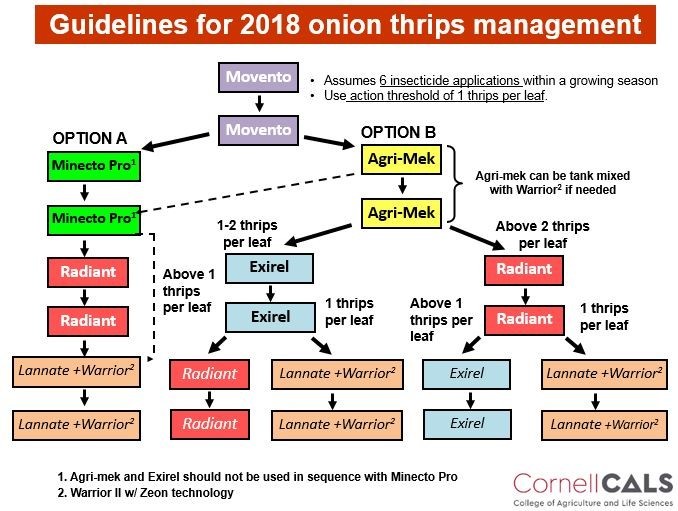 Upcoming Events
Farm Financial Management Tuesdays - Planning for a Change or Exiting Your Farm Business
November 30, 2021 : Assessing the Financial Ramifications of and Options for Significant Change to Your Farm Business
The inflationary economy is upon us! The huge influx of money into the US economy following the COVID-19 pandemic has manufactured high prices and in turn increased operating costs for farm business thus forcing many businesses into net operating loss situations. Other farms are facing high labor costs or chronic labor shortages. Some farms have taken on debt loads that make these increased costs unaffordable. Depending on the stage in the business lifecycle, it may make sense to change enterprises or exit the farming business entirely.
Join CCE ENYCH Ag Business Educator, Elizabeth Higgins, and CAAHP Ag Business Educator, Dayton Maxwell, for a one-hour program to learn about the financial aspects of changing or exiting a farm business.
December 7, 2021 : The Family and Emotional Component; Shifting Business Direction and Life After Farming
As farm business enterprises are changed or disbanded, the emotional stress can be tremendous, especially when individuals and family members maintain diminished assurance relative to future security.
Join Gabriel Gurley and Brenda O'Brien of New York FarmNet for a one-hour program focused on successfully navigating the emotional turmoil of a family farm business transition.
December 14, 2021 : New Venture Creation; Shifting Business Direction and Life After Farming
Change creates opportunity and new opportunities are certain when farm businesses change or end.
Join Gabriel Gurley of New York FarmNet for a one-hour overview of identifying ways and means to capitalize on new opportunities resulting from farm business transitions.
Remote Produce Safety Alliance Grower Training Course - Dec 2021
December 8 - December 9, 2021
A grower training course developed by the Produce Safety Alliance (PSA) that meets the regulatory requirements of the Food Safety Modernization Act (FSMA) for farms subject to the Produce Safety Rule. All farms are welcome to attend to learn about recommended food safety practices for growing, handling, and storing fresh produce. Course registration fee includes a course manual and certificate of course completion by the Association of Food and Drug Officials (AFDO).

Tax Management for Beginning and Small Farm Businesses
January 18, 2022
Tax Management for Beginning and Small Farm Businesses.
A one-night virtual meeting for beginning and part-time farmers that provides useful tax information enabling participants to be make better tax decisions for their business. Federal and state income taxes will be covered. Tax regulations specific to NYS will be covered as well.
Announcements
Podcasts