Onion Thrips Management Recommendations for 2018
Ethan Grundberg, Vegetable Specialist
Eastern New York Commercial Horticulture
June 7, 2018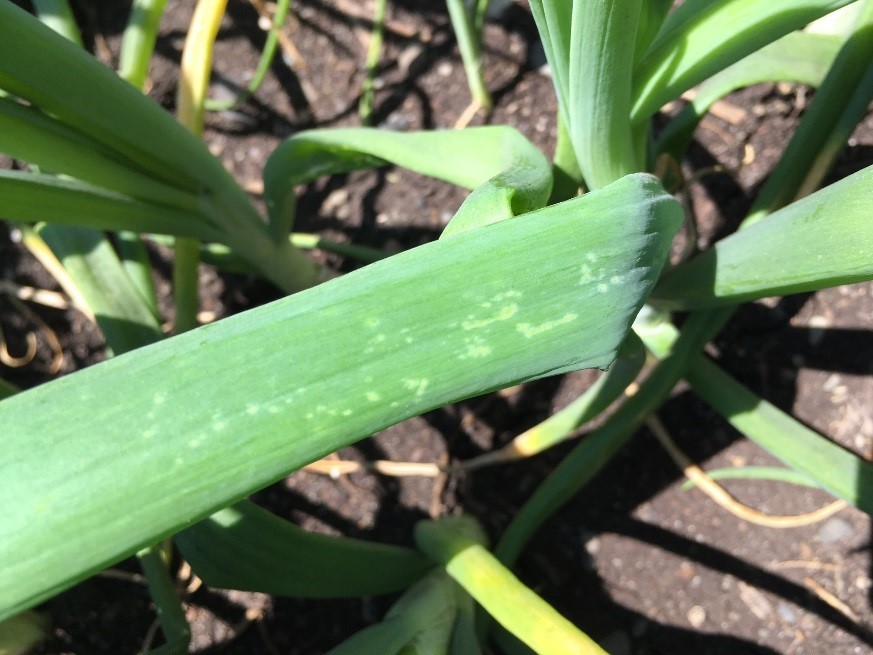 Most larger scale onion growers in the region are already familiar with Dr. Brian Nault's insecticide sequence recommendations for onion thrips management. However, more products have been registered in New York in the last few years that provide alternative options for conventional thrips management (specifically Exirel and Minecto Pro). It's worth keeping in mind that Dr. Nault's recommendations are based on two primary principles:
Scouting and only spraying at threshold: The days of calendar sprays are long gone. Given the cost of some of the newer chemistries used for thrips management, growers must scout fields and confirm that thrips populations have reached a level of at least an average of 1 thrips per leaf before spraying. Spraying before thresholds are reached not only weakens the resistance management strategy (see point 2), but also cuts into grower profits by unnecessarily increasing the number of insecticide applications each year.
Resistance management: Onion thrips produce multiple generations each year. They also develop resistance to insecticides more readily than other pests that reproduce more slowly. One of the goals of the recommended insecticide sequence is to avoid exposing multiple generations per year to the same insecticide. By avoiding the exposure of multiple thrips generations to the same active ingredients in the same year, growers can help preserve the useful life of insecticides that are effective at managing thrips.
The chart that follows outlines several different insecticide sequences developed by Dr. Nault for growers to follow depending upon the severity of thrips pressure in the field. It should be noted that, as indicated below, Minecto Pro is a pre-mix of the same active ingredients found in Agri-Mek and Exirel, so it should NOT be used in sequence with those products. Addtionally, almost all of the insecticides listed in the chart should be used with a non-ionic penetrating surfactant, such as Dyne-Amic or LI700. Only Warrior and Lannate are compatible with spreader-sticker type adjuvants. Since Bravo Weatherstik is formulated with a sticker, it should NOT be mixed with Movento, Minecto Pro, Radiant, Exirel, or Agri-Mek.

This article was published in the June 7th 2018, ENYCHP Vegetable News. Click here to view the full newsletter.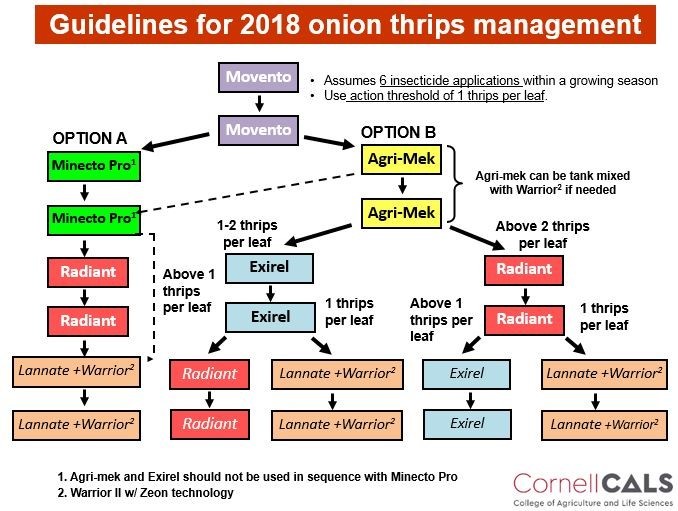 Upcoming Events
October Last Monday Grant Webinar for Fruit and Vegetable Growers
October 28, 2019
4:00 pm
Are you curious about what grants are available to help your farm business?
To help disseminate information on grants on a consistent basis, ENYCH is offering a "current grants" webinar on the last Monday of every month at 4:00pm
Each month's webinar focuses on 1 grant. The October webinar topic is TBD but might feature Ag Labor Housing Grants.
Produce Safety Alliance FSMA Grower Training Course
October 30, 2019
8am - 5pm
Canajoharie, NY
A grower training course developed by the Produce Safety Alliance (PSA) that meets the regulatory requirements of the Food Safety Modernization Act (FSMA) Produce Safety Rule. At least one person per farm producing more than $25,000 worth of fruits and vegetables must attend this course once. Participants will receive a certificate of course completion by the Association of Food and Drug Officials.
Tarping for Reduced Tillage Workshop
November 2 - November 19, 2019

Are you a vegetable farmer already using tarps? Or are you wondering if and how tarps could work best on your farm?

The Cornell Small Farms Program is excited to announce a series of workshops on tarping for reduced tillage in small-scale vegetable systems, to be held in Maine and New York this fall. The Reduced Tillage (RT) project of the Cornell Small Farms Program supports farmers in adopting scale-appropriate RT practices that can lead to healthy, productive soils and greater profitability. Through the evaluation of novel tools and methods using systems-based field research and on-farm trials, the project helps farmers learn about the approaches that can work for their farm. This work is accomplished in collaboration with the University of Maine, and with support from Northeast SARE.

Announcements
Podcasts