Cucurbit Downy Mildew Update
Chuck Bornt, Team Leader, Extension Vegetable Specialist
Eastern New York Commercial Horticulture
July 25, 2018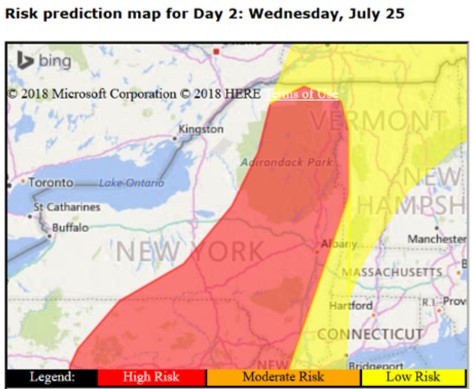 As you may remember, a couple weeks ago Cucurbit Downy Mildew (CDM) was found in New Jersey and up until this week, most of eastern NY was under "low risk" of spores blowing in. However, as you can see in the image from the CDM Forecasting System, the case for making sure you have fungicide coverage on all your cucurbits (especially cucumbers!) is all the more important!
According to the forecast, eastern NY is under a "HIGH Risk"! Regional Weather: Southeast / mid-Atlantic U.S: Rainy through the East Coast states. A stalled front in the East will be joined by a cold front moving in from the central U.S. Strong moisture feed from the south ensures more clouds and rain through mid-week. Some drying may occur from the west on Thursday. Highs in the 80s to low 90s, lows in the 60s and 70s.Overview: Epidemic spread likely in the East. Transport events move near-source and ... north / NW (Tuesday), north / NE (Wednesday), and northeast (Thursday). Conditions are favorable during a very large number of these events. The last couple of years this program was been pretty accurate when it comes to determining when we saw our first CDM. Usually within a week or so we were able to find CDM within the region. This coupled with the current weather pattern is CDM's dream come true.
Remember that cucumbers tend to be the crop most affected by this particular strain. Look for yellow spots on the upper leaf sides on new growth and a grey/purple fuzz on the underside of the leaf where those yellow spots are located (Figure 2) - early morning under dewy conditions is the best time to find the fuzz on the undersides. For symptoms on other cucurbits go to http://cdm.ipmpipe.org/node/22
So what's this all mean? It means that it is highly likely CDM is or will be moved into our region and your plants have been exposed to CDM spores. If you haven't started your DM fungicide program it's time to start! I've put together a list of fungicides labeled for CDM in Table 1. The good news, if there is any, is that conventional growers have a new fungicide labeled this year for use that is highly effective on CDM call Orondis. The active ingredient in Orondis is oxathiapiprolin and is the first in a new chemical group (FRAC code 49, previously U15). It is highly effective for diseases caused by oomycetes (downy mildews, late blight and phytophthora blight).
However there a few things to know. First, there are three formulations of Orondis on the market: Orondis Gold, Orondis Opti and Orondis Ultra. Orondis Gold is labeled for soil applications and if it was used at planting, no foliar applications of Orondis are allowed! If you did not use Orondis Gold, the other two formulations are labeled for foliar applications but again there are some differences. First, Orondis Opti also contains chlorothalonil so if you use this one you will not have to add extra protectant. However, for cucurbits it only has CDM on the label. Orondis Ultra also contains mandipropamid the active ingredient in Revus and has CDM and Phytophthora blight on the label! It would also need to have a protectant such as chlorthanonil or copper mixed in with it. Additionally, for resistance management, no more than 2 consecutive applications of any Orondis fungicide are allowed; next application must be a fungicide that does not contain a code 49 active ingredient and also a code 40 when Orondis Ultra is used. When at least 3 applications will be made, Orondis fungicides can be no more than 33% of the applications, or a maximum of 4 applications per planting, whichever is fewer.
Orondis Ultra or Opti are the first go to products, but if you suspect CDM and you don't have or can't get ahold of an Orondis product, my first choice would probably be Curzate or Tanos (as they have some kickback activity) but are short lived so it needs to be mixed with a protectant such as chlorothalonil and another translaminar fungicide such as Ranman, Zampro etc. Please remember to rotate your fungicides! I have given you the FRAC codes to help determine the different classes they belong too—do not apply products or pre-mix products from the same FRAC code back to back. If possible, switch to a different one. Please note that Previcur Flex and Presidio are no longer being recommend for CDM!
Organic options for DM: There are a number of organic materials labeled for Downy mildew, but for the most part many of them have not shown very good efficacy in most trials. If applied before the disease is started copper remains one of the better choices. Other options include Double Nickel 55 Biofungicide, Regalia Biofungicide, Actinovate AG and OxiDate 2.0.


Upcoming Events
Champlain Valley Tree Fruit Grower Input Meeting
November 30, 2022
Plattsburgh, NY
We need your input! Mike will be holding a Champlain Valley tree fruit grower input session on November 30 in Plattsburgh at the Clinton County CCE office. Mike will review his 2022 research and extension activities. We would then like to hear from you to set priorities for future tree fruit research and education needs, and to get your input for speakers for our 2023 winter meetings.
How Profitable Will My New Orchard Investment Be? Zoom Series
December 5, 2022 : Looking at the Big Financial Picture for Your Farm
Your farm's big-3 financial records (balance sheet, income statement and statement of cash flow) and how to use them to assess your overall financial situation. This information will help you assess what types of investments are likely to be viable for your farm business and whether or not you are likely to be able to use credit to finance that investment. We will specifically cover Farm Profitability, Cash Flow, and Key Financial Ratios.
December 6, 2022 : Business Strategy and the Farm Value Chain
How do you create value? How do you differentiate yourself from your competitors? In other words - what is your farm's business strategy? Your investments should be in line with your strategy. Different business strategies will result in investments in different parts of the Farm Business Value Chain. Farm Business Value Chain - full range of activities needed to create a product or service.
December 7, 2022 : Using Your Farm's Financial Data to Make Management Decisions
Identifying the Enterprises in Your Value Chain. Your Profit Centers and Cost Centers. We will cover: Direct vs Indirect Costs and Cost Allocation and Variable vs Fixed Costs and Relevant Range (when does a fixed cost become a variable cost?)
December 8, 2022 : Operating Budgets and Strategic Planning
Operating budgets are the overall financial plan for the business. You can use a budget based on your current situation as the base to model new scenarios.
December 12, 2022 : Enterprise Budgets
It is more time-consuming to develop detailed budgets for your enterprises, but it is worthwhile to do this for area where you are considering making major investments. We will demonstrate how to move from an operating budget to an enterprise budget to model specific scenarios within that enterprise.
December 13, 2022 : 5 Step Decision-making Process for Capital Projects and Long-term Investments
Introduces a structured process for a manager to go through to decide among options for long-term investments, projects or changes to the farm business.
December 14, 2022 : Cost Volume Profit Analysis and Sensitivity Analysis
As you change your prices, volume of sales or costs of production how does your profit change? What is your break-even point and what output level do you need to achieve a target income? We will also cover sensitivity analysis that will help you see how your results will vary over a range of likely scenarios from best case to worst case. This will help you assess the riskiness of your plan.
December 15, 2022 : Capital Budgeting Tools - Net Present Value, Internal Rate of Return, and Payback Period
Capital budgeting is defined as the process used to determine whether capital assets are worth investing in. it's the process of asking: is an asset worth the resources it requires? Capital assets are usually long-term investments like new equipment, facilities, and other infrastructure upgrades. By incorporating strategically planned capital budgeting into their financial processes, companies can more effectively determine and prioritize which projects, programs and other investment assets could be most financially beneficial in the long-term.
SAVE THE DATES
December 13 - December 15, 2022February 2 - February 8, 2023February 21 - February 23, 2023
Save the Dates for the following Winter Meetings:
The New England Vegetable & Fruit Conference, DoubleTree Hotel and Conference Center, Manchester, New Hampshire, December 13-15 https://newenglandvfc.org/registration/
NOFA NY Virtual Winter Conference, February 2-5, 2023 https://nofany.org/2023conference/
Empire State Expo, Oncenter Syracuse, February 6-7 2023 https://nysvga.org/expo/information/
Becker Forum, Oncenter Syracuse, February 8, 2023 https://nysvga.org/expo/information/
Eastern NY Commercial Horticulture Program Regional Winter Meeting, The Desmond Hotel, Albany, February 21-23, 2023
Announcements
Podcasts