Recording of High Tunnel Veg Research Webinar 11/29/18
Amy Ivy, Vegetable Specialist
Eastern New York Commercial Horticulture
November 29, 2018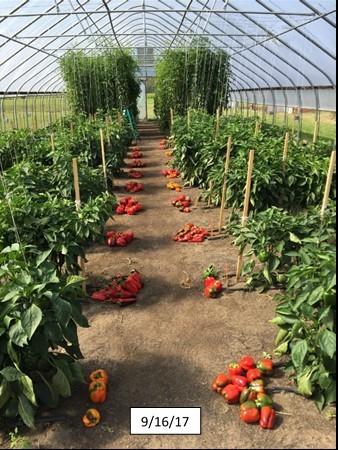 This is a recording of an hour long webinar held by Amy Ivy of the Eastern NY Commercial Horticulture Program, Judson Reid of the Cornell Vegetable Program and Mike Davis of the Cornell University Willsboro Research Farm on Nov 29, 2018.
A copy of the PowerPoint is included below. With funding from the Northern NY Agricultural Development Program.
Funding for the Northern New York Agricultural Development Program is supported by the New York State Senate and administered by the New York State Department of Agriculture and Markets. Learn more at www.nnyagdev.org.

PowerPoint file of the presentation (pdf; 47849KB)


Upcoming Events
Introduction to Winter Growing Webinar
January 2, 2020
Join vegetable specialists Elisabeth Hodgdon (ENYCHP) and Judson Reid (Cornell Vegetable Program) for a webinar on winter vegetable production in high tunnels.
Apple IPM :: Basics for Orchard Employees
January 10, 2020
Ballston Spa, NY
Have farm employees that need recertification credits? We will be covering the basics of integrated pest management, including how to monitor traps, evaluate insect thresholds, and use prediction models to better manage common orchard pests of Northern New York. We will also discuss IPM tactics for managing apple scab, fire blight, obliquebanded leafroller, apple maggot, and some common weeds in the orchard.
Produce Safety Alliance Grower Training Course

February 25, 2020
Albany, NY
A grower training course developed by the Produce Safety Alliance (PSA) that meets the regulatory requirements of the Food Safety Modernization Act (FSMA) Produce Safety Rule. At least one person per farm producing more than $25,000 worth of fruits and vegetables must attend this course once. Participants will receive a certificate of course completion by the Association of Food and Drug Officials.
Announcements
Podcasts