First to the Market
Amy Ivy, Vegetable Specialist
Eastern New York Commercial Horticulture
December 12, 2018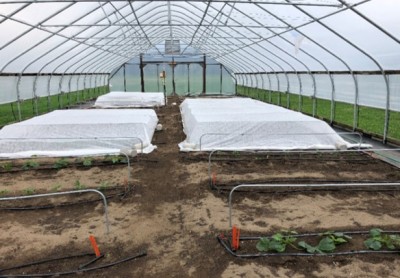 Direct market customers eagerly await the first veggies of the season. If a grower can beat their neighbor by even just a week or two they may well have a loyal customer for the rest of the season. With this thought in mind, we ran a trial last summer to see if using a high tunnel would produce some warm season crops earlier than if grown outside.
See the pdf below for the full article
First to the Market (pdf; 957KB)


Upcoming Events
Berry Production Twilight Meeting

July 8, 2021
Peru, NY
Rulf's Orchard, 531 Bear Swamp Road, Peru, NY
Many berry topics will be discussed including growing Juneberries (Amelanchier, not strawberries), using entomopathogenic nematodes to control strawberry root pests, low tunnel production in June bearing strawberries, SWD monitoring and management. 2.5 DEC pesticide recertification credits available in categories 1A, 10, 22, and 23. Contact Elisabeth Hodgdon (eh528@cornell.edu or 518-650-5323) or Laura McDermott (lgm4@cornell.edu or 518-746-2562) with questions.
Announcements
Podcasts