Fall Application of Dual Magnum for Yellow Nutsedge Control in Muck Onions
Christy Hoepting, Extension Vegetable Specialist
Cornell Vegetable Program
September 14, 2011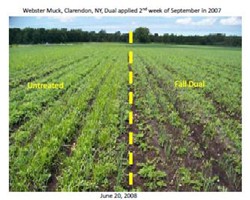 Yellow nutsedge (Cyperus esculentus L.) pressure is very high in certain muck areas where onions are grown. It appears to have become more of a problem in recent years. Onion growers and chemical company representatives believe that applying Dual Magnum, active ingredient metalochlor, in the fall can significantly reduce nutsedge pressure the following spring. However, weed scientists across the country do not believe that fall applications of metalochlor would have any effect on nutsedge populations the following spring, because the dissipation of metolachlor, is relatively rapid, 4-7 weeks in the northern United States. Dual Magnum is labeled as a fall application in field corn and soybeans only in Iowa, Minnesota, Minnesota, North Dakota, South Dakota and Wisconsin. For this use, there are restrictions on the label that state the date after which Dual Magnum may be applied, that soil temperature in the top 4 inches must consistently be 55°F and lower, and that tillage following incorporation must not exceed the 2-3 inch depth of incorporation.
Objectives:
1. To determine whether a fall application of Dual Magnum controls yellow nutsedge the
following spring in onions grown on muck soil in New York.
2. To determine onion tolerance to a fall application of Dual Magnum.
If applying Dual Magnum in the fall is effective at controlling yellow nutsedge in onions and does not cause an unreasonable amount of crop injury, we would like to pursue adding this use to the label in New York for onions grown on muck.
Trials were conducted in 2007-2008, 2008-2009 and in 2009-2010.
Fall Application of Dual Magnum for Yellow Nutsedge Control in Muck Onions (pdf; 1196KB)


Upcoming Events
Soil Health for Vegetable Growers Workshop

November 1, 2023
Essex, NY
Join us for presentations, discussions, and hands-on demonstrations focusing on soil health concepts and best management practices for vegetable growers. Topics include tarping, maintaining soil health in high tunnels, cover cropping, reduced tillage, compost microbiology, and more.
1.75 DEC pesticide recertification credits available in categories 1A, 10, and 23.
Announcements
Podcasts