2018 Pumpkin Variety Trial Article
Chuck Bornt, Team Leader, Extension Vegetable Specialist
Eastern New York Commercial Horticulture
January 17, 2019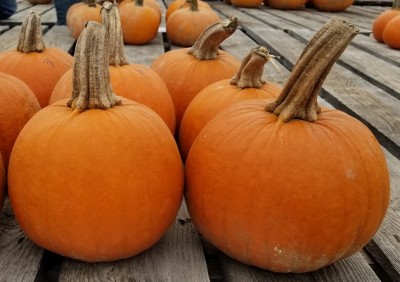 The search for the perfect pumpkin variety continued in eastern NY during the 2018 season with CCE ENYCHP conducting 2 pumpkin variety trials; one at Wertman's Farm and Greenhouses in Melrose, NY (Rensselaer County) and at Robert O. Davenport and Sons Farm in Kingston, NY (Ulster County). Despite the roller coaster weather, the Wertman location turned out good and is the trial in which all data is based on. Unfortunately, the Davenport site suffered some poor stand issues and was used for observational data only.
See the rest of the article below.
2018 Pumpkin Variety Trial Results Article (pdf; 866KB)


Upcoming Events
Berry Production Twilight Meeting

July 8, 2021
Peru, NY
Rulf's Orchard, 531 Bear Swamp Road, Peru, NY
Many berry topics will be discussed including growing Juneberries (Amelanchier, not strawberries), using entomopathogenic nematodes to control strawberry root pests, low tunnel production in June bearing strawberries, SWD monitoring and management. 2.5 DEC pesticide recertification credits available in categories 1A, 10, 22, and 23. Contact Elisabeth Hodgdon (eh528@cornell.edu or 518-650-5323) or Laura McDermott (lgm4@cornell.edu or 518-746-2562) with questions.
Announcements
Podcasts