2018 Pumpkin Variety Trial Article
Chuck Bornt, Team Leader, Extension Vegetable Specialist
Eastern New York Commercial Horticulture
January 17, 2019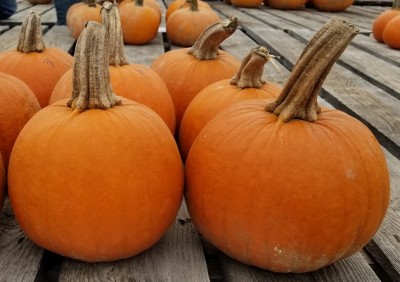 The search for the perfect pumpkin variety continued in eastern NY during the 2018 season with CCE ENYCHP conducting 2 pumpkin variety trials; one at Wertman's Farm and Greenhouses in Melrose, NY (Rensselaer County) and at Robert O. Davenport and Sons Farm in Kingston, NY (Ulster County). Despite the roller coaster weather, the Wertman location turned out good and is the trial in which all data is based on. Unfortunately, the Davenport site suffered some poor stand issues and was used for observational data only.
See the rest of the article below.
2018 Pumpkin Variety Trial Results Article (pdf; 866KB)


Upcoming Events
Berry Production Workshop: Using Insect Exclusion Netting to Manage SWD
September 15, 2021
October 5, 2021

Due to predictions of extreme weather tomorrow evening, Wednesday, September 15th, the Exclusion Netting Workshop at the Berry Patch, Stephentown, NY has been postponed until Tuesday, October 5th, 4-6pm. If you already registered for the Berry Patch session, there is no need to re-register.
The western NY site at Albers Acres in Kennedy, NY will still hold the workshop tomorrow night, Sept 15.
If you have any questions about eastern NY meeting - please call Laura McDermott, 518-791-5038, or email lgm4@cornell.edu.
2021 season review of SWD management techniques
Join us at either The Berry Patch in Stephentown (Oct 5) or Abers Acres in Kennedy (Sept 15) for a two-hour review of Spotted Wing Drosophila (SWD) management techniques. We'll cover the basics of SWD monitoring of adult and larvae populations and also discuss implementing a pesticide program.
The program will focus on what has been learned about designing an exclusion netting support system that provides long term control of SWD and maximum utility for berry farmers.
Exclusion netting is being used on field blueberries where it controls SWD while also excluding birds and moderating impacts of hail and heavy rain. Raspberries and strawberries also benefit from exclusion netting on the sides of high tunnels.
1.5 DEC credits available in categories 1A, 10, and 22
Remote Produce Safety Alliance Grower Training Course
October 20 - October 21, 2021
A grower training course developed by the Produce Safety Alliance (PSA) that meets the regulatory requirements of the Food Safety Modernization Act (FSMA) Produce Safety Rule. At least one person per farm producing more than $25,000 worth of fruits and vegetables must attend this course once. Participants will receive a certificate of course completion by the Association of Food and Drug Officials.
Announcements
Podcasts