Presentations and Resources from 2019 Garlic School in Batavia
Crystal Stewart-Courtens, Extension Vegetable Specialist
Eastern New York Commercial Horticulture
April 5, 2019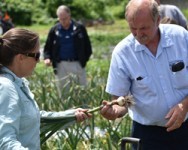 Check out the presentations and resources from the Cornell Vegetable Program's 2019 Garlic School that was held March 20th, 2019 in Batavia, NY.
The presentations are attached below and are in Microsoft Powerpoint and pdf format.
Bloat Nematode (pptx; 40399KB)
Cultural Controls Trials (pdf; 5036KB)
Eriophyid Mites (pptx; 7192KB)
Fusarium Management Project (pptx; 45928KB)
Leek Moth (pptx; 7664KB)
2016-2018 Garlic Fusarium Trial Results Part 2 (pdf; 9190KB)
Eriophyid Mite Control Trial Results (pdf; 9327KB)
Leek Moth Pocket Guide (pdf; 4472KB)


Upcoming Events
No upcoming events at this time.
Announcements
Podcasts