Presentations and Resources from 2019 Garlic School in Batavia
Crystal Stewart-Courtens, Extension Vegetable Specialist
Eastern New York Commercial Horticulture
April 5, 2019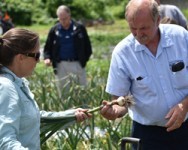 Check out the presentations and resources from the Cornell Vegetable Program's 2019 Garlic School that was held March 20th, 2019 in Batavia, NY.
The presentations are attached below and are in Microsoft Powerpoint and pdf format.
Bloat Nematode (pptx; 40399KB)
Cultural Controls Trials (pdf; 5036KB)
Eriophyid Mites (pptx; 7192KB)
Fusarium Management Project (pptx; 45928KB)
Leek Moth (pptx; 7664KB)
2016-2018 Garlic Fusarium Trial Results Part 2 (pdf; 9190KB)
Eriophyid Mite Control Trial Results (pdf; 9327KB)
Leek Moth Pocket Guide (pdf; 4472KB)


Upcoming Events
Berry Production Twilight Meeting

July 8, 2021
Peru, NY
Rulf's Orchard, 531 Bear Swamp Road, Peru, NY
Many berry topics will be discussed including growing Juneberries (Amelanchier, not strawberries), using entomopathogenic nematodes to control strawberry root pests, low tunnel production in June bearing strawberries, SWD monitoring and management. 2.5 DEC pesticide recertification credits available in categories 1A, 10, 22, and 23. Contact Elisabeth Hodgdon (eh528@cornell.edu or 518-650-5323) or Laura McDermott (lgm4@cornell.edu or 518-746-2562) with questions.
Announcements
Podcasts