Eastern Promises: Appellations and Precision
Jim Meyers, Viticulture Specialist
Eastern New York Commercial Horticulture
April 13, 2018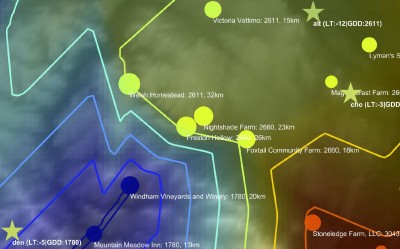 Viticultural diversity is central to the collective identity of eastern New York wine culture. From the viewpoint of a consumer, diversity is manifest in a broad variety of grape cultivars and wine styles ranging from local expressions of ancient Bordeaux blends in the Hudson Valley, to the recently developed and less globally recognized grapes and wine styles of the Champlain Valley. There are additional brand differentiators across the region such as local history, varying philosophies of chemical use in the vineyard, and favored enological techniques, bot the products are significantly constrained by the expression of one key evolutionary force: local air temperature.
Eastern Promises: Appellations and Precision (pdf; 2821KB)


Upcoming Events
No upcoming events at this time.
Announcements
Podcasts