2019 Fire Blight Survey
Mike Basedow, Tree Fruit Specialist
Eastern New York Commercial Horticulture
June 13, 2019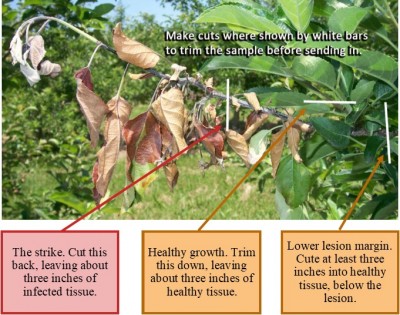 Kerik Cox's lab will be conducting a fire blight survey again this year, investigating streptomycin resistance and strain distribution across NY State and New England.
In the event fire blight does show up in your orchard, please send a sample to our lab!
You may take a sample yourself as outlined in the sample form on page 11, or you may wish to contact Dan Donahue or Mike Basedow to come and help you collect the sample.
It is imperative that we receive living (green) cambium tissue from the canker margin (i.e. where the necrotic and healthy tissue meet). Otherwise, the pathogen cannot be isolated. Samples should be sent as soon as possible after being removed from the tree, and kept cool if possible.
Samples submitted without the form will not be processed!
Instructions for sampling: It is only possible to isolate the bacteria (Erwinia amylovora) from fresh, active lesions, where healthy tissue meets the diseased tissue, i.e. the lesion margin. It is impossible to isolate fire blight bacteria from dead, dried out tissue.
The Lesion Margin: Collect samples that include about 3 inches of healthy tissue beyond the infected tissue, and include about 3 inches of infected tissue. Do not submit all the dead branch of the strike, this is often too long and can be cut back, as described, to 3 inches of infected tissue above 3 inches of healthy tissue. If possible, refrigerate infected trees and strikes. Protect samples from drying out prior to submitting them. Do not collect entire branches or trees unless symptoms are unusual.
2019 Fire Blight Survey Submission Form (pdf; 800KB)
Submit fire blight infected trees and strikes for testing


Upcoming Events
Soil Health for Vegetable Growers Workshop

November 1, 2023
Essex, NY
Join us for presentations, discussions, and hands-on demonstrations focusing on soil health concepts and best management practices for vegetable growers. Topics include tarping, maintaining soil health in high tunnels, cover cropping, reduced tillage, compost microbiology, and more.
1.75 DEC pesticide recertification credits available in categories 1A, 10, and 23.
Announcements
Podcasts