2019 Fire Blight Survey
Mike Basedow, Tree Fruit Specialist
Eastern New York Commercial Horticulture
June 13, 2019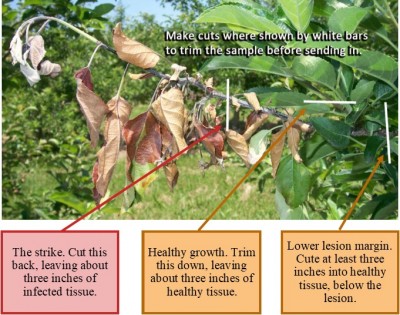 Kerik Cox's lab will be conducting a fire blight survey again this year, investigating streptomycin resistance and strain distribution across NY State and New England.
In the event fire blight does show up in your orchard, please send a sample to our lab!
You may take a sample yourself as outlined in the sample form on page 11, or you may wish to contact Dan Donahue or Mike Basedow to come and help you collect the sample.
It is imperative that we receive living (green) cambium tissue from the canker margin (i.e. where the necrotic and healthy tissue meet). Otherwise, the pathogen cannot be isolated. Samples should be sent as soon as possible after being removed from the tree, and kept cool if possible.
Samples submitted without the form will not be processed!
Instructions for sampling: It is only possible to isolate the bacteria (Erwinia amylovora) from fresh, active lesions, where healthy tissue meets the diseased tissue, i.e. the lesion margin. It is impossible to isolate fire blight bacteria from dead, dried out tissue.
The Lesion Margin: Collect samples that include about 3 inches of healthy tissue beyond the infected tissue, and include about 3 inches of infected tissue. Do not submit all the dead branch of the strike, this is often too long and can be cut back, as described, to 3 inches of infected tissue above 3 inches of healthy tissue. If possible, refrigerate infected trees and strikes. Protect samples from drying out prior to submitting them. Do not collect entire branches or trees unless symptoms are unusual.
2019 Fire Blight Survey Submission Form (pdf; 800KB)
Submit fire blight infected trees and strikes for testing


Upcoming Events
Farm Financial Management Tuesdays - Planning for a Change or Exiting Your Farm Business
November 30, 2021 : Assessing the Financial Ramifications of and Options for Significant Change to Your Farm Business
The inflationary economy is upon us! The huge influx of money into the US economy following the COVID-19 pandemic has manufactured high prices and in turn increased operating costs for farm business thus forcing many businesses into net operating loss situations. Other farms are facing high labor costs or chronic labor shortages. Some farms have taken on debt loads that make these increased costs unaffordable. Depending on the stage in the business lifecycle, it may make sense to change enterprises or exit the farming business entirely.
Join CCE ENYCH Ag Business Educator, Elizabeth Higgins, and CAAHP Ag Business Educator, Dayton Maxwell, for a one-hour program to learn about the financial aspects of changing or exiting a farm business.
December 7, 2021 : The Family and Emotional Component; Shifting Business Direction and Life After Farming
As farm business enterprises are changed or disbanded, the emotional stress can be tremendous, especially when individuals and family members maintain diminished assurance relative to future security.
Join Gabriel Gurley and Brenda O'Brien of New York FarmNet for a one-hour program focused on successfully navigating the emotional turmoil of a family farm business transition.
December 14, 2021 : New Venture Creation; Shifting Business Direction and Life After Farming
Change creates opportunity and new opportunities are certain when farm businesses change or end.
Join Gabriel Gurley of New York FarmNet for a one-hour overview of identifying ways and means to capitalize on new opportunities resulting from farm business transitions.
Remote Produce Safety Alliance Grower Training Course - Dec 2021
December 8 - December 9, 2021
A grower training course developed by the Produce Safety Alliance (PSA) that meets the regulatory requirements of the Food Safety Modernization Act (FSMA) for farms subject to the Produce Safety Rule. All farms are welcome to attend to learn about recommended food safety practices for growing, handling, and storing fresh produce. Course registration fee includes a course manual and certificate of course completion by the Association of Food and Drug Officials (AFDO).

Tax Management for Beginning and Small Farm Businesses
January 18, 2022
Tax Management for Beginning and Small Farm Businesses.
A one-night virtual meeting for beginning and part-time farmers that provides useful tax information enabling participants to be make better tax decisions for their business. Federal and state income taxes will be covered. Tax regulations specific to NYS will be covered as well.
Announcements
Podcasts