Planning Your Irrigation with Malusim
Mike Basedow, Tree Fruit Specialist
Eastern New York Commercial Horticulture
July 10, 2019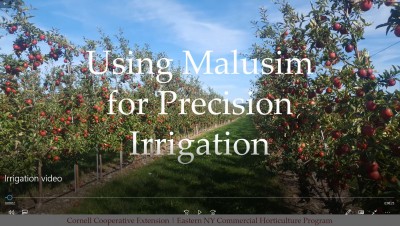 If you attended one of our petal fall meetings in May, you might remember Dr. Terence Robinson discussing the Malusim app, where you can enter spray records, use the fruit growth rate model, the carbohydrate thinning model, and the irrigation model. If you have a NEWA station on your farm, the irrigation model can be a useful tool to more precisely manage your water usage throughout the season. The tool uses the Cornell evapotranspiration model and weather data off your station to determine how much irrigation is needed for each block. The evapotranspiration, or "ET" model was developed at Cornell to more precisely model water needs in apple trees. The irrigation tool has further refined this model, by accounting for some additional variables such as soil characteristics, tree age, and block and emitter spacing. This, combined with your actual weather data, can be helpful in determining how much water your trees need.
I've been finding the Malusim model to be a useful tool, but it can be a little confusing when you first look at it. So, rather than writing an article for our newsletter this month, I thought I'd put together a quick how-to video on how to sign up with the app, how to set up a block in it, and how to run and interpret the results from the irrigation model.
To view the video, visit the following link: https://www.youtube.com/watch?v=1zfeRxultiI
If you find videos like these helpful, and have ideas for other how-to tutorials you would like to see, please let me know at mrb254@cornell.edu, or give me a call at 518-410-6823.


Upcoming Events
Soil Health for Vegetable Growers Workshop

November 1, 2023
Essex, NY
Join us for presentations, discussions, and hands-on demonstrations focusing on soil health concepts and best management practices for vegetable growers. Topics include tarping, maintaining soil health in high tunnels, cover cropping, reduced tillage, compost microbiology, and more.
1.75 DEC pesticide recertification credits available in categories 1A, 10, and 23.
Announcements
Podcasts