Buckwheat Strips to Attract Beneficial Insects in Potato Production
Robert Hadad, Extension Vegetable Specialist
Cornell Vegetable Program
January 12, 2012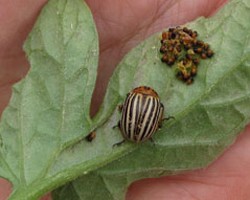 Download a report of field plot strategies for using buckwheat strips to attract beneficial insects for the control of Colorado potato beetle in potato production (2009/2010). This project was funded by the Organic Farming Research Federation.
Buckwheat Strips to Attract Beneficials in the Control of Colorado Potato Beetle (pdf; 248KB)


Upcoming Events
Soil Health for Vegetable Growers Workshop

November 1, 2023
Essex, NY
Join us for presentations, discussions, and hands-on demonstrations focusing on soil health concepts and best management practices for vegetable growers. Topics include tarping, maintaining soil health in high tunnels, cover cropping, reduced tillage, compost microbiology, and more.
1.75 DEC pesticide recertification credits available in categories 1A, 10, and 23.
Announcements
Podcasts