Buckwheat Strips to Attract Beneficial Insects in Potato Production
Robert Hadad, Extension Vegetable Specialist
Cornell Vegetable Program
January 12, 2012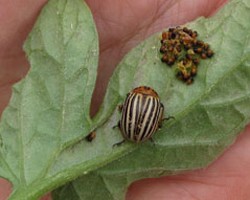 Download a report of field plot strategies for using buckwheat strips to attract beneficial insects for the control of Colorado potato beetle in potato production (2009/2010). This project was funded by the Organic Farming Research Federation.
Buckwheat Strips to Attract Beneficials in the Control of Colorado Potato Beetle (pdf; 248KB)


Upcoming Events
No upcoming events at this time.
Announcements
Podcasts