Proper Disposal of Pesticide Containers
Dan Donahue, Tree Fruit Specialist
Eastern New York Commercial Horticulture
May 3, 2018
Tree fruit producers generate substantial quantities of empty pesticide containers over the course of the growing season. Back in the "old days", paper bags found their way into a burn barrel, and plastic jugs into a landfill. Neither option is viable today, so what to do? Landfall disposal is still an option for some types of pesticide containers, and recycling is available for others, but first, here's what's legal in New York State:
Burning of paper pesticide bags: Illegal under all circumstances in New York State. Yes, it's true, organic agricultural wastes may be burned on-site where they are grown or generated including brush and wood produced by clearing fields and other activities. The fire must be located on contiguous agricultural land larger than 5 acres, and the materials capable of being fully burned within 24 hours. However, pesticides and pesticide containers are not defined as "agricultural wastes", therefore, the burning of pesticides, empty pesticide containers of any sort, plastics or other non-organic material is prohibited.
Disposal of plastic pesticide containers in landfills: While not specifically illegal, the disposal of even properly rinsed plastic pesticide jugs in landfills, or through the conventional recycling channel used for household plastics is strongly discouraged. The good news is that specialty plastics recycling companies make it their business to recycle plastic pesticide containers (more on this later). Disposal in a landfill is unnecessary and would be an environmentally unfriendly choice. As for recycling, household plastics often end up reconstituted into new products associated with food transport and storage, so including even well-cleaned former pesticide containers in the recycle stream is not a good idea. Landfill operators are likely to reject your delivery of empty 2 ½'s, and it's their option to do so.
What can you learn from the pesticide label?
The product label defines the legal use and disposal of the specific pesticide. Here is an example of the disposal instructions found on the label for AproviaTM fungicide by Syngenta Crop Protection LLC:

Note the detailed instructions for rinsing. While these container handling instructions may well be appropriate for many other pesticides, please read each pesticide label for specific instructions. Instructions for the final disposition of the cleaned container are rather vague, hence "local" knowledge is essential in order to properly complete the disposal process and comply with state and local best practices and regulations. A complete label database of all pesticides registered for use in New York State can be found on the NYS DEC website, just follow this link http://www.dec.ny.gov/nyspad/?0 .
How to dispose of empty pesticide containers in a manner that's both legal and environmentally friendly.
Triple-rinse all emptied pesticide containers with clean water, dumping the rinsate back into the spray tank at the time of your application. This way, the small amounts of pesticide in the rinse water will be properly applied to the crop as it was intended. If you wait until the end of your spray session, what will you do with the contaminated rinsate? Proper disposal then becomes more complicated and expensive.
During the triple-rinse process, also remove the traces of pesticide residue that may have accumulated on the outsides of the container or bag. It is not necessary to remove stains, only the physical pesticide residue.
Once rinsing and exterior cleaning is complete, remove the paper labels from plastic containers destined for recycling. It is not necessary to remove the glue, only the paper.
Paper bags (including those that are plastic-lined): Compact the cleaned bags to save storage space, store them in large plastic (biodegradable) leaf bags, label as "cleaned pesticide bags" so that everyone who may come in contact knows what they are, and eventually deliver to the landfill.
Plastic containers: Once cleaned and de-labelled, punch holes in the bottom to prevent future use, and store in a safe and secure location until it's time to transport them to the pesticide container recycling location.
How to recycle used plastic pesticide containers
The Agricultural Container Recycling Council - ACRC, is an industry funded not-for-profit organization that safely collects and recycles agricultural crop protection, animal health and specialty pest control product containers. Thousands of farmers and pesticide applicators nationwide participate in ACRC recycling programs. ACRC is fully funded by member companies and affiliates that formulate, produce, package and distribute crop protection and other pesticide products. For more information on this program, visit the ACRC's website by following this link or typing it into your web browser http://www.acrecycle.org/Where_and_How_to_Recycle .
Agricultural chemical distributors active in Eastern New York State who offer no-cost plastic pesticide container recycling services to their customers include Crop Production Services, Helena Chemical, and Winfield Solutions. Third-party specialty waste recycling companies are contracted once or twice per season to conduct the recycling. The plastic grinder and storage unit is often integrated into a semi-trailer rig, with either the ag distributor or the grower transporting the empty containers to the recycling location at the appropriate time.
Representatives from CPS, Helena, and Winfield all strongly emphasized the importance of delivering properly processed, clean containers with all labelling removed. The recycler is not obligated to accept improperly prepared containers.
Container Recycling Eligibility Requirements
Product containers that can be accepted for recycling through the Ag Container Recycling Council (ACRC) sponsored programs must meet these criteria:
Eligible:
Rigid high-density polyethylene (HDPE), 55 gallons and smaller, that previously held products utilized in the following markets:
Crop Protection - Containers that held EPA registered crop protection products labeled for agricultural uses. Containers that previously held non- registered products such as adjuvants, crop oils and surfactants are also eligible for recycling.
Specialty Pesticides and Fertilizers - Containers that held EPA registered products labeled for professional Structural Pest Control, Animal Health, Turf and Ornamental, Vegetation Management, Nursery and Greenhouse, Forestry, Aquatics, and Public Health uses are eligible for recycling, Containers that previously held non-registered products such as adjuvants, crop oils and surfactants are also eligible for pick up.
Pest Control Operators, Structural Pest Control - Containers that held EPA registered products labeled for professional application.
Properly triple-rinsed - Before containers (jugs and drums) can be accepted for recycling, they must be rinsed of all residues after use. Only dry, residue-free rinsed containers are accepted at collection sites.
Not Eligible:
Any container constructed of anything other than HDPE, rotationally molded containers, mini-bulk, intermediate bulk containers (IBC), and totes.
Consumer Home & Garden, Pest Control and Swimming Pool Maintenance - Containers that previously held products labeled for consumer use in households, lawn and garden, and swimming pool uses are not eligible for recycling in the ACRC program.
Jugs and drums not properly prepared.
Container Preparation Checklist
Properly preparing containers for recycling is essential. Please be sure to follow this checklist before your ACRC Contractor arrives for pickup, or you deliver to the recycling site.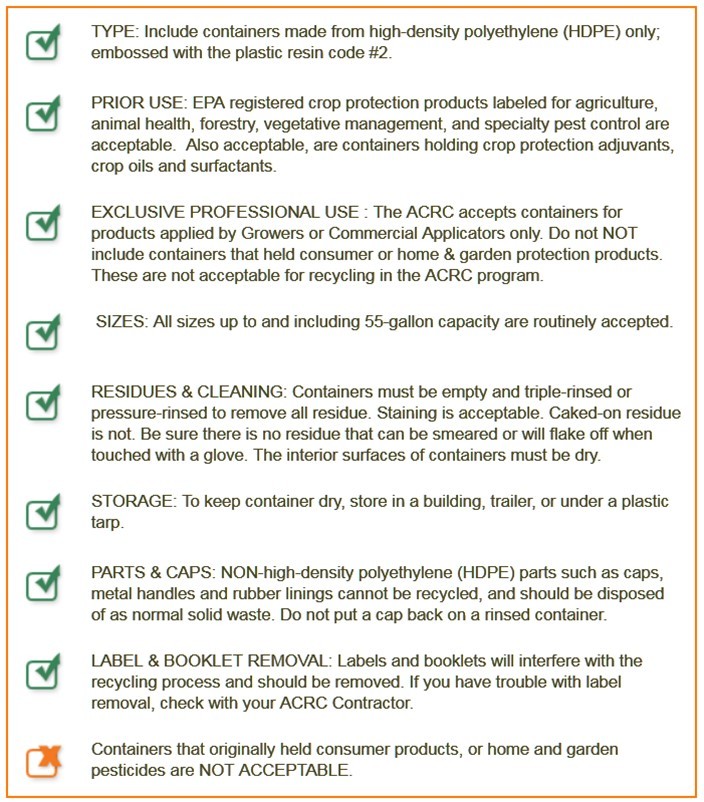 Have questions? Please contact your regional Cornell Cooperative Extension specialist for more information.
Acknowledgements: Excerpts from the Agricultural Container Recycling Council and New York State Department of Environmental Conservation web sites were used in the preparation of this article.


Upcoming Events
Soil Health for Vegetable Growers Workshop

November 1, 2023
Essex, NY
Join us for presentations, discussions, and hands-on demonstrations focusing on soil health concepts and best management practices for vegetable growers. Topics include tarping, maintaining soil health in high tunnels, cover cropping, reduced tillage, compost microbiology, and more.
1.75 DEC pesticide recertification credits available in categories 1A, 10, and 23.
Announcements
Podcasts