Precision Irrigation: Where to Start?
Mike Basedow, Tree Fruit Specialist
Eastern New York Commercial Horticulture
July 6, 2018
As we enter the warm summer months, you might consider trialing the precision irrigation model on your farm to improve tree growth in your new plantings and maximize fruit size in your mature blocks.
Irrigation can be helpful in maximizing tree growth in the first few years of orchard establishment (Dominguez and Robinson, 2015). This is particularly important for trees planted with multiple large feathers in tall spindle plantings, as well-branched trees will have a disproportionally large leaf area that may not be adequately supplied with water by the trees' damaged roots. Drip irrigation ensures the leaders can continue to grow to their full potential, leading to higher yields within the first five years of establishment in irrigated trees.
Irrigation can also increase fruit size in mature plantings (Lordan et al, 2016). While fruit thinning is one area where growers can affect fruit size, providing sufficient water is also critical. Water stress, even temporarily, reduces the fruit growth rate. Once the growth rate slows, this loss in size may be difficult to overcome, even when soil moisture levels return to normal during subsequent rain events.
The amount of water apple trees need on any given day heavily depends on a number of weather variables. These include the temperature, how windy and sunny it is, and the amount of rainfall the site has recently received. These factors are constantly monitored by NEWA stations, and are summarized under the Precision Irrigation Management tool, available at http://newa.cornell.edu under the "Crop Management" tab. To use the tool, select your farm's weather station (or whichever NEWA station you use for your weather data) from the menu on the left hand side of the screen. Then, enter your green tip date, the tree spacing, and the age of the block you would like to irrigate.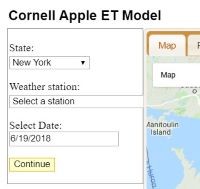 This will then bring up a table, showing the current day in green, the previous week in blue, and the following predicted week in tan. From here, you will have the option to adjust the numbers under the rainfall and irrigation columns. The rainfall column is prepopulated with NEWA data, but you can change it if you know your site received an amount differing from what NEWA recorded. You can also adjust the irrigation by gallons per acre (GPA). Using this column and the one on the far right, the Cumulative Water Balance column, is how you can determine how much water you need to irrigate your blocks. Looking at the Cumulative Water Balance Column, a positive number or a "0" indicates the field is saturated. We generally begin applying irrigation when the field is at 80% water holding capacity, which for clay loam soils often begins at about -20,000 gallons per acre.
The other number you will want to determine is your application rate to know how many hours it will take for your system to put out a given GPA. To determine this, you will need to know your emitters' flow rate in gallons per hour, and the number of emitters you have per acre. Multiplying the number of emitters per acre by the flow rate will give you your application rate, which will be in gallons per hour per acre. So, if you want to apply 5000 GPA, and your application rate is 622 Gallons per hour per acre, you can divide 5000 by 622, and determine you will need to irrigate for eight hours.
There are a few additional recommendations for practicing precision irrigation. During the early season, apply the necessary irrigation once per week. Then in mid-June switch to two applications per week in clay or loamy soils, and every other day in sandy soils. When large rain events are predicted, do not irrigate the day before or three days after the rain event, as the upper layer of soil is likely to still be saturated.
So, if you would like to manage fruit size more precisely and maximize your tree growth in your new plantings, consider trialing the model on some of your irrigated blocks this season.
Sources
Dominguez, L.I. and T. Robinson. 2015. Strategies to improve early growth and yield of tall spindle apple plantings. NYFQ. 23(2):5-10.
Lordan, J., T. Robinson, P. Francescatto, G. Reig, A. Wallis, and A. Lakso. 2016. Precision management: How and why we should irrigate. NYFQ. 24(1):15-19.


Upcoming Events
Soil Health for Vegetable Growers Workshop

November 1, 2023
Essex, NY
Join us for presentations, discussions, and hands-on demonstrations focusing on soil health concepts and best management practices for vegetable growers. Topics include tarping, maintaining soil health in high tunnels, cover cropping, reduced tillage, compost microbiology, and more.
1.75 DEC pesticide recertification credits available in categories 1A, 10, and 23.
Announcements
Podcasts