2018 Apple Storage Observations and Recommendations
Mike Basedow, Tree Fruit Specialist
Eastern New York Commercial Horticulture
September 12, 2018
As we jump into another harvest season, let's review some storage suggestions from Dr. Chris Watkins, and results from our own observations and research in Eastern New York, for some of our major cultivars.
Honeycrisp
Honeycrisp in the Hudson Valley tend to be very prone to bitter pit, while fruit in the Champlain Valley generally do not have as much of a problem with it. In the Champlain Valley there has historically been more concerns with soft scald and soggy breakdown. This historic trend may not always be reliable year to year though, as we saw more bitter pit and very little soft scald in our Champlain Valley survey sites in 2016 and 2017. Visiting our survey sites last week, bitter pit symptoms are already beginning to show up in the Champlain Valley, while bitter pit symptoms have been visible in Hudson Valley Honeycrisp blocks for the last three weeks.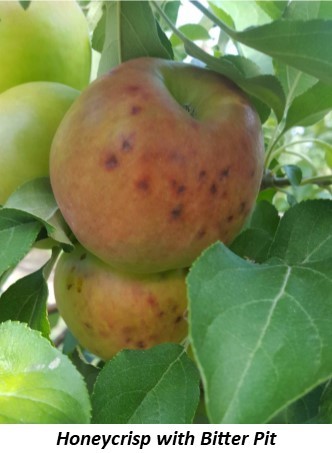 Conditioning fruit at 50°F for up to a week will reduce soft scald and soggy breakdown but will likely lead to more bitter pit development. Knowing your block history can help you determine whether you want to condition or not. If a block has historically been very prone to bitter pit, conditioning is not recommended, as this will exacerbate the problem. However, if a block rarely gets bitter pit, and soft scald and soggy breakdown are common, conditioning for seven days would be recommended. Pre-conditioning remains a standard grower practice in the soft-scald prone Champlain Valley. On the other hand, this practice is falling out of favor with storage operators in the Hudson Valley where mitigation of bitter pit in storage is a higher priority.
So where are we in predicting bitter pit in fruit on the tree? Mineral and non-mineral predictors of bitter pit are still being investigated. Our colleagues at Penn State suggest bitter pit can be predicted from the average shoot lengths of the trees, and the ratio of nitrogen to calcium in the fruit peel (Baugher et al., 2017). With the differences in growing conditions between Southern Pennsylvania and Eastern NY, it is difficult to determine if these variables are as good of predictors in our region. Results from our 2016 and 2017 survey study have not suggested a relationship between shoot extension and bitter pit incidence in the Eastern New York Region. We are developing a prediction model based on pre-harvest peel mineral analysis along with additional factors that we've identified from our database of 36 Honeycrisp orchard sites in 2016 and 2017. Our work continues in 2018 to determine which orchard conditions may best predict bitter pit in Eastern NY.
Non-mineral tests are also being developed, as mineral tests require peeling fruit and sending them to a mineral analysis lab before bitter pit can be predicted. In the current test, fruit are sampled three weeks prior to commercial harvest, and then left out at 68°F to see if bitter pit symptoms develop (Shoffe et al., 2018). These trials are continuing in the Hudson Valley this season, and are being expanded to Champlain Valley orchards. For 2018, both of our experimental prediction methods, mineral and non-mineral, are predicting a serious bitter pit problem for Honeycrisp held in storage this year, on par with the losses experienced in 2016. Please keep in mind that these prediction methods are still in the developmental phase, and may not be completely reliable.
Honeycrisp is also at risk of CO2 injury if stored in CA storage. Conditioning and DPA can reduce CO2 injury. Storing in air for one month prior to CA storage will also reduce injury, but can lead to more bitter pit and fruit greasiness. To combat this problem in the Hudson Valley, consider conditioning for seven days at 50°F, then reduce to 38°F for a month in air, and then store in CA.
NY-1 and NY-2
NY-1 is susceptible to low temperature disorders, and should be stored at 38°F like Honeycrisp. NY-1 is susceptible to CO2 injury, greasiness, and stem end flesh browning when put into CA storage. 1-MCP can be used to preserve fruit quality if CA storage and cooling are delayed after picking, however, 1-MCP and DPA have a negligible impact on storage disorders if fruit are quickly cooled and placed into CA storage. We have observed the development of rounded, sunken black lesions predominantly on the calyx end of a small number of fruits in the Hudson Valley. These lesions have some characteristics of bitter pit, although they appear to be centered on lenticels. When held in refrigerated storage until February, these spots are often associated with a yet-unidentified rot, which may be a secondary pathogen such as black rot taking advantage of the already decayed tissue. Peel mineral analysis of spotted vs. clean NY-1 apples indicates that spotted fruit has substantially lower concentration of calcium in the peel overall, and relatively lower calcium levels in the calyx vs. the stem end of the apple. These calcium distribution relationships are like those we have observed in Honeycrisp. More study is planned for 2018, and thankfully the incidence of these spots in commercial NY-1 orchards appears to be low, much less of an issue than bitter pit in Honeycrisp.
Storage quality of NY-2 is highly variable, as there were many storage issues of NY-2 in 2015, but very few in 2016. The factors behind this variability remain unclear, but fruit with water core at harvest are more likely to have poor storage quality.
Gala
Stem end flesh browning (SEFB) continues to be a problem in Gala. After experiments conducted in 2015 and 2016, results suggest pre-harvest Harvista and DCA storage can delay, but not control, stem-end flesh browning. Conditioning for seven days at 50°F may also decrease its incidence.
Standard ReTain rates have little effect on SEFB, and 1-MCP also showed no consistent effects in the trial. The current recommendation for Gala remains short term, standard CA (2% oxygen/2% CO2) storage at 33°F.
McIntosh, Cortland, and Red Delicious: CA with 1-MCP or DCA?
Trials conducted in 2016 compared McIntosh, Cortland, and Red Delicious fruit stored in CA and DCA storage in the Hudson and Champlain valleys. Apples were kept at room temperature for 3 or 10 days prior to being stored for eight months in either CA or DCA storage. Half the fruit were also treated with 1-MCP prior to being put into storage. After eight months, fruit were assessed for CO2 injury and superficial scald.
Champlain Valley results found DCA was the most effective storage treatment for delaying scald of those tested, regardless of if the fruit was treated with 1-MCP. If fruit are going to be in CA storage, 1-MCP will also help reduce the incidence of scald. In addition to differences in the incidence of scald, McIntosh stored in DCA had less CO2 injury than those in CA. While DCA helped reduce scald and CO2 injury, it did not preserve firmness on the shelf as well as fruit treated with 1-MCP.
In the Hudson Valley, all treatments showed complete control of scald compared to air storage. Fruit quality was reduced in McIntosh and Cortland when storage was delayed, but the delay had little effect on Delicious. CO2 injury of McIntosh was also significantly reduced when stored in DCA without 1-MCP treatment. DCA improved flesh firmness of McIntosh, but flesh firmness was best preserved when DCA fruit were treated with 1-MCP.
Citations
Baugher, T.A., R. Marini, J.R. Schupp, and C.B. Watkins. 2017. Prediction of bitter pit in 'Honeycrisp' apples and best management implications. Hortscience. 52(10):1368-1374.
Shoffe, Y.A., J.F. Nock, and C.B. Watkins. 2018. Non-mineral prediction of bitter pit in 'Honeycrisp' apples. NYFQ. 26(2):21-23.


Upcoming Events
Soil Health for Vegetable Growers Workshop

November 1, 2023
Essex, NY
Join us for presentations, discussions, and hands-on demonstrations focusing on soil health concepts and best management practices for vegetable growers. Topics include tarping, maintaining soil health in high tunnels, cover cropping, reduced tillage, compost microbiology, and more.
1.75 DEC pesticide recertification credits available in categories 1A, 10, and 23.
Announcements
Podcasts