2018 Northern NY Trap Data and Pest Exclusion with Hail Netting
Mike Basedow, Tree Fruit Specialist
Eastern New York Commercial Horticulture
October 23, 2018
During the 2018 growing season, we maintained an IPM trapping network in Northern New York, ranging from Chazy in Northern Clinton County to Rexford in Southern Saratoga County. From May through mid-September, we sent weekly e-alerts of our trap counts for oriental fruit moth, codling moth, obliquebanded leafroller, and apple maggot. Now that harvest is winding down, I would like to review this season's pest trends, and discuss what we observed from our hail netting trials in the Champlain Valley.
2018 Trap Data Compared to the Four Year Average
This year we once again monitored four key pest populations, and are now comparing their numbers to our captures from the previous three seasons. Compared to the four year average (2015-2018), we were below average for OFM catches this season in Northern New York. Moth activity was greatest in Washington County the week of May 30th. There was also a notable spike in activity in Essex County in early August, however all of our other sites never caught above eleven moths/trap/week (Figure 1).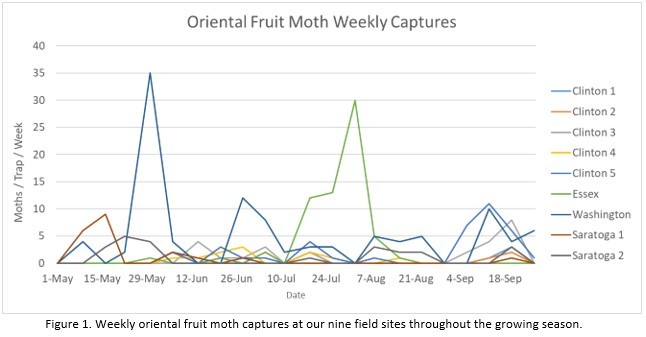 Trap catches for codling moth were also below our four year average, with catches never exceeding six moths/trap/week in our Clinton County traps (Figure 2). The highest capture was 21 moths/trap/week in Saratoga County the week of May 30th.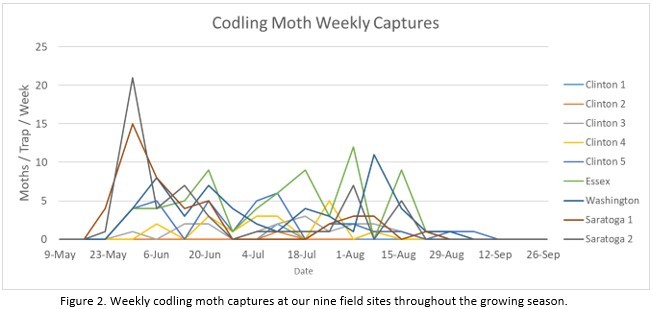 OBLR captures were also relatively low this year, at nearly half the four year average. We saw two relatively distinct flight periods; one centered on late June, and another from late August to early September (Figure 3).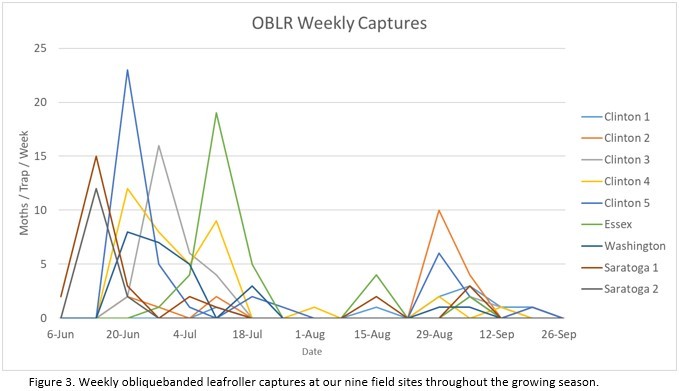 Apple maggot catches were high in the Champlain Valley this season, at nearly twice our four year average. We had many weeks of catches above the economic threshold of five flies per trap (Figure 4), which necessitated timely insecticide applications throughout the latter part of the summer.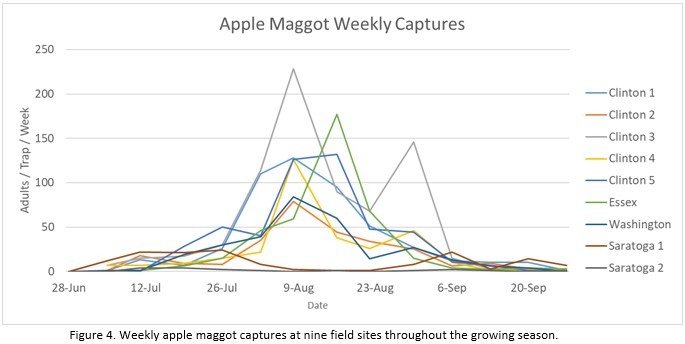 Netting versus Uncovered Trap Captures
This season, we also set up netting trials in orchards in Clinton and Essex counties, where growers were already utilizing Drapenet hail netting for hail protection. Our objective was to determine if hail nets could also be used to exclude insect pests as part of an integrated pest management program, and what impact netting might have on fruit injury due to pest damage. Traps were placed in rows that were later covered with Drapenet hail netting, and duplicate traps were placed in nearby uncovered rows. Trees were covered with nets shortly after fruit thinning, occurring in the second to third week of June in most of our trial sites.
While oriental fruit moths usually begin flying prior to this date in the Champlain Valley, we had very few moths in our traps prior to the nets being put up. Using a regression model to compare the amounts of moths found between the netted and uncovered treatments, we found the traps under the netting had significantly fewer OFM (Figure 5). At one site, OFM counts were lower under the net during the two weeks OFM were caught at the site. Two sites had reduced captures under the net in all but one of the weeks when OFM were present. Another site had lower OFM under the net just one of the four weeks OFM were present; while a final site had lower moth numbers under the net just two of the six weeks when OFM were present. With that said, OFM captures were low throughout the growing season in all but one of our netting study sites (no more than 5/moths/week).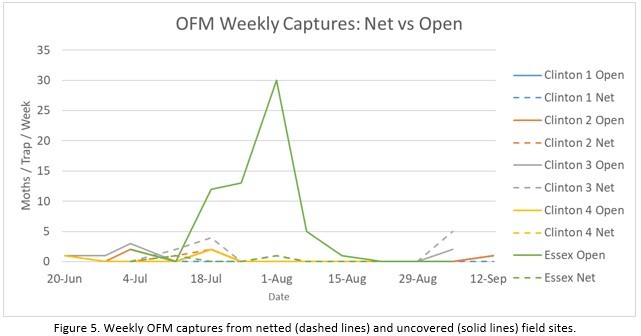 Using a similar regression model, we found that codling moth catches were also significantly reduced under the netting. Excluding weeks where CM were not caught in either trap at a site, traps from trees under the netting had consistently fewer CM at four of the five sites (Figure 6). At the other site (Clinton 3), there was a single week where CM captures under the netting were equal to the uncovered row, one week where captures were higher under the netting, and seven weeks where captures were lower under the netting. In general, CM counts were relatively low throughout the season.
Our regression model found that traps in netted trees also captured significantly fewer OBLR. In weeks where OBLR were present, captures were consistently lower under the nets than in uncovered rows at three of the five sites (Figure 7). The other two sites each had one week where we caught a single OBLR under the netting, while the uncovered traps caught none. OBLR captures were also relatively low throughout the growing season.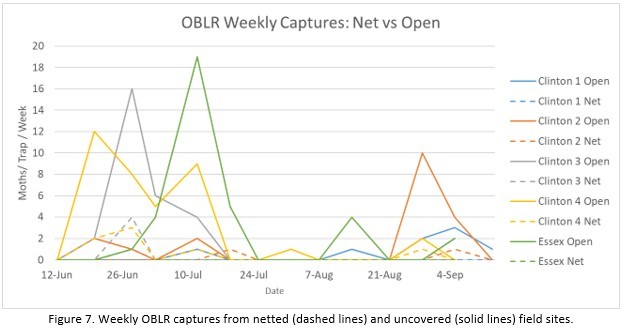 Apple maggot trap captures were significantly lower under the netted trees. In four of our five sites, weekly captures were lower in the netted rows in weeks when flies were present (Figure 8). At the other site (Clinton 4), we caught fewer flies in the netted trees in seven of the ten weeks.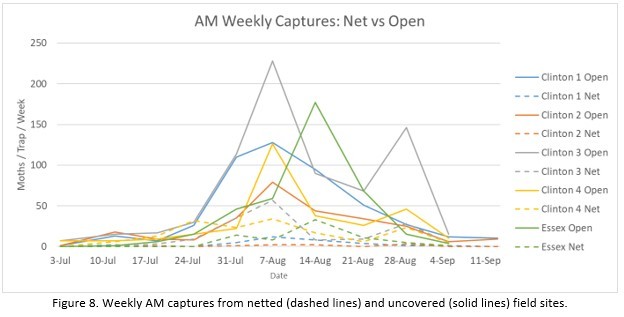 Fruit Injury
In addition to comparing the total number of captures at our five sites, we also conducted fruit injury ratings in July and August at the four sites in Clinton County. 300 fruit were rated for pest damage from the netted and uncovered sites, respectively. We also rated damage from plum curculio, tarnished plant bug, San Jose scale, and European apple sawfly. All blocks had been treated throughout the season with each orchard's standard pest management program, so injury was very low in the netted and uncovered blocks in July and August. We saw no significant differences in pest injury for any of the pests in either survey.
Concluding Thoughts
So, with all this in mind, is there any chance of using hail netting for physical pest exclusion? While the netting reduced the number of pests captured in our traps most weeks across our sites, the pests were often still there. Netting may help reduce pest numbers enough to reduce the total number of sprays needed for some pests, particularly for pests where spray decisions are based on well-established economic thresholds, like apple maggot.
From our general observations, sites with the most effective exclusion had their nets tightly tied to the lower limbs and trunks of the trees. At sites that achieved less effective control, netting was attached loosely to the lower limbs, so pests were better able to enter the net from under the canopy. Canopy shape may also play a role, as the site with the best control applied netting to trees grown to a tall spindle training system, while netted trees at our other field sites were larger central leader trees, which had very wide openings at the bottom.
As a final note, this study contains one year of data from a year of relatively light moth pest pressure. Further studies should be conducted to determine the full extent of the use of netting for exclusion purposes.
Acknowledgements
This work was sponsored by the Northern New York Agricultural Development Program project "Identification and physical exclusion of key pests in apple orchards in Northern New York." Thanks to Andy Galimberti for his assistance in this project, and to our cooperating orchards.


Upcoming Events
New York Labor Roadshow VII
December 15, 2023
Greenwich, NY
New York Labor Roadshow VII: December 2023 Offered by New York's Ag Workforce Development Council
New York's Ag Workforce Development Council (AWDC) is currently organizing Labor Roadshow VII. The Eastern NY event will be held on December 15 in Greenwich, NY from 8:30-4:15.
Announcements
Podcasts