Allium Leafminer Active in Southern Pennsylvania
Teresa Rusinek, Vegetable Specialist
Eastern New York Commercial Horticulture
April 18, 2018
A new invasive insect pest in the Northeast known as the Allium leafminer (ALM), Phytomyza gymnostoma, damages crops in the Allium genus (e.g., onion, garlic, leek, scallions, shallots, and chives) and is considered a major economic threat to Allium growers. Originally from Europe, ALM was first detected in Lancaster County, Pennsylvania in December of 2015 and in New Jersey and New York in 2016. As of fall 2017, ALM activity has been confirmed throughout eastern Pennsylvania, New Jersey, Delaware, southeastern New York as well as Tompkins and Suffolk counties.
ALM is currently active in Lancaster, PA where the first signs of adult fly emergence were detected on April 13, 2018. Based on our observations from last spring in the Hudson Valley, we expect emergence in our area in the next week or so. ALM will continue to emerge, feed and lay eggs in alliums over about 4 weeks. Leaf mining from larvae will begin to show up within two weeks after first adult emergence and intensify over the duration of the flight. The larvae mine their way toward the base of the allium plant where they will pupate.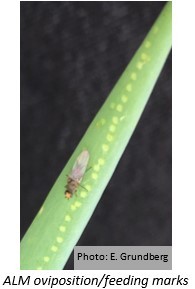 Growers who have alliums with green tissue growing in the field or in high tunnels now in southeastern New York should consider protective measures soon, especially in Orange, Ulster, Dutchess, Columbia, Sullivan, and Schoharie counties where significant infestations were observed last year. If you have small plantings that can be covered with row cover to exclude emerging ALM flies, now is the time to do so as long as you didn't have infested alliums (including wild onion grass) in the same space last season. Growers with larger plantings may consider applications of insecticides if and when significant ALM activity is observed in the allium crop. There are both organic and conventional insecticides labeled for allium crops to control this type of leafminer. Insecticide efficacy tests are currently being conducted in both New York and Pennsylvania. It is important to carefully observe your allium crops over the next few weeks. ALM oviposition/feeding may initially be observed along field edges. Be vigilant and please call or email either Teresa Rusinek at 845 389-3562, tr28@cornell.edu or Ethan Grundberg at 617 455-1893, eg572@cornell.edu if you see evidence of ALM feeding or have any questions about management.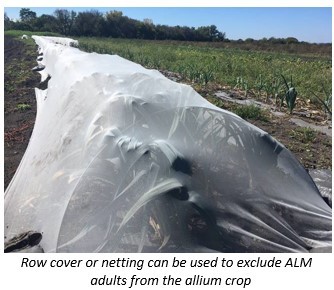 Upcoming Events
Farm Financial Management Tuesdays - Planning for a Change or Exiting Your Farm Business
November 30, 2021 : Assessing the Financial Ramifications of and Options for Significant Change to Your Farm Business
The inflationary economy is upon us! The huge influx of money into the US economy following the COVID-19 pandemic has manufactured high prices and in turn increased operating costs for farm business thus forcing many businesses into net operating loss situations. Other farms are facing high labor costs or chronic labor shortages. Some farms have taken on debt loads that make these increased costs unaffordable. Depending on the stage in the business lifecycle, it may make sense to change enterprises or exit the farming business entirely.
Join CCE ENYCH Ag Business Educator, Elizabeth Higgins, and CAAHP Ag Business Educator, Dayton Maxwell, for a one-hour program to learn about the financial aspects of changing or exiting a farm business.
December 7, 2021 : The Family and Emotional Component; Shifting Business Direction and Life After Farming
As farm business enterprises are changed or disbanded, the emotional stress can be tremendous, especially when individuals and family members maintain diminished assurance relative to future security.
Join Gabriel Gurley and Brenda O'Brien of New York FarmNet for a one-hour program focused on successfully navigating the emotional turmoil of a family farm business transition.
December 14, 2021 : New Venture Creation; Shifting Business Direction and Life After Farming
Change creates opportunity and new opportunities are certain when farm businesses change or end.
Join Gabriel Gurley of New York FarmNet for a one-hour overview of identifying ways and means to capitalize on new opportunities resulting from farm business transitions.
Remote Produce Safety Alliance Grower Training Course - Dec 2021
December 8 - December 9, 2021
A grower training course developed by the Produce Safety Alliance (PSA) that meets the regulatory requirements of the Food Safety Modernization Act (FSMA) for farms subject to the Produce Safety Rule. All farms are welcome to attend to learn about recommended food safety practices for growing, handling, and storing fresh produce. Course registration fee includes a course manual and certificate of course completion by the Association of Food and Drug Officials (AFDO).

Tax Management for Beginning and Small Farm Businesses
January 18, 2022
Tax Management for Beginning and Small Farm Businesses.
A one-night virtual meeting for beginning and part-time farmers that provides useful tax information enabling participants to be make better tax decisions for their business. Federal and state income taxes will be covered. Tax regulations specific to NYS will be covered as well.
Announcements
Podcasts