Optimizing Nitrogen Fertility for Overwintered High Tunnel Spinach
Elisabeth Hodgdon, Vegetable Specialist
Eastern New York Commercial Horticulture
August 27, 2019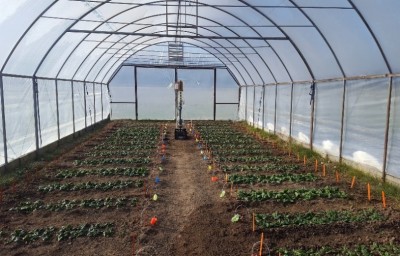 High tunnel (HT) environments allow for extended greens production during the shoulders of the season in the Northeast. In Northern NY, spinach can be planted in September for harvest in November and December, and will resume growth in February and March for late winter and early spring harvests. While fertility recommendations are fairly well established for field crops, soil nutrient dynamics in HTs are not as well understood. Nitrogen fertilizer application practices for overwintered HT spinach vary widely amongst farms. Although the recommended N fertility rate for field spinach is 100-125 lbs N/acre, anecdotally, we have heard reports of growers applying 200-600 lbs N/acre for overwintered high tunnel spinach. However, our team's previous research has shown little yield benefit of N fertilizer for HT spinach.
The objective of our experiment was to develop recommendations for optimal N fertility rates for overwintered HT spinach in Northern NY. If spinach yields are similar across N fertility treatments, growers may reduce costs of inputs in the fall by reducing fertilizer application.
Optimizing Nitrogen Fertility for Overwintered High Tunnel Spinach (pdf; 710KB)


Upcoming Events
New York Labor Roadshow VII
December 15, 2023
Greenwich, NY
New York Labor Roadshow VII: December 2023 Offered by New York's Ag Workforce Development Council
New York's Ag Workforce Development Council (AWDC) is currently organizing Labor Roadshow VII. The Eastern NY event will be held on December 15 in Greenwich, NY from 8:30-4:15.
Announcements
Podcasts