Optimizing Nitrogen Fertility for Overwintered High Tunnel Spinach
Elisabeth Hodgdon, Vegetable Specialist
Eastern New York Commercial Horticulture
August 27, 2019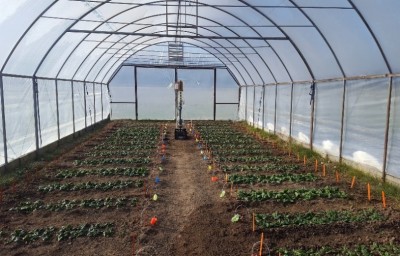 High tunnel (HT) environments allow for extended greens production during the shoulders of the season in the Northeast. In Northern NY, spinach can be planted in September for harvest in November and December, and will resume growth in February and March for late winter and early spring harvests. While fertility recommendations are fairly well established for field crops, soil nutrient dynamics in HTs are not as well understood. Nitrogen fertilizer application practices for overwintered HT spinach vary widely amongst farms. Although the recommended N fertility rate for field spinach is 100-125 lbs N/acre, anecdotally, we have heard reports of growers applying 200-600 lbs N/acre for overwintered high tunnel spinach. However, our team's previous research has shown little yield benefit of N fertilizer for HT spinach.
The objective of our experiment was to develop recommendations for optimal N fertility rates for overwintered HT spinach in Northern NY. If spinach yields are similar across N fertility treatments, growers may reduce costs of inputs in the fall by reducing fertilizer application.
Optimizing Nitrogen Fertility for Overwintered High Tunnel Spinach (pdf; 710KB)


Upcoming Events
Berry Production Workshop: Using Insect Exclusion Netting to Manage SWD
September 15, 2021
October 5, 2021

Due to predictions of extreme weather tomorrow evening, Wednesday, September 15th, the Exclusion Netting Workshop at the Berry Patch, Stephentown, NY has been postponed until Tuesday, October 5th, 4-6pm. If you already registered for the Berry Patch session, there is no need to re-register.
The western NY site at Albers Acres in Kennedy, NY will still hold the workshop tomorrow night, Sept 15.
If you have any questions about eastern NY meeting - please call Laura McDermott, 518-791-5038, or email lgm4@cornell.edu.
2021 season review of SWD management techniques
Join us at either The Berry Patch in Stephentown (Oct 5) or Abers Acres in Kennedy (Sept 15) for a two-hour review of Spotted Wing Drosophila (SWD) management techniques. We'll cover the basics of SWD monitoring of adult and larvae populations and also discuss implementing a pesticide program.
The program will focus on what has been learned about designing an exclusion netting support system that provides long term control of SWD and maximum utility for berry farmers.
Exclusion netting is being used on field blueberries where it controls SWD while also excluding birds and moderating impacts of hail and heavy rain. Raspberries and strawberries also benefit from exclusion netting on the sides of high tunnels.
1.5 DEC credits available in categories 1A, 10, and 22
Remote Produce Safety Alliance Grower Training Course
October 20 - October 21, 2021
A grower training course developed by the Produce Safety Alliance (PSA) that meets the regulatory requirements of the Food Safety Modernization Act (FSMA) Produce Safety Rule. At least one person per farm producing more than $25,000 worth of fruits and vegetables must attend this course once. Participants will receive a certificate of course completion by the Association of Food and Drug Officials.
Announcements
Podcasts