Leek Moth Control and Information
Christy Hoepting, Extension Vegetable Specialist
Cornell Vegetable Program
May 24, 2012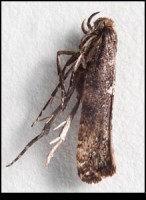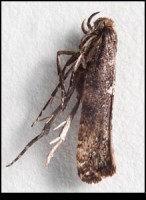 Leek Moth was detected in four home gardens in Plattsburg, NY in 2009. It was first detected in Ontario, Canada in 1997 where it has become problematic especially to small-scale, organic growers in eastern Ontario and to commercial producers in western Quebec, who have limited insecticides available to them.
Leek Moth continues its spread to more farms and gardens across the U.S., a new comprehensive website is available to aid in the identification and management of this pest. This Cornell website features maps of the distribution of leek moth, protocols on insect monitoring and identification, best management practices for farms and home gardens, a photo gallery of damage symptoms and a comprehensive resource section.
Visit the Leek Moth website.


Upcoming Events
Introduction to Winter Growing Webinar
January 2, 2020
Join vegetable specialists Elisabeth Hodgdon (ENYCHP) and Judson Reid (Cornell Vegetable Program) for a webinar on winter vegetable production in high tunnels.
Apple IPM :: Basics for Orchard Employees
January 10, 2020
Ballston Spa, NY
Have farm employees that need recertification credits? We will be covering the basics of integrated pest management, including how to monitor traps, evaluate insect thresholds, and use prediction models to better manage common orchard pests of Northern New York. We will also discuss IPM tactics for managing apple scab, fire blight, obliquebanded leafroller, apple maggot, and some common weeds in the orchard.
Produce Safety Alliance Grower Training Course

February 25, 2020
Albany, NY
A grower training course developed by the Produce Safety Alliance (PSA) that meets the regulatory requirements of the Food Safety Modernization Act (FSMA) Produce Safety Rule. At least one person per farm producing more than $25,000 worth of fruits and vegetables must attend this course once. Participants will receive a certificate of course completion by the Association of Food and Drug Officials.
Announcements
Podcasts