2015 Lima Bean Herbicide Chart
Julie Kikkert, Team Leader, Extension Vegetable Specialist
Cornell Vegetable Program
Last Modified: April 1, 2015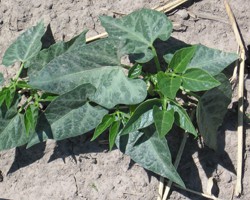 Baby lima beans for processing are a new crop in New York. As growers prepare to plant, they must understand the differences in herbicides for this crop compared to snap beans and dry beans. Lima beans react to some herbicides differently because they are the species Phaseolus lunatus as compared to common beans which are P. vulgaris.
Serious injury can be caused to lima beans if Eptam, Reflex, Assure II/Targa, or PostEmergence applications of Pursuit are used.
Herbicides that are labeled for lima beans in New York are given in the table below. Mark VanGessel from the University of Delaware provides the following information: on our loamy soils (approx. 1% organic matter) growers use 1.0 to 1.25 pints/A of Dual Magnum (rates similar for snap beans) and 1.5 to 2.0 oz of Pursuit at planting. They can be used pre-plant incorporated (PPI), but most farmers are applying them immediately after planting (PRE). Sandea is also labeled, but Pursuit is a better fit for the weeds in DE. Basagran, Sandea, Poast and Select Max are labeled for post-emergence control, with the choice depending on the weeds that emerge. We have a lot of Pursuit/Sandea resistant pigweeds in DE so be sure to rotate away from this mode of herbicide action in years that you are not growing lima beans in these fields.
Herbicides for Lima Bean Weed Control in NY in 2015 (pdf; 112KB)


Upcoming Events
Biocontrol Trial and IPM Field Meeting
August 20, 2019
4pm-6pm
Fort Plain, NY
4-5 pm: Dr's Amara Dunn and Meg McGrath will discuss powdery mildew control using biocontrols and organic and conventional fungicides. Crystal Stewart from the ENYCHP will provide a tour of the biocontrol trial and additional squash and pumpkin mini-variety trial.
5-6pm: Walk the farm fields with Dr's Dunn and McGrath and with CVP specialist Elizabeth Buck to talk about integrated strategies to control pests, diseases, and weeds on the vegetables farm. Bring samples and questions!
6-?pm: Discussion and light refreshments
*Look for the CCE sign to park on a cross street right before the farm.
Ag Manager Webinar Series: Ag Tax Topics - Sales Tax and Property Tax Issues for Ag in NYS
August 27, 2019
12:30 - 12:50pm
Join Liz Higgins from the CCE ENYCHP every other Tuesday at 12:30pm throughout the summer as she discusses pertinent business topics for busy farm managers.
Willsboro Farm High Tunnel Twilight Meeting
August 27, 2019
5:00pm - 7:00pm
Willsboro, NY
Join vegetable specialists Elisabeth Hodgdon, Jud Reid, and farm manager Mike Davis for a high tunnel and field tour at Cornell's Willsboro Research Farm, where they will share research results for the following projects:
Striped cucumber beetle management suing netting and row cover
Varietal differences in cucumber susceptibility to striped cucumber beetle
Ground cherry and goldenberry production in field and high tunnel environments
Overwintered high tunnel spinach nitrogen fertility
Announcements
Podcasts