Why Aren't My Tomatoes Ripening?
Steve Reiners, Co-Team Leader, Cornell University
Eastern New York Commercial Horticulture
August 22, 2012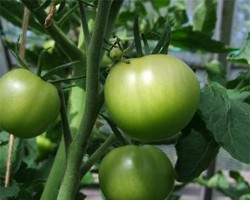 With all of the hot weather we have experienced this summer, growers were expecting their tomatoes to ripen very quickly. Unfortunately, just the opposite is happening. Ripening seems very slow, almost like what we see in the autumn when temperatures are much cooler.
So what's happening? It takes six to eight weeks from the time of pollination until tomato fruit reach full maturity. The length of time depends on the variety grown and of course, the weather conditions. The optimum temperature for ripening tomatoes is 70 to 75F. When temperatures exceed 85 to 90 F, the ripening process slows significantly or even stops. At these temperatures, lycopene and carotene, pigments responsible for giving the fruit their typical orange to red appearance cannot be produced. As a result, the fruit can stay in a mature green phase for quite some time.
Light conditions have very little to do with ripening. Tomatoes do not require light to ripen and in fact, fruit exposed to direct sunlight will heat to levels that inhibit pigment synthesis. Direct sun can also lead to sunscald of fruit. Do not remove leaves in an effort to ripen fruit. Also, soil fertility doesn't play much of a role. We do know that high levels of magnesium and low levels of potassium can lead to conditions like blotchy or uneven ripening or yellow shoulder disorder. But the slowness to ripen is not likely due to soil conditions and adding additional fertilizer will do nothing to quicken ripening.
If you absolutely cannot wait, some growers will remove fruit that are showing the first color changes. These fruit, in the a mature green or later phase, could be stored at room temperature (70-75F) in the dark. A more enclosed environment would be best as ethylene gas, released from fruit as they ripen, will stimulate other fruit to ripen. If temperatures remain high outdoors, these picked fruit will ripen more quickly, perhaps by as much as five days. As far as flavor, the greener fruit should develop flavor and color similar to what you would get if field ripened. The key is picking them when they are showing the first signs of ripening (no earlier) and keeping them at room temperature. Do not refrigerate, as this will absolutely destroy their flavor.


Upcoming Events
Farm Financial Management Tuesdays - Planning for a Change or Exiting Your Farm Business
November 30, 2021 : Assessing the Financial Ramifications of and Options for Significant Change to Your Farm Business
The inflationary economy is upon us! The huge influx of money into the US economy following the COVID-19 pandemic has manufactured high prices and in turn increased operating costs for farm business thus forcing many businesses into net operating loss situations. Other farms are facing high labor costs or chronic labor shortages. Some farms have taken on debt loads that make these increased costs unaffordable. Depending on the stage in the business lifecycle, it may make sense to change enterprises or exit the farming business entirely.
Join CCE ENYCH Ag Business Educator, Elizabeth Higgins, and CAAHP Ag Business Educator, Dayton Maxwell, for a one-hour program to learn about the financial aspects of changing or exiting a farm business.
December 7, 2021 : The Family and Emotional Component; Shifting Business Direction and Life After Farming
As farm business enterprises are changed or disbanded, the emotional stress can be tremendous, especially when individuals and family members maintain diminished assurance relative to future security.
Join Gabriel Gurley and Brenda O'Brien of New York FarmNet for a one-hour program focused on successfully navigating the emotional turmoil of a family farm business transition.
December 14, 2021 : New Venture Creation; Shifting Business Direction and Life After Farming
Change creates opportunity and new opportunities are certain when farm businesses change or end.
Join Gabriel Gurley of New York FarmNet for a one-hour overview of identifying ways and means to capitalize on new opportunities resulting from farm business transitions.
Remote Produce Safety Alliance Grower Training Course - Dec 2021
December 8 - December 9, 2021
A grower training course developed by the Produce Safety Alliance (PSA) that meets the regulatory requirements of the Food Safety Modernization Act (FSMA) for farms subject to the Produce Safety Rule. All farms are welcome to attend to learn about recommended food safety practices for growing, handling, and storing fresh produce. Course registration fee includes a course manual and certificate of course completion by the Association of Food and Drug Officials (AFDO).

Tax Management for Beginning and Small Farm Businesses
January 18, 2022
Tax Management for Beginning and Small Farm Businesses.
A one-night virtual meeting for beginning and part-time farmers that provides useful tax information enabling participants to be make better tax decisions for their business. Federal and state income taxes will be covered. Tax regulations specific to NYS will be covered as well.
Announcements
Podcasts