Why Aren't My Tomatoes Ripening?
Steve Reiners, Co-Team Leader, Cornell University
Eastern New York Commercial Horticulture
August 22, 2012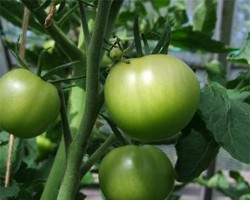 With all of the hot weather we have experienced this summer, growers were expecting their tomatoes to ripen very quickly. Unfortunately, just the opposite is happening. Ripening seems very slow, almost like what we see in the autumn when temperatures are much cooler.
So what's happening? It takes six to eight weeks from the time of pollination until tomato fruit reach full maturity. The length of time depends on the variety grown and of course, the weather conditions. The optimum temperature for ripening tomatoes is 70 to 75F. When temperatures exceed 85 to 90 F, the ripening process slows significantly or even stops. At these temperatures, lycopene and carotene, pigments responsible for giving the fruit their typical orange to red appearance cannot be produced. As a result, the fruit can stay in a mature green phase for quite some time.
Light conditions have very little to do with ripening. Tomatoes do not require light to ripen and in fact, fruit exposed to direct sunlight will heat to levels that inhibit pigment synthesis. Direct sun can also lead to sunscald of fruit. Do not remove leaves in an effort to ripen fruit. Also, soil fertility doesn't play much of a role. We do know that high levels of magnesium and low levels of potassium can lead to conditions like blotchy or uneven ripening or yellow shoulder disorder. But the slowness to ripen is not likely due to soil conditions and adding additional fertilizer will do nothing to quicken ripening.
If you absolutely cannot wait, some growers will remove fruit that are showing the first color changes. These fruit, in the a mature green or later phase, could be stored at room temperature (70-75F) in the dark. A more enclosed environment would be best as ethylene gas, released from fruit as they ripen, will stimulate other fruit to ripen. If temperatures remain high outdoors, these picked fruit will ripen more quickly, perhaps by as much as five days. As far as flavor, the greener fruit should develop flavor and color similar to what you would get if field ripened. The key is picking them when they are showing the first signs of ripening (no earlier) and keeping them at room temperature. Do not refrigerate, as this will absolutely destroy their flavor.


Upcoming Events
Champlain Valley Tree Fruit Grower Input Meeting
November 30, 2022
Plattsburgh, NY
We need your input! Mike will be holding a Champlain Valley tree fruit grower input session on November 30 in Plattsburgh at the Clinton County CCE office. Mike will review his 2022 research and extension activities. We would then like to hear from you to set priorities for future tree fruit research and education needs, and to get your input for speakers for our 2023 winter meetings.
How Profitable Will My New Orchard Investment Be? Zoom Series
December 5, 2022 : Looking at the Big Financial Picture for Your Farm
Your farm's big-3 financial records (balance sheet, income statement and statement of cash flow) and how to use them to assess your overall financial situation. This information will help you assess what types of investments are likely to be viable for your farm business and whether or not you are likely to be able to use credit to finance that investment. We will specifically cover Farm Profitability, Cash Flow, and Key Financial Ratios.
December 6, 2022 : Business Strategy and the Farm Value Chain
How do you create value? How do you differentiate yourself from your competitors? In other words - what is your farm's business strategy? Your investments should be in line with your strategy. Different business strategies will result in investments in different parts of the Farm Business Value Chain. Farm Business Value Chain - full range of activities needed to create a product or service.
December 7, 2022 : Using Your Farm's Financial Data to Make Management Decisions
Identifying the Enterprises in Your Value Chain. Your Profit Centers and Cost Centers. We will cover: Direct vs Indirect Costs and Cost Allocation and Variable vs Fixed Costs and Relevant Range (when does a fixed cost become a variable cost?)
December 8, 2022 : Operating Budgets and Strategic Planning
Operating budgets are the overall financial plan for the business. You can use a budget based on your current situation as the base to model new scenarios.
December 12, 2022 : Enterprise Budgets
It is more time-consuming to develop detailed budgets for your enterprises, but it is worthwhile to do this for area where you are considering making major investments. We will demonstrate how to move from an operating budget to an enterprise budget to model specific scenarios within that enterprise.
December 13, 2022 : 5 Step Decision-making Process for Capital Projects and Long-term Investments
Introduces a structured process for a manager to go through to decide among options for long-term investments, projects or changes to the farm business.
December 14, 2022 : Cost Volume Profit Analysis and Sensitivity Analysis
As you change your prices, volume of sales or costs of production how does your profit change? What is your break-even point and what output level do you need to achieve a target income? We will also cover sensitivity analysis that will help you see how your results will vary over a range of likely scenarios from best case to worst case. This will help you assess the riskiness of your plan.
December 15, 2022 : Capital Budgeting Tools - Net Present Value, Internal Rate of Return, and Payback Period
Capital budgeting is defined as the process used to determine whether capital assets are worth investing in. it's the process of asking: is an asset worth the resources it requires? Capital assets are usually long-term investments like new equipment, facilities, and other infrastructure upgrades. By incorporating strategically planned capital budgeting into their financial processes, companies can more effectively determine and prioritize which projects, programs and other investment assets could be most financially beneficial in the long-term.
SAVE THE DATES
December 13 - December 15, 2022February 2 - February 8, 2023February 21 - February 23, 2023
Save the Dates for the following Winter Meetings:
The New England Vegetable & Fruit Conference, DoubleTree Hotel and Conference Center, Manchester, New Hampshire, December 13-15 https://newenglandvfc.org/registration/
NOFA NY Virtual Winter Conference, February 2-5, 2023 https://nofany.org/2023conference/
Empire State Expo, Oncenter Syracuse, February 6-7 2023 https://nysvga.org/expo/information/
Becker Forum, Oncenter Syracuse, February 8, 2023 https://nysvga.org/expo/information/
Eastern NY Commercial Horticulture Program Regional Winter Meeting, The Desmond Hotel, Albany, February 21-23, 2023
Announcements
Podcasts