O-zone Injury on Vegetables
Crystal Stewart, Extension Vegetable Specialist
Eastern New York Commercial Horticulture
August 22, 2012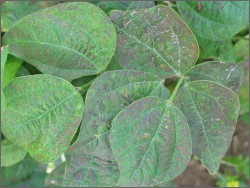 Hot, humid weather with stagnant air masses may lead to ozone damage on crops. Ozone warnings were recently issued for much of New York. These warnings are intended for people with respiratory problems and let them know they should limit their outdoor activity and try to stay as much as possible in air-conditioned locations. These warning are also a good indicator that ozone damage may occur in plants.
Common ozone symptoms are small, irregular, shaped spots that range in color from dark brown to black (stipple like) or light tan to white (fleck like). These spots are found only on the upper surface of the leaf. Very young and old leaves are less susceptible to ozone while newly mature leaves are the most susceptible. With severe damage, symptoms may extend to the lower leaf surface.
Insect feeding (red spider mite and some leafhoppers) produce flecks on the upper surface of leaves, much like ozone injury. Flecks from insect feeding are usually spread uniformly over the leaf surface while ozone flecks are concentrated in specific areas, usually most pronounced at the leaf tip and along the margins.

The most sensitive crops include:
Bean, Broccoli, Muskmelon, Onion, Potato, Radish, Spinach, Sweet Corn, Tomato

Intermediate crops include:
Carrot, Endive, Parsley, Parsnip, Turnip
Tolerant crops include:
Beet, Cucumber, Lettuce


Upcoming Events
Pesticide Exam Certification Summer Trainings
July 2 - July 23, 2019
1:30pm - 4:30pm each day
Plattsburgh, NY
2019 Champlain Valley Pesticide Applicator Exam Intensive Training
CCE ENYCHP Horticulture Specialists Mike Basedow and Elisabeth Hodgdon will be offering four afternoons of training to review core concepts and commodity specific items in preparation for the exam.
CCE & Hudson Valley Research Lab Research & Extension Tour
July 26, 2019
12:30pm - 5:00pm
Highland, NY
The Eastern NY Commercial Horticultural Program and Hudson Valley Research Lab are hosting a 2019 Research and Extension Summer Tour on July 26th from 12:30 - 5:00 PM. Beginning at the Highland Research Station Conference Room.
Last Monday Grant Webinar for Fruit and Vegetable Growers - July
July 29, 2019
12:00-1:00
To help disseminate information on grants on a more consistent basis, we will be offering a "current grants" webinar on the last Monday of every month at noon
In order to help focus the program, the webinars will be limited to grants that are relevant to fruit and vegetable farmers in Eastern New York.
There is a possibility of webinars related to grants for experimental crops (i.e. hops and hemp) if it is likely that fruit and vegetable growers would be interested.
Announcements
Podcasts