O-zone Injury on Vegetables
Crystal Stewart-Courtens, Extension Vegetable Specialist
Eastern New York Commercial Horticulture
August 22, 2012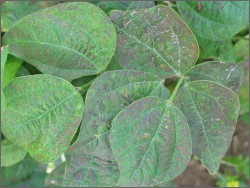 Hot, humid weather with stagnant air masses may lead to ozone damage on crops. Ozone warnings were recently issued for much of New York. These warnings are intended for people with respiratory problems and let them know they should limit their outdoor activity and try to stay as much as possible in air-conditioned locations. These warning are also a good indicator that ozone damage may occur in plants.
Common ozone symptoms are small, irregular, shaped spots that range in color from dark brown to black (stipple like) or light tan to white (fleck like). These spots are found only on the upper surface of the leaf. Very young and old leaves are less susceptible to ozone while newly mature leaves are the most susceptible. With severe damage, symptoms may extend to the lower leaf surface.
Insect feeding (red spider mite and some leafhoppers) produce flecks on the upper surface of leaves, much like ozone injury. Flecks from insect feeding are usually spread uniformly over the leaf surface while ozone flecks are concentrated in specific areas, usually most pronounced at the leaf tip and along the margins.

The most sensitive crops include:
Bean, Broccoli, Muskmelon, Onion, Potato, Radish, Spinach, Sweet Corn, Tomato

Intermediate crops include:
Carrot, Endive, Parsley, Parsnip, Turnip
Tolerant crops include:
Beet, Cucumber, Lettuce


Upcoming Events
Agricultural Supervisory Leadership Certificate Program
June 17, 2022
June 23, 2022
June 30, 2022
July 7, 2022
July 14, 2022
July 21, 2022
July 28, 2022

Supervisors are critical to the success of farm businesses. They have a major impact both on employees' daily work experiences and on the production performance of the business. The agricultural Supervisory Leadership certificate helps farm supervisors and managers learn and apply human resource management practices and leadership skills that foster rewarding workplaces and drive business results. Confident managers who thoughtfully apply leadership and management skills improve employee performance, develop teams, reduce employee turnover, and increase employee engagement. The courses within the certificate program will offer extensive practice and engagement activities to build confidence and skill sets.
Peru Weed Management and Soil Health Field Day

July 20, 2022
Peru, NY
Join us in Peru on July 20th as we discuss orchard weed and soil management! Speakers will be joining us from across Cornell's research and extension teams. Topics will include the results of our herbicide timing trials, new vision-guided technologies for orchard weed spraying, organic weed management options, soil health demonstrations, and a discussion on our statewide orchard soil health survey. DEC credits are pending for this event.
July Next Gen Meetup at Bowman Orchards
July 21, 2022
Rexford, NY
The July Next-Gen meet-up is focused on marketing. We will provide everyone who registers with a resource guide to farm stand marketing. The Bowman's have a farm store, U-Pick berries, sunflowers, apples and pumpkins as well as a commercial apple orchard. We encourage you to check out their website (Bowman Orchards).
Young farmers are welcome to attend, the focus of the program is farmers who are in the process of taking over a farm from the prior generation (whether family or not). Please pre-register by July 18 so that we know you are coming and can have enough food for dinner and resource materials.
Announcements
Podcasts