Early Pumpkin Ripening
August 22, 2012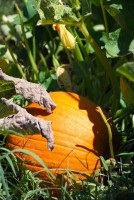 - Excerpt from Pumpkin and Winter Squash Harvest and Storage, written by Ruth Hazzard, University of Massachusetts.
Ideally, pumpkins should be harvested when fully mature, with a deep orange color and hardened rind. However, as long as pumpkins have started to turn color, they will ripen off the vine if held under the proper conditions. While not ideal, this may be preferable to leaving them in the field if conditions are not favorable.
If necessary, pumpkins can be ripened in a well-ventilated barn or greenhouse. The best temperatures for ripening are 80-85 degrees Fahrenheit with a relative humidity of 80-85%. Night temperatures should not drop below the sixties. Even if pumpkins are ripe, a period of curing can improve storage life. The curing period should be about 10 days. During this process, the fruit skin hardens, wounds heal and immature fruit ripens all of which prolongs the storage life. Pumpkins should be stored in a cool, dry place. Ideal temperatures are between 50 F and 60 F and relative humidity of 50 - 70%. Higher humidity allows condensation on the fruit with risk of disease, and lower humidity can cause dehydration. Higher temperatures increase respiration and can cause weight loss. Temperatures lower than 50 F cause chilling injury. In a greenhouse, temperature can be managed with ventilation on sunny days. Unless it is quite cool, heat is not likely to be needed if the house is closed up at night.
Often it is not feasible to harvest pumpkins early and store them until they can be marketed, and so they must be stored in the field. If vines and fruit are healthy, storage in the field can be successful for a few weeks. If the vines die back, damage to the fruit from sun, disease and insects is more likely. In any case, it is important to scout for insects feeding on the fruit and handles, which may include squash bug nymphs or adults, or striped cucumber beetle. Control them if damage is evident. In fields that have a history of Phytophthora blight, Fusarium fruit rot, or black rot, field storage may increase the incidence of these problems, particularly if we have a period of wet weather or a major storm while fruit is sitting in the field. This has been one of the causes of significant losses in recent years, and one reason that we recommend bringing fruit in as soon as it is mature.


Upcoming Events
October Last Monday Grant Webinar for Fruit and Vegetable Growers
October 28, 2019
4:00 pm
Are you curious about what grants are available to help your farm business?
To help disseminate information on grants on a consistent basis, ENYCH is offering a "current grants" webinar on the last Monday of every month at 4:00pm
Each month's webinar focuses on 1 grant. The October webinar topic is TBD but might feature Ag Labor Housing Grants.
Produce Safety Alliance FSMA Grower Training Course
October 30, 2019
8am - 5pm
Canajoharie, NY
A grower training course developed by the Produce Safety Alliance (PSA) that meets the regulatory requirements of the Food Safety Modernization Act (FSMA) Produce Safety Rule. At least one person per farm producing more than $25,000 worth of fruits and vegetables must attend this course once. Participants will receive a certificate of course completion by the Association of Food and Drug Officials.
Tarping for Reduced Tillage Workshop
November 2 - November 19, 2019

Are you a vegetable farmer already using tarps? Or are you wondering if and how tarps could work best on your farm?

The Cornell Small Farms Program is excited to announce a series of workshops on tarping for reduced tillage in small-scale vegetable systems, to be held in Maine and New York this fall. The Reduced Tillage (RT) project of the Cornell Small Farms Program supports farmers in adopting scale-appropriate RT practices that can lead to healthy, productive soils and greater profitability. Through the evaluation of novel tools and methods using systems-based field research and on-farm trials, the project helps farmers learn about the approaches that can work for their farm. This work is accomplished in collaboration with the University of Maine, and with support from Northeast SARE.

Announcements
Podcasts