Event Details
Date
November 29, 2018
Time
7:00-8:00pm
Location
Zoom Webinar

Cost
This event is free.
Host
Eastern New York Commercial Horticulture
Research Results with High Tunnel Veg Crops Webinar
November 29, 2018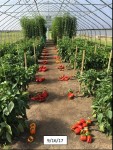 Join Amy Ivy, Judson Reid and Mike Davis in a discussion and review of the results their recent high tunnel vegetable trials. The discussion will be tailored to those who attend so bring your questions and experiences to share and discuss. Trials reviewed will include:
• Winter spinach nitrogen sources and rates (still underway)
• Pushing warm season crops for earliest harvest with and without covers
• Red bell pepper variety trial, comparing standard varieties to greenhouse varieties
• Training and pruning greenhouse peppers
• Cherry pepper pruning and training
This will be held live via Zoom webinar, then recorded and posted for later viewing for those who can't attend the live session.
With funding from the Northern NY Agricultural Development Program nnyagdev.org