Event Details
Date
August 27, 2019
Time
5:00pm - 7:00pm
Location
Cornell Willsboro Research Farm
48 Sayward Lane
Willsboro, NY 12996
Cost
This event is free.
Host
Eastern New York Commercial Horticulture
Willsboro Farm High Tunnel Twilight Meeting
August 27, 2019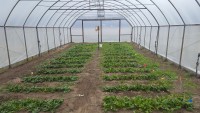 Join vegetable specialists Elisabeth Hodgdon, Jud Reid, and farm manager Mike Davis for a high tunnel and field tour at Cornell's Willsboro Research Farm, where they will share research results for the following projects:
Striped cucumber beetle management suing netting and row cover
Varietal differences in cucumber susceptibility to striped cucumber beetle
Ground cherry and goldenberry production in field and high tunnel environments
Overwintered high tunnel spinach nitrogen fertility
Depending on availability, a taste-testing of the different cucumber, ground cherry, and goldenberry varieties will be held. This free program is made possible through funding by the Northern New York Agricultural Development Program.