Event Details
Date
October 3, 2019
Time
3:00pm - 5:00pm
Location
Hudson Valley Farm Hub
1875 Hurley Mountain Rd
Hurley, NY 12443
Cost
This event is free.
Host
Eastern New York Commercial Horticulture
Pre-Registration Deadline: October 2, 2019

EVENT HAS PASSED
Allium Leafminer IPM Twilight Meeting
October 3, 2019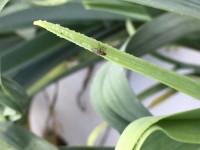 Learn to identify and manage Allium Leafminer (ALM) in your allium crops.

Eastern New York Commercial Horticulture Specialists Ethan Grundberg and Teresa Rusinek will recap allium leafminer biology and distribution, discuss host preference and provide a tour of the research plots at the Hudson Valley Farm Hub. The research focuses on the use of reflective mulch to suppress ALM ovipostion on allium plants and insecticide application timing trial on leeks. The research aims to provide growers with targeted strategies to efficiently and effectively manage ALM. We welcome growers to bring securely bagged samples in clear plastic bags. Ample time will be provided for discussion.
*Please arrive on time. We will assemble and sign in at the tent at the Farm Hub visitor parking lot. The Farm Hub will provide transportation from the visitor parking lot to the field research site. Visitor vehicles are not permitted in the field


This meeting will be held rain or shine.
1 DEC pesticide applicator credit is available.

Hudson Valley Farm Hub
1875 Hurley Mountain Rd
Hurley, NY 12443
October 3, 2019
3:00pm-5:00pm
10.3 ALM Twilight Mtg Flyer (PDF; 1091KB)