Sorry, Pre-Registration for has passed.
*CANCELLED* Cleaning, Sanitizing, and Hygienic Design Workshop
---
Event Details
Date
April 15, 2020
Time
8:30am - 3:30pm
Location
Engel's Acres
445 Brunswick Rd
Troy, NY 12180
Cost
Registration Fee : $50.00
(addl attendee $50.00 ea.)
Host
Eastern New York Commercial Horticulture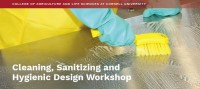 **This event has been CANCELLED**
The Institute for Food Safety at Cornell University, the University of Vermont and CCE Eastern NY Commercial Horticulture are hosting a workshop on Cleaning, Sanitizing and Hygienic Design.
This one-day workshop will include:
A brief review of produce safety
Presentations focused on cleaning, sanitizing and drying best practices
An introduction to hygienic design principles
Several hands on exercises to reinforce cleaning, sanitizing and hygienic design concepts
The course is subsidized by several state and federal grants and is being offered at a reduced cost of $50 per participant. We will provide lunch as well as several resources related to the topics reviewed during the workshop.
Registration is limited to 30 participants. The deadline to register for the course is April 8, 2020.
Please contact Elisabeth Hodgdon with any questions at 518-650-5323 or eh528@cornell.edu.
Fee: $50 per participant (includes lunch)
Cleaning, Sanitizing, and Hygienic Design Workshop (PDF; 1014KB)


Upcoming Events
High Tech Precision Orchard Spraying
July 20, 2020
Join us the afternoon of July 20th to learn what's new in orchard precision spraying technology. We'll be joined by Dr. Jason Deveau, Dr. Heping Zhu, and Steve Booher. After their presentations, we will open up the meeting for all three presenters to field questions and comments.
Announcements
Podcasts