Event Details
Date
August 13, 2014
Time
3:00pm - 5:00pm
Location
The Berry Patch of Stonewall Hill Farm
15370 NY Route 22
Stephentown, NY 12168
Cost
This event is free.
Host
Open House for Spotted Wing Drosophila Netting Exclusion and Fixed Spray System Farm Trials
August 13, 2014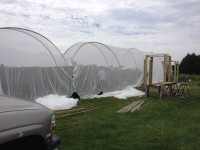 Please register by contacting Marcie at 518-272-4210 or by email at mmp74@cornell.edu -
there is no fee,
but it will help us provide the appropriate number of handouts etc. If you get a machine, leave the number attending, your name and a phone number. This event will happen rain or shine.
If you have questions, please contact Laura McDermott: 518-791-5038
Click here for printable brochure (PDF; 502KB)