Event Details
Date
March 30, 2017
Time
2pm-5pm
Location
Rose Hill Farm
19 Rose Hill Farm Rd.
Red Hook, NY 12571
Cost
This event is free.
Host
Eastern New York Commercial Horticulture
Pruning Demonstration Day
March 30, 2017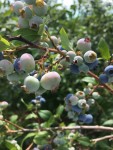 Jim O'Connell held a workshop at Rose Hill Farm in 2016, which was focused on rejuvenation pruning. This year, Laura and Jim will demonstrate what to do in succeeding years, as well as explain general pruning concepts. Please dress for the weather and bring pruners (both hand pruners and large pruners).
This workshop is free, but please preregister with Jim O'Connell no later than March 28th, 2017 by email (jmo98@cornell.edu) or phone (845-943-9814) so we know how many people to expect.