Event Details
Date
May 11, 2017
Time
3:00pm-5pm
Location
Bowman's Orchard
141 Sugar Hill Rd
Rexford, NY 12148
Cost
This event is free.
Host
Eastern New York Commercial Horticulture
Bramble Pruning Workshop - Bowman's Orchard
May 11, 2017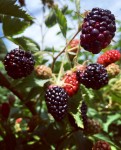 Focus will be on pruning to increase production and help control Spotted Wing Drosophila. General pest management and culture will also be discussed. There is no charge for these workshops, but we would like folks to register so that we know how to contact you. Please register here or call Marcie at 518-272-4210.