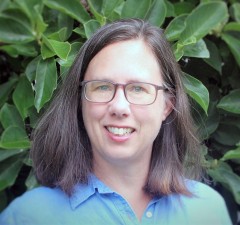 Elizabeth Higgins
Business Management Specialist
Hudson Valley Lab
3357 US Hwy 9W
Highland, NY 12528
phone 845.691.7151
cell 518.949.3722
email Elizabeth
Areas of Interest
Business Management & Planning, Risk Management, Agricultural Economics
Liz Higgins started her career in agriculture in policy analysis in Washington, DC. One of her assignments was as special assistant to the Administrator of USDA-AMS on the Final Rule of the National Organic Program. Liz has experience in rural economic development as the director of the Center for Rural Development at Louisiana Tech University and most recently worked with Cornell Cooperative Extension in both Ulster and Sullivan Counties as a program leader in Nutrition and Consumer Programs, Watershed Management and Agriculture and Natural Resources. Liz will be providing research and extension support to growers in Eastern New York in farm business management, business planning and risk management and agricultural economics. Liz is looking forward to working with eastern NY growers on a wide variety of projects.


Announcements
Weed Management in Strawberries - Video
Dr. Bryan Brown, Integrated Weed Management Specialist with the New York State Integrated Pest Management Program, begins by discussing general weed management principles, then reviews the weed control recommendations of the Cornell Pest Management Guidelines for Berry Crops, and finishes with a case study of Shenk Berry Farm.
This was recorded at the 2018 ENYCHP Eastern New York Fruit & Vegetable Conference held February 20th and 21st.
Confused by the WPS (Worker Protection Standard)?
Please take note: WPS pertains to all farms-organic and conventional! To be sure that you are complying with these regulations, please view the EPA link below:
https://www.epa.gov/sites/production/files/2015-09/documents/comparison-chart-wps.pdf
Growing for Wholesale: Grading and Packing Guides
Grading and packing guidelines are now available for 16 commonly grown specialty crops in NYS: broccoli crowns, Brussels sprouts, corn, green peppers, cucumbers, green cabbage, red cabbage, savory cabbage, cauliflower, eggplant, green beans, jalapenos, poblanos, Hungarian hot peppers, summer squash, and zucchini. Find all 24 sheets online at:
https://rvpadmin.cce.cornell.edu/uploads/doc_612.pdf
This resource was developed through the support of Cheryl Thayer of CCE Harvest NY, Dave Walczak of Eden Valley Growers, Angela Parr and Robert Hadad of the CCE Cornell Vegetable Program, and Jim Monahan of Cornell Cooperative Extension. Further, development of this resource was made possible through grant funding from the USDA Local Food Promotion Program.
Eastern New York Commercial Horticulture - Cornell Cooperative Extension
Your Trusted Source for Research-Based Knowledge