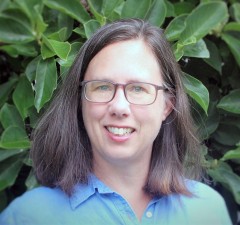 Elizabeth Higgins
Business Management Specialist
Hudson Valley Lab
3357 US Hwy 9W
Highland, NY 12528
phone 845.691.7151
cell 518.949.3722
email Elizabeth
Areas of Interest
Business Management & Planning, Risk Management, Agricultural Economics
Liz Higgins started her career in agriculture in policy analysis in Washington, DC. One of her assignments was as special assistant to the Administrator of USDA-AMS on the Final Rule of the National Organic Program. Liz has experience in rural economic development as the director of the Center for Rural Development at Louisiana Tech University and most recently worked with Cornell Cooperative Extension in both Ulster and Sullivan Counties as a program leader in Nutrition and Consumer Programs, Watershed Management and Agriculture and Natural Resources. Liz will be providing research and extension support to growers in Eastern New York in farm business management, business planning and risk management and agricultural economics. Liz is looking forward to working with eastern NY growers on a wide variety of projects.


Upcoming Events
Soil Health for Vegetable Growers Workshop

November 1, 2023
Essex, NY
Join us for presentations, discussions, and hands-on demonstrations focusing on soil health concepts and best management practices for vegetable growers. Topics include tarping, maintaining soil health in high tunnels, cover cropping, reduced tillage, compost microbiology, and more.
1.75 DEC pesticide recertification credits available in categories 1A, 10, and 23.
Announcements
Podcasts