Event Details
Date
January 28, 2019
Time
8:30am - 4:00pm
Location
Livingood's Restaurant
697 Bear Swamp Road
Peru, NY 12972
Cost
$55.00 payable at the door (per person)



Host
Ag Workforce Development Council

315-433-0100 x 5595
Labor Road Show II (Peru, NY)
January 28, 2019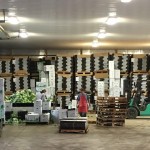 Ag Labor Road Show II
Sharing on behalf of the Ag Labor Development Council:
Featured Speaker: Attorney Michael Sciotti - Mike's practice includes jury trials, investigations, labor audits, supervisory and employee training and claims under federal and state labor laws. He is a frequent speaker and author of articles regarding labor and employment issues. Mike is admitted to practice in New York and the District of Columbia. He is a member of the New York State Bar Association's Labor Law Section: Equal Opportunity Law as well as the Committee on Legislation.
If you have employees, then you need to be at the New York Labor Road Show II. Everybody Experts from farms, private industry and the university will focus on critical topics that affect all farm employers including: employee housing, onboarding, sexual harassment prevention, employee engagement , safety, wage and hour laws, and worker care.
FEATURED TOPICS

Better Farm-Provided Employee Housing Management and Compliance
Onboarding New Employees
Sexual Harassment Prevention Policies and Training for NY Employers
Everyone Needs a Voice: Building Great Employee Relations
Dairy Safety and Compliance Update
Fruit & Vegetable Safety and Compliance Update
Federal and State Wage and Hour Laws
Worker Care: Let's Get Ahead of Our Customers and Regulators
Sponsored by the Ag Workforce Development Council - NEDPA, Cornell Cooperative Extension, Cayuga Marketing, AgriMark, Upstate Niagara, New York Farm Bureau, New York Vegetable Growers Association, New York Animal Ag Coalition, Agri-Placement Services, New York Horticultural Society, Dairy Farmers of America, Farm Credit East