Event Details
Date
August 1, 2019
Time
10am - 1pm
Location
Pleasant Valley Farm
118 South Valley Road
Argyle, NY 12809
Cost
$10.00 Registration for ENYCHP-enrolled members


$25.00 Registration for all others

Enroll in the ENYCHP to get discounted event prices!


Host
Eastern New York Commercial Horticulture
Pre-Registration Deadline: August 1, 2019

EVENT HAS PASSED
Improve your Post-Harvest Efficiency, Profitability, and Food Safety
August 1, 2019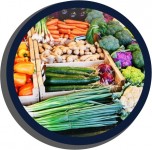 We will examine the efficient flow of wash-pack zones and highlight infrastructure, equipment and tools necessary for the post-harvest world. A walk and talk-through Pleasant Valley's set-up and practices will reveal the planning principles behind their success. Come with a post-harvest challenge or improvement project in mind and prepare for hands-on planning. Templates, personal whiteboard prompts, as well as Extension and peer support will allow you to leave this workshop with a plan, and with the knowledge and resources needed to follow through.

Pizza lunch included

1.0 NYS DEC Pesticide applicator re-certification credit in categories 1a, 10, 22 and 23 will be available.

Cost: $10 for ENYCHP enrolled farms, $25 for all others (enroll before registering and save money!)


Call Laura McDermott at 518-791-5038 for more information about the agenda.
Call Chelsea Truehart at 518-746-2553 for information about registering or enrolling in ENYCHP.

Post Harvest Efficiency Flyer (PDF; 1332KB)