Event Details
Date
August 19, 2019
Time
4:30pm-5:30pm
Location
Davenport Farms
3072 US Route 209
Stone Ridge, NY 12401
Cost
This event is free.
Host
Eastern New York Commercial Horticulture
IPM in Tomato Production
August 19, 2019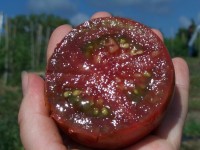 Dr. Margaret McGrath and ENYCHP Vegetable production Specialist Teresa Rusinek will lead a one-hour workshop for growers to discuss and learn how to integrate techniques in managing tomato diseases. The meeting is taking place in the field at Davenport Farms where a disease resistant tomato variety trial is hosted. Growers will have an opportunity to tour the trial, taste fruit, and provide feedback for plant breeders. 1 DEC credit has been applied for.
Davenport Farms
3072 US Route 209
Stone Ridge, NY 12401
4:30pm - 5:30pm