Event Details
Date
November 13, 2019
Time
9:30am - 4:00pm
Location
Cornell Willsboro Research Farm
48 Sayward Lane
Willsboro, NY 12996
Cost
$10.00 Registration Fee
(additional attendee $10.00 ea.)


Host
Eastern New York Commercial Horticulture
Pre-Registration Deadline: November 8, 2019

EVENT HAS PASSED
Winter Greens High Tunnel Tour
November 13, 2019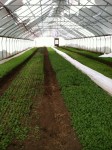 Join us for a tour of overwintered high tunnel greens. Our first stop will be the Willsboro Research Farm, where we will visit our spinach nitrogen fertility experiment, discuss research results, and view a sous vide hot water seed treatment demonstration. Following an early lunch, we will carpool across the lake via the ferry to the Intervale Community Farm in Burlington, Vermont. The Intervale has been providing organic vegetables to the greater Burlington area for 30 years and has a 600 member CSA. Farm manager Andy Jones will discuss their evolving winter greens production practice, including variety selection, soil fertility, irrigation, and food safety practices. After touring their high tunnels and new wash/pack shed, we will return to Willsboro.

Tour Agenda:
9:30am—Meet at Willsboro Farm (48 Sayward Lane, Willsboro, NY)
9:45am—High tunnel research tour and hot water seed treatment demonstration
11:00am—Bagged lunch to eat at farm and on ferry
11:15am—Carpool to Intervale Community Farm (282 Intervale Rd, Burlington, VT)
1:00pm—Tour Intervale Community Farm
2:30pm—Return to Willsboro

$10 registration fee includes lunch and ferry ticket. Please let us know if you have dietary restrictions and/or would like to volunteer to be a driver by emailing Elisabeth at eh528@cornell.edu.

Winter Greens High Tunnel Tour flyer (PDF; 1032KB)