Sorry, Pre-Registration for has passed.
Wholesale Market Readiness for Vegetable and Produce Farms
---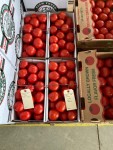 Join Elizabeth Higgins and Extension Specialist with the Eastern NY Commercial Hort Team, Cornell University Cooperative Extension, and Michelle Proscia, Agriculture Educator with CCE Sullivan, for a lunchtime discussion about how farms can prepare for selling on the wholesale market and the benefits of scaling up. Topics include: labeling, recordkeeping, grading standardization of product, and post harvest handling.
This program is supported by the USDA, NIFA Award #: 2019-70020-30347
The program flyer is available at Wholesale Market Readiness Flyer.


Upcoming Events
ENY Late Summer Orchard Field Meeting

August 16, 2022
Granville, NY
Join us for a late-summer field meeting. Cornell researchers and extension specialists will give talks on management tasks to be mindful of late in the season as we head into harvest. We will then walk through the orchard to look for some of the issues discussed, and further discuss their management strategies in the field. We will then discuss how the crop is shaping up around the greater ENY region, and will allow ample time for you to share your thoughts on this year's crop, and to answer any other questions you may have.
Costa Rica Agritourism and Cultural Study Tour
December 3 - December 11, 2022
Costa Rica Agritourism and Cultural Study Tour hosted by Laura McDermott, and organized by Explorations by Thor, a well-respected international travel company that specializes in agricultural tours will embark December 3 - 11, 2022. Don't miss this opportunity to travel, learn and relax with other farmers. It will be a blast!
This one-of-a-kind guided excursion is an educational and entertaining way to visit another country while networking with fellow berry production and Agri-tourism professionals. The tour allows attendees the convenience of a completed itinerary including hotels, most meals and in-country transportation. Guests will visit a wide variety of Costa Rican agriculture and while still having time for cultural highlights.
Announcements
Podcasts