Sorry, Pre-Registration for has passed.
Wholesale Market Readiness for Vegetable and Produce Farms
---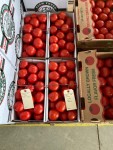 Join Elizabeth Higgins and Extension Specialist with the Eastern NY Commercial Hort Team, Cornell University Cooperative Extension, and Michelle Proscia, Agriculture Educator with CCE Sullivan, for a lunchtime discussion about how farms can prepare for selling on the wholesale market and the benefits of scaling up. Topics include: labeling, recordkeeping, grading standardization of product, and post harvest handling.
This program is supported by the USDA, NIFA Award #: 2019-70020-30347
The program flyer is available at Wholesale Market Readiness Flyer.


Upcoming Events
SAVE THE DATES
December 13 - December 15, 2022February 2 - February 8, 2023February 21 - February 23, 2023
Save the Dates for the following Winter Meetings:
NOFA NY Virtual Winter Conference, February 2-5, 2023
Empire State Expo, Oncenter Syracuse, February 6-7 2023
Becker Forum, Oncenter Syracuse, February 8, 2023
Eastern NY Commercial Horticulture Program Regional Winter Meeting, The Desmond Hotel, Albany, February 21-23, 2023
How Profitable Will My New Orchard Investment Be? 1-day, hands-on skills class in the Hudson Valley
February 7, 2023
Highland, NY
The Eastern NY Commercial Hort Team and the Lake Ontario Fruit Team are offering a 1-day, hands-on course for tree fruit farms on using farm financial information and other resources to make decisions about long-term investments or changes to their business. We will apply the techniques covered in the 8-part webinar series in December to scenarios using sample financial data from fruit farms in NYS. You will work with others in a group through a series of problems and leave with a better sense of how you can organize and interpret your own financial information to make better long-term investment decisions about your farm business. THIS SESSION IS AT THE CORNELL HUDSON VALLEY LAB
How Profitable Will My New Orchard Investment Be? 1-day, hands-on skills class in Northern NY
February 9, 2023
Plattsburgh, NY
The Eastern NY Commercial Hort Team and the Lake Ontario Fruit Team are offering a 1-day, hands-on course for tree fruit farms on using farm financial information and other resources to make decisions about long-term investments or changes to their business. We will apply the techniques covered in the 8-part webinar series in December to scenarios using sample financial data from fruit farms in NYS. You will work with others in a group through a series of problems and leave with a better sense of how you can organize and interpret your own financial information to make better long-term investment decisions about your farm business. THIS SESSION IS AT THE CCE CLINTON COUNTY OFFICE
Announcements
Podcasts