Event Details
Date
July 13, 2016
Time
6:30pm- 8:00pm
Location
Cornell Willsboro Research Farm
48 Sayward Lane
Willsboro, NY 12996
Cost
This event is free.
Host
Eastern New York Commercial Horticulture
Grower Twilight Meeting: Cornell Willsboro Research Farm
July 13, 2016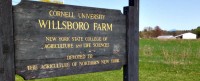 Cornell Cooperative Extension is hosting a grower field meeting on Thursday, August 4 from 6:30-8:00 pm at the Cornell Willsboro Research Farm in Willsboro, NY in cooperation with the Essex Farm Institute. Growers are invited to join the discussion of on-going vegetable production projects including cherry tomato training and high tunnel production, leaf mold resistant variety trial, summer cover crops, and this year's vegetable disease challenges. Guest speakers include Amy Ivy of the Eastern NY Commercial Horticulture Program, Judson Reid of the Cornell Vegetable Program, Mike Davis of the Cornell Willsboro Research Farm and Christine Smart, Cornell Professor of Plant Pathology.
Free and open to the public, includes light refreshments. For more information contact Amy Ivy at adi2@cornell.edu or (518)570-5991. This program is made possible with funding from the Northern NY Agriculture Development Program, www.nnyagdev.org Funding for the Northern New York Agricultural Development Program is supported by the New York State Senate and administered through the New York State Department of Agriculture and Markets. And by the Specialty Crop Block Grant Program at the U.S. Department of Agriculture through a grant from the New York State Department of Agriculture and Markets.